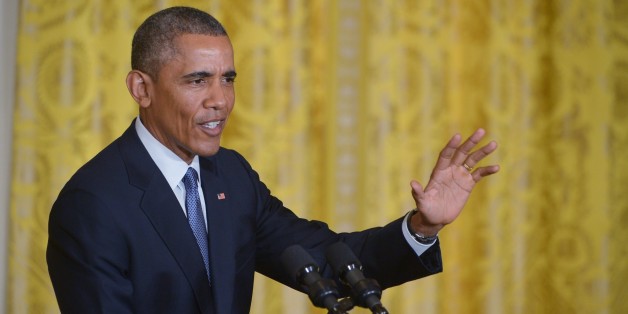 Two new national polls confirm that President Obama's approval rating is rising. Among Republicans, Mitt Romney has a higher favorable rating than Jeb Bush. And 2014 was a rocky year for race relations. This is HuffPollster for Tuesday, January 20, 2015.
NATIONAL POLLS FINDS OBAMA'S APPROVAL TICKING UP - Mark Murray: "More Americans are satisfied with the economy than at any point in the past 10 years, helping to increase President Barack Obama's key job ratings, according to a new NBC News/Wall Street Journal poll released before his annual State of the Union address Tuesday night. The president's overall job-approval number now stands at 46 percent, which is his highest rating since October 2013 during the government shutdown. (His approval rating was stuck around 40 percent for much of last year.) What's more, 49 percent of Americans approve of his handling of the economy - the most since his first year in office. Still, nearly six-in-10 respondents believe the nation is headed in the wrong direction, and a plurality think the country is in a state of decline." [NBC]
...or more than ticking up - Scott Clement and Dan Balz: "President Obama will deliver his State of the Union address Tuesday enjoying rising approval ratings that have been strengthened by rapidly improving perceptions of the economy and increased optimism about the overall direction of the country, according to a new Washington Post-ABC News poll….Obama's overall approval rating now stands at 50 percent, the highest in a Post-ABC poll since spring 2013. His standing is nine points higher than in December and seven points higher than in October, just before Republicans captured control of the Senate, increased their House majority to its highest level in eight decades and recorded advances in the states. The Post-ABC survey puts the president's approval rating slightly higher than some other recent public polls. But most have shown improvement since the November elections as the president has moved aggressively and unilaterally on issues such as immigration and climate change. The bigger factor helping to boost his standing is a series of economic indicators that have shown steadily improving conditions….A majority of Democrats are bullish; a bigger majority of Republicans are bearish. Independents are closer to Republicans than to Democrats in their assessment." [WashPost]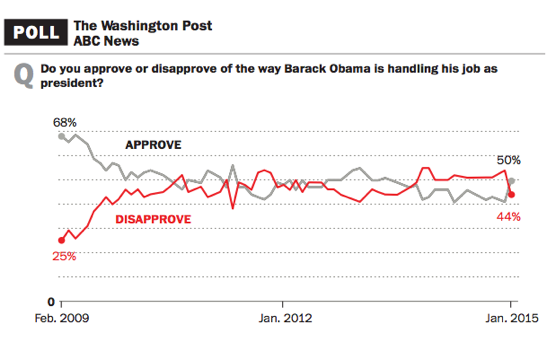 How much does Obama'a approval mean for 2016? - Nate Cohn: "Only a handful of modern elections have not had an incumbent president on the ballot. In these contests, the president's approval ratings are unsurprisingly less important than when a president is running for re-election. So Mr. Obama's approval ratings will matter in 2016, but it is hard to say exactly how much. The balance of evidence suggests that the break-even point for the presidential party's odds of victory is at or nearly 50 percent approval. If the only thing you knew about the 2016 election was Mr. Obama's approval rating on Election Day, you might guess that the Democrats had a 37 percent chance of holding the White House with a 46 percent rating — rather than a 23 percent chance with a 41 percent rating. The difference between 41 and 46 might be worth between one and two percentage points to the Democratic candidate in 2016 — the difference between a close race and a modest but clear Republican victory." [NYT]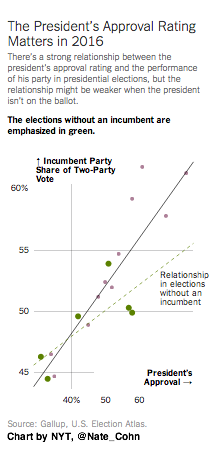 ROMNEY FARES BETTER THAN BUSH - Reid Epstein: "Mitt Romney begins the 2016 Republican presidential primary campaign with significant advantages over Jeb Bush, his chief rival for GOP establishment support, according to the latest Wall Street Journal/NBC News poll. More than half (52%) of all Republicans still maintain a positive view of the party's 2012 nominee, compared to just 37% who said the same about Mr. Bush, the former Florida governor. Mr. Romney does more than 20 percentage points better among self-identified tea party supporters and core Republican voters than does Mr. Bush, who last ran for office in 2002." [WSJ]
-Sahil Kapur: "Beware the early polls on Mitt's strength. Remember how Rudy Giuliani was dominating at this time in the '08 cycle?" [@sahilkapur]
-Jon McHenry (R): ""Virtually all Republicans have cast a ballot for Romney. 59 percent wanting him to run again isn't particularly impressive." [@jonmchenry]
FEW SEE PROGRESS ON RACE RELATIONS - Ned Resnikoff: "Nearly half of all Americans say they believe that race relations in the United States have gotten worse since Barack Obama was elected president, according to a new Al Jazeera America/Monmouth University Poll. Just 15 percent of Americans say that race relations have improved under America's first black president. Forty percent of respondents said there had been no change in the status of race relations, whereas 43 percent said things had gotten worse. White respondents were most likely to say things had gotten worse, whereas African-Americans were nearly evenly split on the question. Both African-Americans and Latinos were more likely than whites to say things had not changed since Obama was elected president, though Latinos were more likely than African-Americans to say that things had gotten worse." [Al Jazeera]
2014 was a bad year for race relations - Kathy Frankovic: The past year's conflicts between white police and African-Americans have turned the optimism the public expressed just last year backwards into a pessimism not seen in years. When asked whether race relations in the U.S. are good or bad, a majority of Americans in the Economist/YouGov Poll – both black and white – describe race relations as bad – the first time that has been the case during the Obama Administration. The change is particularly noticeable among whites, who had remained far more positive than blacks have been when describing the state of race relations in the country. But in this week's poll, that is no longer the case. For the first time in the poll, a majority of whites describe race relations as bad." [YouGov]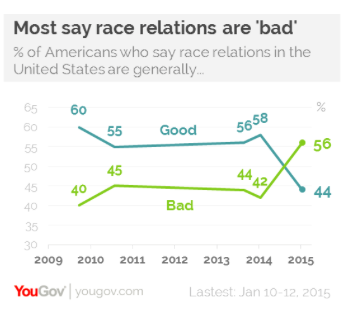 BROAD SUPPORT FOR OBAMA'S COMMUNITY COLLEGE PLAN - HuffPollster: "President Barack Obama's proposal to send many students to community college for free has widespread public support, a new HuffPost/YouGov poll finds. Sixty percent of Americans say they're in favor of Obama's proposal to give two years of free community college tuition to students with a C+ or better average who are making progress toward a degree, with 32 percent opposed and another 8 percent unsure….[P]ersonal experience with community college didn't have much bearing on opinions, with support for the proposal hovering at about 60 percent among both those who'd attended and those who never had. Instead, opinions divided down the usual party lines, with 86 percent of Democrats and just 39 percent of Republicans in support….By a nearly three-to-one margin, 61 to 23 percent, Americans say it's a good idea to encourage every high school graduate to attend college. More than 70 percent of Democrats, black Americans, and Hispanic Americans said everyone should be encouraged to enroll in higher education." [HuffPost]
HUFFPOLLSTER VIA EMAIL! - You can receive this daily update every weekday morning via email! Just click here, enter your email address, and click "sign up." That's all there is to it (and you can unsubscribe anytime).
TUESDAY'S 'OUTLIERS' - Links to the best of news at the intersection of polling, politics and political data:
-49 percent of New York City voters approve of the job Mayor Bill de Blasio is doing. [Quinnipiac]
-New Yorkers see race relations as sigificantly worse from last year. [Siena]
-47 percent of Americans now say they are better off than a year ago, up from 23 percent in May 2009. [Gallup]
-Harry Enten notes that an early lead in Iowa doesn't mean much. [538]
-Aaron Blake sees caveats for a Huckabee presidential run. [WashPost]
-Most Bostonians back the city's Olympics bid. [WBUR]
-When it comes to Americans approving torture in their own country, wording of the question matters.
[WNPR]
-Stan Greenberg (D) and Women's Voices Women Vote plot a path back for Democrats. [DCorps]
-Drew Desilver summarizes contrasting attitudes of black and white America. [Pew]
-A powerful graphic captures how divided America was when Martin Luther King died.
[WashPost]

BEFORE YOU GO
PHOTO GALLERY
Obama Playing Sports