Gwyneth's done it again. In her latest Goop newsletter, in addition to introducing us to a slew of obscure and predictably expensive ingredients we've never heard of and don't plan on buying any time soon, she's promoting something we hate, made with more than one component we don't understand.
The item is Sex Bark. (You read that correctly, and we'll explain what is -- or at least what we can understand of it.) The thing we hate is that it's a food being advertised as an aphrodisiac. (How and why? We're still doing that?) And the component we don't understand -- among many -- is Sex Dust.
Typically we'd read "Sex Bark," just roll our eyes and move on, but something about the ingredients in this recipe (namely the Sex Dust) compelled us to take a closer look. Since we know you're on the edge of your seats to find out what Sex Dust is, it's an "aphrodisiac warming potion [that] will send waves of blood to all the right places." Okay, we've read enough.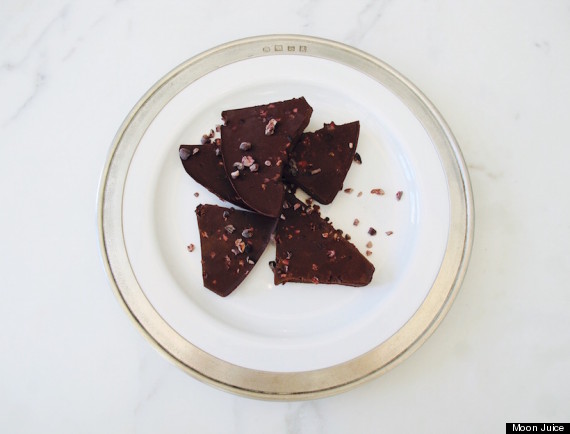 Sex Bark comes from LA-based Moon Juice, which specializes in "divine juices, magical milks, miraculous tonics, abundant cleanses, lunar apothecary, moon pantry and stellular gifts," according to its website. Sex Bark looks like the chocolate bark you eat over the holidays, but unlike your average peppermint bark, Sex Bark is made with some interesting and pricey ingredients, including Moon Pantry Cacao ($15 for a 6.3 ounce jar), Moon Pantry Ho Shou Wu ($18 for a 3.2 ounce jar of tonic that is supposed to promote youthfulness, reproductive function and sex drive), coconut oil, ghee and lest we forget, Sex Dust (a trifling $60 for a 4 ounce jar). That's a grand total of $93 on just Moon Juice-brand products alone.
All these ingredients are not only going to add up to the most expensive piece of bark you'll ever eat, but also the most mysterious. When it comes to bark, mysterious is not something we're looking for.
The Moon Pantry is the resource for all the things you'll need to make the instantly infamous Sex Bark, as well as the Beauty Milk and Spirit Truffles that Paltrow also promotes in the Goop newsletter. You'll find ingredients like tocotrienol, Moon Pantry Lucuma and the puzzling Moon Pantry Sex Dust there. What happened to simple ingredients you could pronounce and describe?
With Valentine's Day approaching, we're well aware that foods with supposedly aphrodisiac qualities will be promoted everywhere. This Sex Bark, made with its sexy Sex Dust, just brought things to a whole new, irritating level.
Want to read more from HuffPost Taste? Follow us on Twitter, Facebook, Pinterest and Tumblr.
BEFORE YOU GO
PHOTO GALLERY
18 Reasons Why Gwyneth Paltrow Isn't Like Us, According To GOOP