If you know the name INSA, you're likely familiar with the street artist's signature technique known as Gifiti -- yes, the glorious combination of animated GIFs and street art graffiti. It's a beautiful thing.
The British artist is known for his moving murals, outdoor artworks that transform into digital shorts, thus erasing the space between your neighborhood and your computer screen. He creates his masterpieces by documenting the process of the graffiti painting itself, then working the footage into a looping animated clip. "Mixing retro internet technology and labor intensive painting, INSA creates slices of infinite un-reality," the artist states on his blog, "cutting edge art for the tumblr generation."
In case there was any doubt that INSA was not the reigning king of Gifiti, this about settles it. He recently created the largest animated painting in existence, a four-frame animation that was painted on such a huge scale it was photographed by satellite. The painting required 576 man hours and measured in at 57,515 square meters. As you may have guessed, it makes one beautiful work of Gifiti.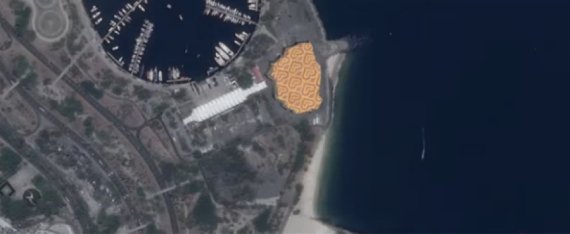 BEFORE YOU GO