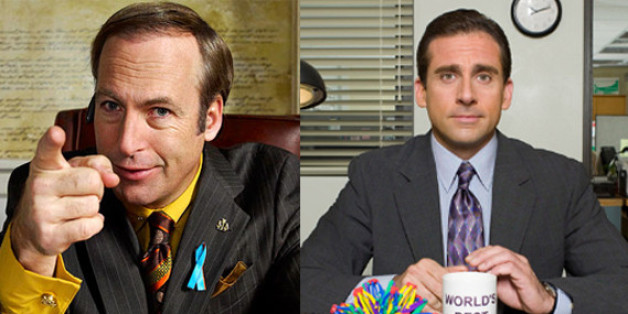 Middlebrow is a recap of the week in entertainment, celebrity and television news that provides a comprehensive look at the state of pop culture. From the rock bottom to highfalutin, Middlebrow is your accessible guidebook to the world of entertainment. Sign up to receive it in your inbox here.

"Apples remind me of oranges," Seth Rogen wrote on Twitter in an attempt to clarify a joke he made about "American Sniper" and a fake Nazi propaganda film. "Can't compare them, though." What this piece presupposes is, maybe you can? "Breaking Bad" (apples, I guess) and "The Office" (hello, oranges?) have few similarities except for one: idiot savants Saul Goodman and Michael Scott.
If you've seen "Breaking Bad," you're well acquainted with the Albuquerque underworld's favorite lawyer. The breakoff series just explores that characterization further. The idiot savant is here is the kind of archetype we've seen many times before, probably most clearly with Michael Scott. Other strong examples are Valerie Cherish in "The Comeback" or Matt LeBlanc in "Episodes" (or "Friends" and possibly just in life). This is the sort of figure who appears to be stumbling through their very existence, and yet repeatedly proves to be an expert in one specific area.
Bob Odenkirk begins unpacking this in a nuanced way on "Better Call Saul." In "Breaking Bad," he was essentially the court jester in a languishing Shakespearian drama. Now, all the focus is on him. There are deeply sad, depressing elements to the universe he inhabits as a focal point, though they are nearly always alleviated by his uncanny ability to save his own ass in the most high-stakes situations.
"Saul" is both campier and more intense than "The Office." Although, holistically speaking, the two are similar in their use of comedy coupled with unflinchingly depressing moments. Michael Scott has absolutely no idea of his bumbling reputation. He is wholly unaware of eyes almost perpetually rolling around him. This is a man who has called Pam and Jim's infant a "b-i-t-c-h," egged Toby's house and once force-fed Kevin broccoli. He is petulant beyond his own control. He never really fails, though. Instead, he falls over himself, always managing to find a peaceful resolution to his antics. In the end, Michael finds his soul mate and is cheered off with a serenade from all of Dunder Mifflin. There the integral question lingers: would he find that success again and again, if there weren't that sliver of savant expertise paper-pushing the odds into his favor?
It's worth noting that idiot savant is almost always featured on TV (as a protagonist, anyway). A 90-minute-and-a-neat-resolution tie-up doesn't quite work on the big screen. They require a perpetual incompleteness -- and this is crucial to the type -- which renders it near-impossible to determine for certain whether the moments when they "win" are happy accidents (often occurring with startling frequency) or the result of narrowly-focused, master manipulation.
There's a spectrum of these characters. Mindy Lahiri ("The Mindy Project") could fit. She's a stretch, when you consider she's a successful doctor. (Knock on wood the gyno who delivers your unborn child is not an " idiot savant.") Although, this is still a person who once thought Rosie The Riveter was Taylor Swift. The "cluelessness" is more prevalent in her social schemes turning successful; everything (usually) works out for Mindy -- including a war waged against the mother the ultimate mama's boy. If that seems too far off the mark, consider Selina Meyer of "Veep." There has never been a more madcap level of dopiness to grace HBO, and now Julia Louis-Dreyfus' bureaucrat has risen to POTUS glory. On the opposite end of that range might be someone like Andy Dwyer on "Parks And Rec." The "winning" is nowhere near running a gynecological practice or the country, but it's there episodically, as well as embedded in his arc of rising from "boyfriend with two broken legs on Rashida Jones' couch" to the happily married and employed Andy we see as "Parks" comes to a close.
It'll be interesting to watch this character unfold in the drama-heavy "Saul," certainly providing different undertones than the comedies it sees as precedent. The "clueless savant" is so interesting, because we never quite know how to feel about them (an element exacerbated by the tone of "Saul"). The idiot savant's life seems depressing and pathetic, until there they are again, squirming out of a boiling-point situation with drug king pins in the desert. It's too simplistic to group them in with the basic dummies and ditzes of situational comedy. There's an underlying genius to this character, both in type and execution. Surely, if anyone is equipped to handle the workings of the trope it is our one true (meth) lord and savior, Vince Gilligan.
Follow Lauren Duca on Twitter: @laurenduca
CORRECTION: An earlier version of this piece stated that Andy Dwyer had a broken arm.
BEFORE YOU GO
PHOTO GALLERY
"Better Call Saul"