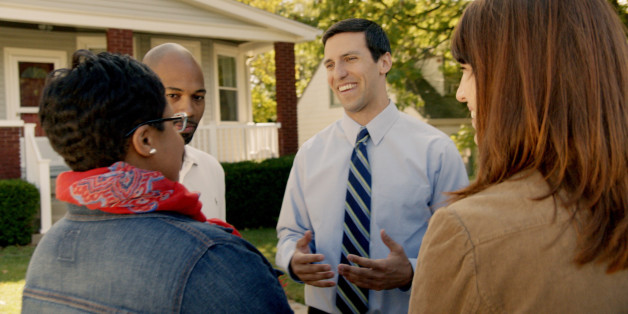 WASHINGTON -- Democrats gained their first challenger to Sen. Rob Portman (R-Ohio) Thursday, with 30-year-old P.G. Sittenfeld, a member of the Cincinnati City Council, jumping into the 2016 race and betting that Ohioans want someone new in the stodgy Senate.
"I believe that I have got the right kind of experience," Sittenfeld told The Huffington Post in an interview Thursday morning. "There is good experience, and there is bad experience -- and bad experience is being a Washington insider who, for more than a quarter of a century, stacked the deck against the middle class."
If elected, Sittenfeld would be one of the youngest members of the chamber, where the U.S. Constitution sets the minimum age for service at 30. He faces an uphill battle against Portman, 59, who already had $5.8 million in his campaign war chest as of early January.
But Sittenfeld too has been laying groundwork, traveling around the state on what National Journal recently called a "months-long networking campaign" to introduce himself to activists and voters outside of Cincinnati. He brought on board the high-profile campaign firm 270 Strategies, which boasts several veterans of President Barack Obama's two bids for the White House, to handle his announcement. And his interview Thursday was filled with carefully tailored policy specifics that largely dovetailed with what Obama put forward in his State of the Union address this week.
"I think we need to do a whole lot more to get the economy where we want it to be and make sure that growth is touching everybody's life, not just those at the very top," said Sittenfeld. "Progress has been made, but there is a whole lot more work to do to make an economy that works for everybody."
But even as Sittenfeld displayed his polish and careful grooming during Thursday's interview, it was an outspoken progressive leader whom he cited as a lawmaker he'd like to emulate. Sen. Sherrod Brown (D-Ohio), he said, has advocated for many of the causes that Sittenfeld himself holds dear, among them raising the minimum wage, equal pay for equal work and opposition to trade agreements like the Trans-Pacific Partnership.
"That is an area of disagreement between the president and me," said Sittenfeld. "I do not support the TPP and don't think it would be good for Ohioans."
Sittenfeld said he would have supported the Affordable Care Act had he been in the Senate when it was passed, but he remains open to the possibility of reforming it. He enthusiastically offered his support for marriage equality. He also noted that he wants to focus specifically on education policy, including proposals to turn schools into "round-the-clock-hubs" and "town square schools or community learning centers."
But it's Sittenfeld's age, not his policy portfolio, that has brought his candidacy the most attention so far. Welcoming the announcement of his campaign on Thursday, the National Republican Senatorial Committee declared that "national Democrats have hit rock bottom if they are hitching their electoral hopes in Ohio to an overly ambitious 30-year-old city councilman."
Not mentioned in the statement was that the NRSC had its own young candidate in the 2012 cycle, when Ohio State Treasurer Josh Mandel (R), then 34, took on Brown. In that hard-fought contest, Mandel's age ended up being a hindrance, with stories coming out that he had hired inexperienced, unqualified friends for government jobs.
Sittenfeld dismissed the idea that he too might fall into that trap, saying that there was "no comparison" between Mandel and himself.
"This isn't about me. It is not about my age," he said. "It is about the ideas I'm going to promote and the values I'm going to champion."
In order for the Mandel comparisons to be accurate, Sittenfeld must first win his party's primary. And although he's first in the ring, it's far from certain whether he'll prevail. Rep. Tim Ryan (D-Ohio) is reportedly considering a run for the Senate, as is former Gov. Ted Strickland (D), who currently runs the Center for American Progress Action Fund.
"I have enormous admiration for Gov. Strickland and for his service," said Sittenfeld. "What I'm focused on right now is mounting a winning campaign that I think speaks to the issues that Ohioans care about. I'm not thinking about who else is going to get in or not get in. I'm thinking about how can I connect with and hear from Ohioans."
Want more updates from Amanda? Sign up for her newsletter, Piping Hot Truth.
BEFORE YOU GO
PHOTO GALLERY
U.S. Capitol Photos