Prone to pizza cravings? Instead of indulging in calorie-heavy slice after slice, try this pizza-inspired snack that infuses the flavors you love into a much healthier treat that still hits the spot.
Pizza Popcorn
Recipe created by Cat Cora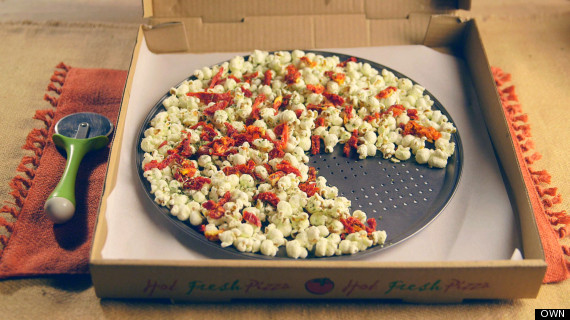 Serves 4 (makes about 10 cups)
Ingredients
1/2 c. Parmesan cheese, grated
10 c. popped popcorn (made from 1/2 c. popcorn kernels; see "Popcorn Basics")
1 Tbsp. sundried tomatoes, chopped
1 tsp. dried oregano
1/4 tsp. garlic powder
1/4 tsp. red pepper flakes
2 Tbsp. olive oil
Directions
Place the popped popcorn in a large bowl. Drizzle the olive oil over the popcorn and toss to coat. Then add the remaining ingredients: Parmesan cheese, sundried tomatoes, red pepper flakes, oregano and garlic. Toss once again, and serve.
For another healthy snack recipe, try these Smoky Paprika-Baked Garbanzo Beans.
BEFORE YOU GO
PHOTO GALLERY
Pizza Toppings Real Italians Swear By