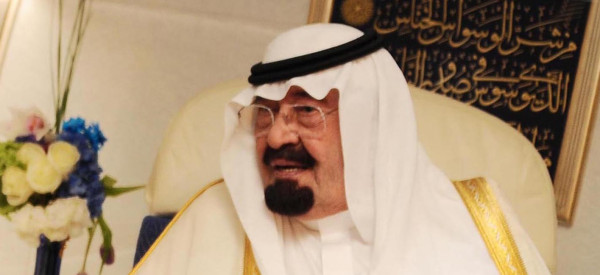 TOP STORIES
To get The Morning Email, HuffPost's daily roundup of the news, in your inbox, sign up here.
KING ABDULLAH'S DEATH REVERBERATES THROUGH MIDDLE EAST "Saudi Arabia's King Abdullah bin Adbul Aziz died early Friday, setting the stage for a transition of power at a critical moment as the key U.S. ally in the Middle East struggles with falling oil prices and rising Islamist violence." A wild succession process has put Crown Prince Salman in charge, who is reportedly "suffering from dementia." Top analysts believe the leadership change will not affect the country's ability to export oil. The King's death makes Queen Elizabeth II the oldest surviving monarch. [WaPo]

U.S., IRAQ AIM TO RECAPTURE MOSUL FROM ISIS "The U.S. and Iraq have begun preparations for an assault by summer to retake Mosul, selecting and training military units and cutting supply lines to Islamic State militants who control Iraq's second-largest city, the top American commander in the Middle East said. Gen. Lloyd Austin, the head of the military's Central Command, told The Wall Street Journal that the international campaign against Islamic State has inflicted significant damage. Opposing forces have reclaimed about 300 square miles of territory in Iraq and killed some 6,000 members of the Sunni radical group, eliminating about half its leadership." [WSJ]
HOUSE PASSES ANTI-ABORTION BILL ON ANNIVERSARY OF ROE V. WADE The bill would limit federal funding through Medicaid for abortions and is a "watered-down" version of the original offering that the GOP thought might alienate moderates. [HuffPost]
TSA: RECORD NUMBER OF FIREARMS IN CARRY-ONS The Department of Homeland Security announced that 2,212 firearms, 80% of which had been loaded, were discovered in carry-on bags last year. [USA Today]
WHAT THE UPHEAVAL IN YEMEN MEANS FOR U.S. COUNTERTERRORISM EFFORTS "The White House's strategy for fighting al-Qaeda in Yemen -- repeatedly presented as a model by President Obama -- was left in tatters Thursday by the resignation of the man who personally approved U.S. drone strikes in the country and the collapse of its central government." [WaPo]
EUROPEAN MARKETS RALLY Following the European Central Bank's bond-buying blitz announcement, markets across Europe rebounded in spectacular fashion. [WSJ]
FIRST EBOLA VACCINE SHIPMENTS SET TO ARRIVE IN LIBERIA Healthcare workers will be the first to receive the vaccine. [Reuters]
FORMER THAI PRIME MINISTER BANNED FROM POLITICS FOR FIVE YEARS "Thailand's former Prime Minister Yingluck Shinawatra said Friday that democracy in her country was dead, after the military-appointed legislature voted to ban her from politics for five years and the prosecutor announced plans to indict her on criminal charges in connection with a money-losing rice subsidy program." [AP]
THE MAN NIGERIA HOPES WILL WEAKEN BOKO HARAM The 72-year-old general and presidential candidate Muhammadu Buhari is gaining ground on President Goodluck Jonathan as Boko Haram ravages the country. [NYT]
TOM BRADY: 'THIS ISN'T ISIS' The Patriots QB stood by his claims that he did not alter the balls, while Coach Bill Belichick said he didn't have an explanation for the deflation scandal. And here's the Deflategate Cialis parody that makes it all worth it, along with every time Tom Brady said "balls" in yesterday's press conference. [ESPN]
WHAT'S BREWING
'MOCKINGJAY' PASSED 'GUARDIANS OF THE GALAXY' FOR TOP GROSSING MOVIE OF 2014 J-Law is still top dog. [HuffPost]
YOUR NEWEST NETFLIX OBSESSION "The Unbreakable Kimmy Schmidt" got its first trailer, and the Netflix original series about a girl who escapes an end of the world cult could not be any gosh darn cuter. [HuffPost]
CBS FOUND ITS SUPERGIRL Melissa Benoist of "Glee" fame will be donning a cape and tights for CBS's superhero drama. [HuffPost]
TWITTER LAUNCHES 'WHILE YOU WERE AWAY' FEATURE Which sounds way creepier than its actual function of highlighting the top tweets you missed on your phone. [Adweek]
THERE TRULY IS TOO MUCH TV FOR YOU TO WATCH According to this chart, you will always be behind the zeitgeist. [Vulture]
BUILDING A HEALTHY SALAD Calling something a salad does not a salad make. [HuffPost]
HOW MCDONALDS FRIES ARE MADE Do you really want to know? [Digg]
ON THE BLOG
TOM STEYER: I'M NOT RUNNING FOR SENATE "The U.S. Senate offers a unique opportunity to serve, but I also know that we will have excellent candidates. I applaud and respect those running, and am confident that Californians will choose a representative who will serve them well. Given the imperative of electing a Democratic president -- along with my passion for our state -- I believe my work right now should not be in our nation's capitol but here at home in California, and in states around the country where we can make a difference." [HuffPost]
BEFORE YOU GO
~ Fun fact of the day: here's why menthol chills your mouth even though it's not technically cold.
~ Ellie Goulding's music video for "Love Me Like You Do" features new footage from "Fifty Shades of Grey."
~ Martin Scorsese's Bill Clinton biopic has been shelved "over control" -- surprise, surprise.
~ Are you suffering from freezing office syndrome?
~ Kanye might end up helping design the Washington Wizards' new uniforms.
~ Amazon's Golden Globe-winning "Transparent" will be available for free streaming Saturday.
~ Never a good sign when a Navy ship runs aground.
~ It's about to get more expensive to take the Subway in NYC.
~ Ashton Kutcher is set to testify in the trial of the alleged killer of his ex-girlfriend.
~ You can make any photo better with a stock photobomber.
~ That time the President of the United States was interviewed by YouTube stars and talked about the state of marijuana in this country.
~ Meet the creatures of the #nightshift.
~ We finally have the 2015 Bad Lip Reading for the NFL.
~ Are you addicted to the Internet?
~ The Doomsday clock is ticking again and is at three minutes to midnight. Start building your survival shelters.
~ And single as all get out? There's a fake-significant other texting service called the "Invisible Boyfriend" that'll be there for you.
Send tips/quips/quotes/stories/photos/events/scoops to Lauren Weber at lauren.weber@huffingtonpost.com. Follow us on Twitter @LaurenWeberHP. And like what you're reading? Sign up here to get The Morning Email delivered to you.