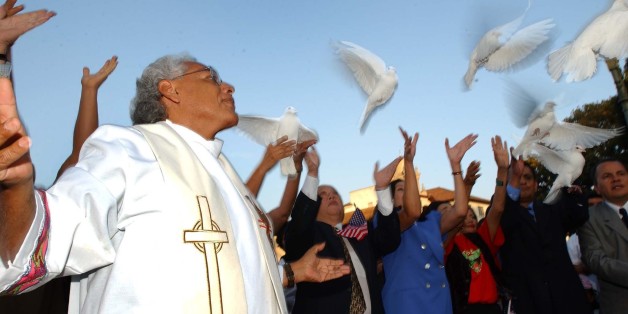 Armed with a bottle of water and a baseball cap, Father Richard Estrada made his way slowly to the border in the scorching heat. After a half-hour of hiking up a steep dirt trail, he reached the massive steel fence and bowed his head to pray for the immigrants who dreamed of passing it.
Estrada, 72, had had cataract surgery the day before. Arthritis made his legs ache. But the priest wasn't one to let anything — not even his aging body— stop him from doing what he felt was spiritually right.
On this day, he wore his snow-white hair tied back into a ponytail, and a colorful stole around his shoulders. When he became a Catholic priest in 1978, he sported a handlebar mustache and combed his wiry black hair into an afro. Cesar Chavez, whom Estrada had befriended while leading grape boycotts in East Los Angeles, was a guest at his ordination ceremony.