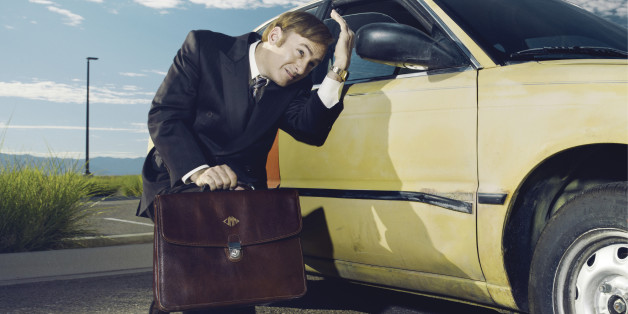 While some of us may be guilty of binge-watching "Breaking Bad" more than once (not me, definitely not me), Bob Odenkirk didn't even watch the show half of the time he was on it.
Odenkirk made his first appearance as a witty, corrupt lawyer, Saul Goodman, on Season 2 of "Breaking Bad." But when he got the job, he'd only seen 10 minutes of the series. In a recent New York magazine profile on the actor and his upcoming spin-off, "Better Call Saul," Odenkirk revealed that he didn't watch "Breaking Bad" for another year and a half after joining the show.
His excuse? In October, Odenkirk told The Hollywood Reporter that he avoids watching his work -- his approach to acting is to "not know what the fuck is going on." Apparently his attempts to watch the series were hindered by his kids walking in the room. "I'd think: They can't be in here when Gus is gutting someone with a carpet cutter," Odenkirk told New York. (Agreed.)
Bryan Cranston even called out his co-star once for lack of knowledge about the show when Odenkirk incorrectly delivered a line. But Walter White still has respect for his co-star. "I was happy to learn that he was joining the roster," Cranston recently told New York, "though when he arrived and came clean that he'd never seen the show, I said, 'Man, you don't have a lot of brains, but you've got some balls.'" That's pretty much Saul Goodman in a nutshell.
For the full profile, head to Vulture.
"Better Call Saul" premieres Feb. 8 at 10:00 p.m. ET on AMC.
BEFORE YOU GO
PHOTO GALLERY
"Better Call Saul"