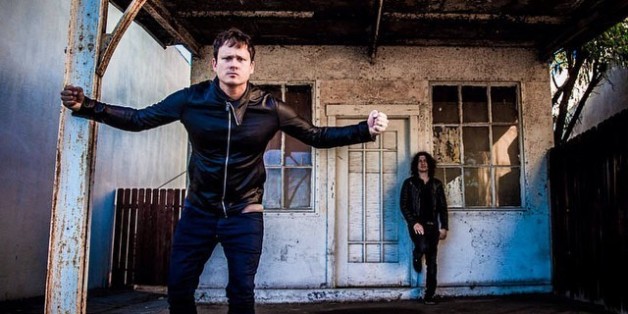 While things have gotten a little ... hot for Tom DeLonge when it comes to his position in Blink-182, DeLonge's other musical venture, Angels & Airwaves, recently released a fifth album, "The Dream Walker." On Wednesday, A&A released the video for the song "Tunnels," combining shots of the band playing with clips from "Poet Anderson: The Dream Walker," an animated film that is brain child of DeLonge:
In an interview with Rolling Stone, DeLonge discussed how "Tunnels" was originally written about doubting religion, but took on a whole new meaning after an extraordinary experience surrounding the death of his father:
It was the first song that we wrote, and I wrote the whole song up until the chorus, lyrically, about doubting religion. So, flash forward a year-and-a-half later and about two or three months ago, my dad passed away. The night that he passed away, I woke up from my sleep with an extraordinarily massive amount of energy, and I can only describe it as though someone injected me with a gallon of methamphetamines and Ecstasy with electricity. My heart is going 1,000 miles per minute, and something is in the room and I can't figure out what this is. I reach for my phone, and there's nothing on my phone. Mind you, I just left my dad at hospice a couple of hours before that.

I lay back down, and for 30 minutes I'm trying to fall back asleep, but I can't because I'm literally high. Then my phone buzzes and it's the hospice nurse and she said, "Please call me." I called her, and she said, "Your dad passed away 30 minutes ago." It was the most insane feeling ever. It was so supernatural that it literally changed my life, because it was so strong. Then I went back and I wrote the chorus for this song doubting the existence of God. It's a juxtaposition within the song itself. That song, "Tunnels," it sounds a little Motown or it sounds folky but anthemic. It's so different than any song I've ever done. This is probably of the top two songs I've ever been a part of in my entire career.
"The Dream Walker" was written by DeLonge and Ilan Rubin, and ties into a larger project that combines music, film and comics, all centered around the character Poet Anderson. The film "Poet Anderson: The Dream Walker" recently won the Best Animated Film at the Toronto International Short Film Festival, and DeLonge has described the story as a "new version of Peter Pan."
BEFORE YOU GO
PHOTO GALLERY
Blink 182 Songs