Dartmouth College will roll out a number of new policies in an effort to address binge drinking, hazing and sexual assault on campus, Dartmouth President Phil Hanlon announced in a speech on Thursday.
The college's trustees have already approved a reform plan that includes such action items as banning hard liquor that is at least 15 percent alcohol; increasing penalties for sexual assault and hazing; launching a smartphone safety app and adding six residential communities for new students that will create a new social space on campus.
"Each Residential Community will organize and host social and academic programs, and eventually each will have dedicated space for study and social interaction," Hanlon said in his speech. "We are committing in excess of $1 million per year to support programming in the Residential Communities and other College-owned venues."
Hanlon said in April 2014 that he would appoint an ad hoc committee to study and complete a plan to address social issues on the Hanover, New Hampshire, campus. The new plan, titled "Moving Dartmouth Forward," follows months of committee meetings.
Most of these new initiatives and policies are scheduled to start in the fall. An external committee will continue to monitor Dartmouth's reform effort and report whether the college is making progress, Hanlon said.

Dartmouth has no plans to get rid of Greek life, or introduce any major requirement on the Greek system like forcing houses to go coed, but Hanlon said the college will hold all student organizations to a higher standard of "accountability" and will mandate annual reviews by the dean of the college.
Students will have to sign a new code of conduct starting in the fall, and organizations will held to new standards -- which could make it easier for the college to punish anyone who steps out of line. The new reform plan will extend the code of conduct to online behavior.
"All these things are fine and good but it's fiddling on the margins," said Susy Struble, who leads the alumni activist group Dartmouth Change. Struble found bright spots in the plan -- including four years of mandatory sexual assault prevention education for every student and the elimination of pledging -- but was disappointed it didn't involve bigger changes for fraternities.
"The solution is not to abolish the Greek system and let the vacuum go where it may," Struble added. But she said she fails to see how significant reform can happen without some big change to the single-sex houses.
The report released by the committee on Thursday noted most alcohol-related medical encounters involve hard alcohol, and more freshmen need medical help than upperclassmen due to overconsumption.
The college has noted it has made progress bringing the total number of medical emergencies down. But the report acknowledged that at Dartmouth, beer pong is considered the college's biggest tradition, and is an integral part of Greek life on campus.
Dartmouth is currently under two federal investigations concerning how the school handles sexual violence and campus crime, but its social scene has been the subject of scrutiny for decades.
The student newspaper argued in October that the Greek system should be abolished, and the faculty voted for the fourth time this fall in favor of doing away with fraternities and sororities. Two former Dartmouth presidents have said the Greek system should be dismantled.
Even though students and alumni submitted comments to the ad hoc committee asking Dartmouth to dramatically reform or abolish the Greek system, many students have staunchly resisted any major changes in the past. Today, roughly two-thirds of undergraduates are members of the system.
Hanlon said banning Greek life is not a solution, and intends to focus instead on other student communities on campus. The idea is similar to what exists at Harvard College, and is Dartmouth's attempt at creating social cliques outside of the Greek system.
Ivy Schweitzer, a longtime English professor who's outspoken about her opposition to single-sex fraternities, told The Huffington Post she was "disappointed" that the new house system will have to compete with Greek life.
"I know that is the plan -- to strengthen a residential system to take momentum from the Greeks," Schweitzer said. "But unless there are lots of social-party-dance space built into that, the frats will remain a dominant social space and the detrimental attitudes they breed will continue to flourish."
As the report noted, problematic drinking and sexual assault also happen among students outside the frat basements.
The report showed students enter Dartmouth less likely to engage in high-risk drinking compared to the national average, but within a year surpass the national norm and become more likely to binge drink.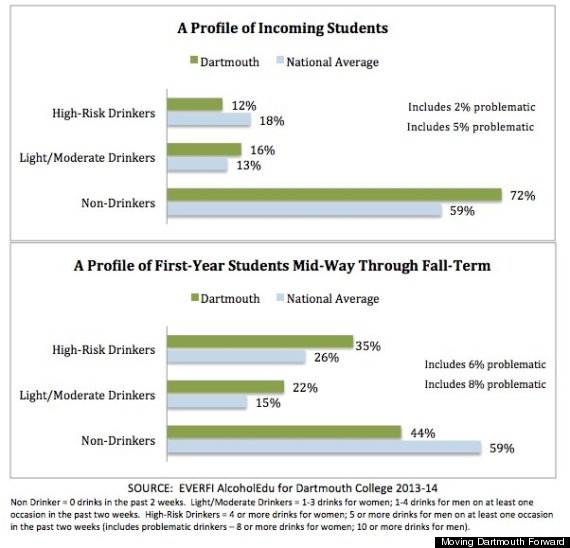 "None of our recommendations alone will magically transform the choices students make in their actions and behaviors," the report said. "In fact, it is not clear how much power institutions of higher education have to impact these behaviors, given their prevalence in the greater society. But it is certainly incumbent on Dartmouth to do all it can to counter them and to make our campus as safe and inclusive as possible."
Dartmouth has already implemented stricter punishments for sexual assault. More recently, the Inter-Fraternity Council of Dartmouth announced in September it would do away with a traditional pledge period, when much of the hazing is said to take place.
Some of the report reinforced claims made about wild drinking made by former Sigma Alpha Epsilon brother Andrew Lohse in 2012, and again in a 2014 book, though it did little to expand on details of hazing the committee heard. Still, the report confirmed students induce vomiting to facilitate further alcohol consumption -- called "boot and rally" -- and that some students compete to see who vomits first, in a game called "doming."
Peter Hackett, a theater professor and Dartmouth alum, said although he's pleased with the transparency of the reform effort, he still has questions about the enforcement of the liquor ban. For instance, Hanlon said students will be punished for having hard alcohol, Hackett said, "but I sit on the discipline committee and I don't know what that means."
Yet, ultimately, Hanlon said, "I do not believe that simply eliminating this one aspect of campus life would be a comprehensive, or even effective, solution to the more pervasive challenges we face. It would not address the charge I placed before our community of purging extreme behaviors wherever they occur on campus."
A Timeline Of Aggressions At Dartmouth: