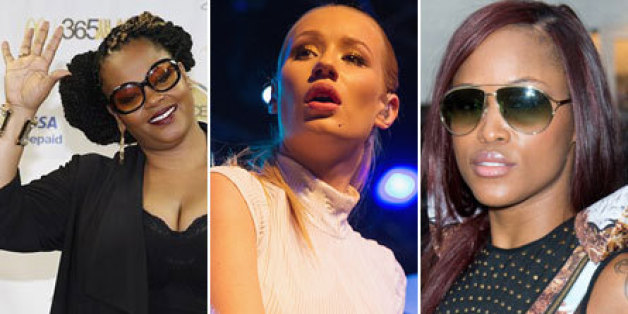 Following a heated Twitter exchange with Azealia Banks and being schooled on Hip Hop by Q-Tip, Iggy Azalea is back in headlines once again.
This time the Australian-born rapper is responding to recent comments by fellow rapper-actress Eve and singer Jill Scott, who recently shared their thoughts on Azalea, her "blaccent" and how it may all contribute to cultural appropriation during an appearance last week on "Sway In The Morning."
"She's representing a group of girls right now as well. And yeah, I think people right now are too quick to give too many accolades to new people," Eve admitted to show host Sway Calloway. "That's the one thing I just can't stand. Let her do her thing. It's not my cup of tea but she's representing for somebody. She's doing her thing. What are you gonna do?"
Jill Scott added; "It's a little challenging for me, because I come from the era that she pulled from…To me it's a mixture of Da Brat and Eve, the way that it sounds. That's what it sounds like to me…it [the tone of her voice] also sounds like a big bite to me. The blaccent." Eve continued Scott's thoughts. "She's from a different place, and it would be dope to hear with her swag."
As expected, Iggy took to her personal Twitter account yesterday to respond to the Grammy Award-winning pair's thoughts.
There's a difference between being yourself and being your stereotype. When people I've never met say I should act more like "myself"

— IGGY AZALEA (@IGGYAZALEA) January 28, 2015
I feel like they're really saying "act more like how I sterotype you to be, so I can feel comfortable"

— IGGY AZALEA (@IGGYAZALEA) January 28, 2015
I'm myself as strange as I may be, daily. I think it's really important we all feel free to explore or feel passionate about whatever u wish

— IGGY AZALEA (@IGGYAZALEA) January 28, 2015
And I hope all my young fans take what I'm saying and remember it if you ever find yourself in similar shoes.

— IGGY AZALEA (@IGGYAZALEA) January 28, 2015
Be as complex and multidimensional and interesting as you possibly can.

— IGGY AZALEA (@IGGYAZALEA) January 28, 2015
BEFORE YOU GO
PHOTO GALLERY
Iggy Azalea