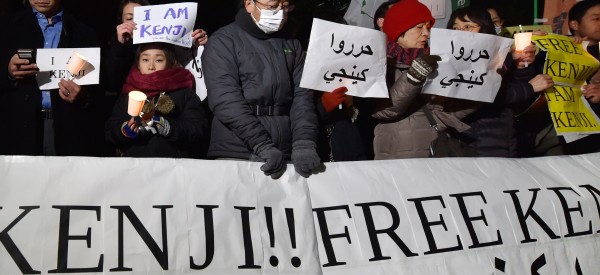 TOP STORIES
To get The Morning Email, HuffPost's daily roundup of the news, in your inbox, sign up here.
JORDAN LETS ISIS HOSTAGE DEADLINE PASS "Jordan refused to release an imprisoned female militant on Thursday to meet a deadline set by the Islamic State, demanding that it first needed proof that a captured Jordanian pilot was still alive. The impasse provoked fears that the extremists would carry out their threats to kill the pilot and a Japanese journalist they were also holding hostage." Read Japanese journalist Kenji Goto's wife's plea for his safe return. [NYT]

THE GROWTH OF THE 'GREAT FIREWALL' With the demise of Google, Instagram, Facebook and Microsoft Outlook, the "Great Firewall" of China continues to grow. [WaPo]
ISIS LAUNCHES ATTACK ON KIRKUK The move is intended to "force Kurdish troops to divert their efforts away from Mosul, ISIS' stronghold in Iraq." And in Egypt, ISIS was allegedly responsible for an attack that killed 26 in the Sinai Peninsula. [CNN]
SENATE PASSES KEYSTONE XL PIPELINE BILL And the White House promptly reaffirmed its veto threat. [HuffPost]
GAS EXPLOSION KILLS TWO, INJURES 70 AT MEXICO CITY MATERNITY HOSPITAL "Injured and bleeding, mothers grasping infants in their arms fled from a maternity hospital shattered by a powerful gas explosion Thursday, and rescuers began smashing sledgehammers through fallen concrete hunting for others who might be trapped. A nurse and a baby died in the blast and a second infant died Thursday night, Mexico City authorities said. More than 70 people were injured in the blast that collapsed about three-fourths of the hospital, but by late in the day rescuers determined no one was left trapped in the rubble." [AP]
U.S. TO SEND $1 BILLION IN AID TO CENTRAL AMERICA According to Joe Biden's op-ed in today's New York Times. [NYT]
TALIBAN CLAIMS RESPONSIBILITY FOR KABUL SHOOTING The attack yesterday killed three American contractors and an Afghan national. [CNN]
SUSPECTED EBOLA PATIENT ADMITTED TO UC DAVIS The patient, who is being tested for Ebola, is reportedly in good condition. [USA Today]
MORE CHANGES TO COME FOR SECRET SERVICE? Following the drone embarrassment, many on the Hill are questioning whether the number two at the Secret Service should be axed. [WaPo]
DOES YOUR CONGRESSIONAL REPRESENTATIVE OFFER PAID MATERNITY LEAVE? Or paid paternity leave? [HuffPost]
WHAT'S BREWING
NFL DETAILS SUPER BOWL FOOTBALLS MONITORING And how closely they'll be monitoring the 108 balls in play on Sunday. [USA Today]
WHOLE FOODS IS RESTARTING ITS LOYALTY PROGRAM That sound you hear is yuppies everywhere rejoicing. [Bloomberg]
SAY GOODBYE TO KATE SPADE SATURDAY AND JACK SPADE No wonder they had all those 75% off sales… [WSJ]
SOMEONE GOT JUSTIN BIEBER A PR SPECIALIST As the pop star said the following on Ellen "I didn't want to come off arrogant or conceited, or basically how I've been acting the past year and a half. And I'm not who I was pretending to be." He also released a video about his efforts to change. [HuffPost]
DISNEY FALLS SHORT WITH POTENTIAL LATINA PRINCESS While the internet went crazy over the news of the first Latina Disney Princess, Disney clarified the princess is not actually Latina. [HuffPost]
YOU CAN EARN $13,000 SELLING YOUR POOP "Your feces are perhaps your greatest untapped monetary resource. Thanks to a nonprofit organization called OpenBiome, you can cash in to the tune of $13,000 a year -- and save lives while you're at it." [WaPo]
POSTPARTUM DEPRESSION CAN BEGIN DURING PREGNANCY Those that have symptoms during pregnancy are more likely to face a more severe case of postpartum depression after giving birth. []
ON THE BLOG
PRESIDENT OBAMA: A BLUEPRINT FOR MIDDLE-CLASS ECONOMICS "The Budget I'm sending to Congress is a blueprint for success in the new economy. I know that there are Republicans in Congress who disagree with my approach, and I look forward to hearing their ideas for how we can pay for what the middle class needs to grow. But what we can't do is simply pretend that things like child care or college aren't important, or that there's nothing we can do to help middle class families get ahead." [HuffPost]
HOWARD FINEMAN: THE LEFT IS COMING! "Greece gave us democracy and theater, and now is giving us a gripping new synthesis of the two: the dramatic, hysterical alarms of supporters of austerity. Facing slow growth and crushing debt, "Austerian" leaders in democracies such as Greece, Spain, France, the U.K., (and, until not long ago, Japan) clamped down on social welfare spending and eased regulation of business … In Greece, across Europe, and elsewhere, Austerians are responding to Tsipras types with apocalyptic warnings, many of which are overstated, comical, outrageous or just plain wrong." [HuffPost]
BEFORE YOU GO
~ Kanye West's latest video starring North could not be more adorable.
~ Celebrities take note: sometimes it's better to Google than crowd source.
~ This guy climbed frozen Niagara Falls. What'd you do today?
~ Marion "Suge" Knight is wanted for a fatal hit-and-run accident, according to his lawyer.
~ Johnny Depp and Amber Heard plan to wed on his private island next weekend. We hope the rum won't be gone.
~ Tom Petty says this Sam Smith "Stay With Me" stuff is all cool -- after all, he gets 12% of royalties from the song, and we get this mash-up of the two songs.
~ Meet the "dragon" dinosaur.
~ The recipe for drunken Oreos. You're welcome.
~ Find the sweet, sweet poetry in your tweets.
~ "Wet Hot American Summer" added Jon Hamm and Kristen Wiig, proving you can never pack too many stars into a Netflix reboot.
~ "Downton Abbey" might take a final bow next season.
Send tips/quips/quotes/stories/photos/events/scoops to Lauren Weber at lauren.weber@huffingtonpost.com. Follow us on Twitter @LaurenWeberHP. And like what you're reading? Sign up here to get The Morning Email delivered to you.