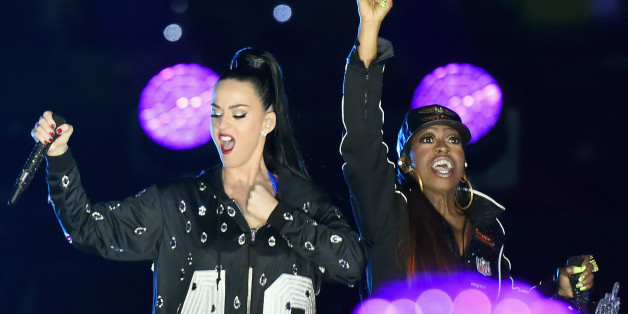 Katy Perry's Super Bowl halftime show was nothing short of outrageous, featuring a massive, prismatic jungle cat, singing sharks and guest appearances by Missy Elliott and Lenny Kravitz. Following the performance, all three artists saw a huge increase in Spotify traffic, especially Missy Elliott, who saw an increase of 676 percent.
According to data provided by Spotify, of the three tracks Missy Elliott performed, "Lose Control" saw a streaming boost of 1,396 percent, "Get Ur Freak On," a 922 percent boost and "Work It," 896 percent boost. Spotify derived these numbers by comparing her Spotify activity the hour before the Super Bowl to its peak between 11:00 p.m. and Midnight. Missy Elliott's last album, "The Cookbook," came out in 2005, while her seventh studio album, "Block Party," still doesn't have a release date.
Katy Perry saw an overall increase in Spotify activity by 85 percent. Her performance included the songs "Teenage Dream" (139 percent boost), "Firework" (107 percent boost), "California Gurls" (98 percent boost), "I Kissed A Girl" (94 percent boost), "Dark Horse" (69 percent boost) and "Roar" (56 percent boost). Lenny Kravitz also saw an overall increase in Spotify activity by 103 percent.
BEFORE YOU GO
PHOTO GALLERY
Katy Perry's Super Bowl Halftime Show