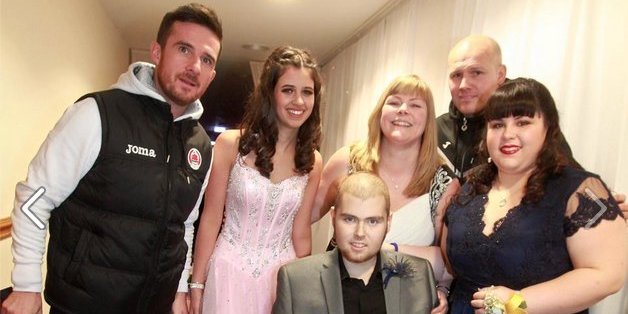 When Jak Trueman received news that his cancer had spread, he vowed to keep his promise of taking his girlfriend to prom -- and his fellow classmates came together to make it happen.
According to Cosmopolitan, the 15-year-old learned his Gammadelta T-cell lymphoma had spread into his bones and organs in January, after being diagnosed in August of last year. Unsure of how much time he had left, students and teachers at West Calder High School in Scotland organized a prom to help Jak keep his word.
Jak's long-term girlfriend and prom date Hannah Boyd thanked everyone involved for their "unconditional support."
Though he couldn't stay long because of his sickness, Jak expressed his gratitude on a Facebook page set up for updates during his cancer battle. The teen even apologized for leaving so quickly.
Two days later, Jak's mother announced he had passed away. His classmates honored him at school by wearing gold ties.
Gold ties at school 💛 #teamjak pic.twitter.com/D6PLT9hFdC

— Jak's Journey (@jaksjourney) February 2, 2015
Before he died, his mother set up a JustGiving page. Jak hoped to raise 15,000 pounds (more than $22,000) for leukemia and lymphoma research. His legacy lives on with donations exceeding three times that amount so far.
H/T Cosmopolitan
Follow HuffPost Teen on
Twitter |
Instagram |
Tumblr |
Pheed |
BEFORE YOU GO
PHOTO GALLERY
childhood cancer awareness