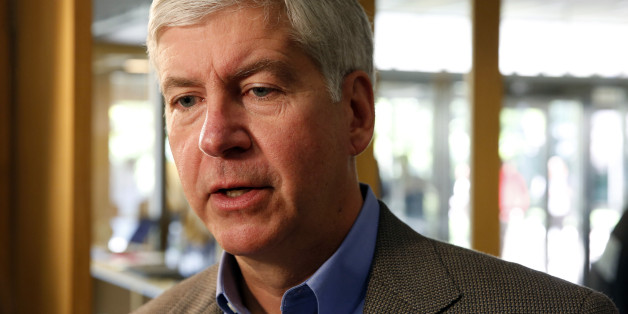 Michigan Gov. Rick Snyder (R) announced Wednesday that the state will recognize some 300 same-sex marriages conducted in 2014.
The governor faced a deadline Wednesday to either appeal a recent ruling by U.S. District Judge Mark A. Goldsmith, or let stand the judge's injunction requiring Michigan to recognize the several hundred gay marriages conducted on March 22, 2014, when the state's ban on gay marriage was temporarily lifted. Snyder had 21 days to appeal Goldsmith's ruling.
"The judge has determined that same-sex couples were legally married on that day, and we will follow the law and extend state marriage benefits to those couples," Snyder said in a statement, according to the AP.
Michigan is one of four states whose gay marriage bans were upheld by a 2-1 decision of the U.S. Court of Appeals for the 6th Circuit. The U.S. Supreme Court decided in January to take up the decision. The court's ruling, expected by June, could end the debate on gay marriage in the United States once and for all.
Snyder called on his fellow Republicans in January to keep up efforts to end discrimination against LGBT individuals by amending the state's Elliott-Larsen Civil Rights Act, which protects citizens against discrimination based on race, age, sex and religion, but doesn't protect against discrimination based on sexual orientation.
"Let's keep up that dialogue and let's show that we can deal with issues of discrimination in our state," he said during his fifth State of the State address.
However, that same month, Snyder remained silent as the state's attorney general argued for Michigan's gay marriage ban. The governor's own position on gay marriage has been described as "head-spinning."
BEFORE YOU GO
PHOTO GALLERY
Gay Marriage Signs