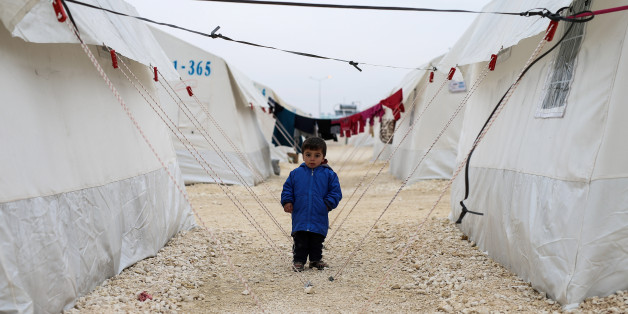 2014 was a tumultuous year. Fresh fighting rocked countries like the Central African Republic, Ukraine and South Sudan, even as ongoing violence in Syria and Iraq lingered. The turmoil left more people displaced from their homes than ever recorded before. More people died in this year's Ebola outbreak than in all the previous outbreaks of the virus combined.
Major humanitarian organizations saw their budgets exhausted by the relentless stream of war and disaster, and are now grappling with the consequences. "2014 was a year of unprecedented global humanitarian need," Jens Laerke, spokesperson for the United Nations Office for the Coordination of Humanitarian Affairs, told The WorldPost. "Aid organizations have been pushed to their limits in 2014."
When funding falls short, the consequences can be tragic. For instance, when the U.N. World Food Program announced in December that it was suspending aid because of unfulfilled donor commitments, Syrian refugees faced the dire choice of going hungry or returning to a war zone. The full suspension was averted by a last-ditch appeal to donors, and food rations resumed at a reduced level.
Last week, the U.N. Relief and Works Agency, which works with Palestinian refugees, stopped rebuilding homes destroyed by last summer's war in Gaza, even though 13,000 people are still sheltering in schools six months later. "People are literally sleeping amongst the rubble," said Robert Turner, UNRWA's director in Gaza, noting that "virtually none" of the $5.4 billion in aid pledged to Gaza had been delivered.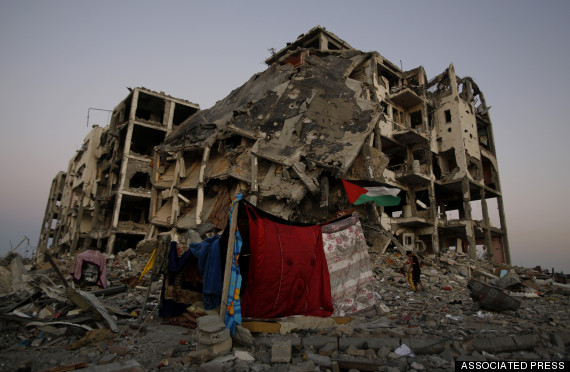 A makeshift tent stands amid the destruction of buildings at a residential neighborhood in Beit Lahiya, northern Gaza Strip, Aug. 7, 2014. (AP Photo/Hatem Moussa, File)
As a number of international crises continue into a new year, many aid agencies have appealed to their donors -- which include governments, international institutions and private organizations -- for even higher sums to continue their work.

The U.N. has asked for over $16 billion in humanitarian assistance for 2015, some 25 percent more than it requested for 2014. "With limited resources and increasing humanitarian needs, our hands are tied to reach all the people we need in the coming year," Laerke warned.
The International Committee of the Red Cross also requested a 25 percent increase in emergency funds for its 2015 budget, in order to meet "vastly expanding needs."
"In the many diverse, unpredictable and complex armed-conflict situations in which the ICRC is working around the world, one common feature is the widening gap between vast humanitarian needs and an adequate response," ICRC spokesperson Dibeh Fakhr said.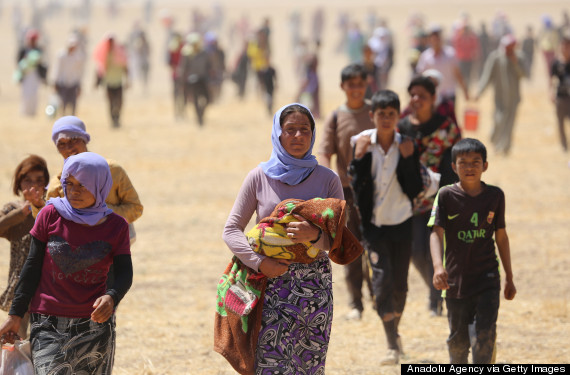 Thousands of Yezidis trapped in the Sinjar mountains by ISIS are rescued by Kurdish peshmerga forces and Peoples Protection Unit (YPG) in Mosul, Iraq on Aug. 09, 2014. (Emrah Yorulmaz/Anadolu Agency/Getty Images)
Humanitarian policy researcher Christina Bennett told The WorldPost that while the number and scale of crises around the world in 2014 made it an "exceptional" year, funding needs have been going up each year for a long time.
Bennett, who is a research fellow for the Humanitarian Policy Group at the Overseas Development Institute in Britain, said that for years, donors have been failing to increase funds to match growing needs. Many donors feel "tapped out," Bennett suggested.
In response, she noted, many aid funders like the U.S. and European Commission are calling for a more diverse set of donors, including the private sector and other governments like wealthy Gulf nations.
Even as funding lags behind needs, the changing nature of emergencies is making aid more expensive.
One factor behind the cost of humanitarian aid in 2014, Bennett said, was the difficulty of getting aid into conflict zones where political forces obstruct access, like Syria and South Sudan.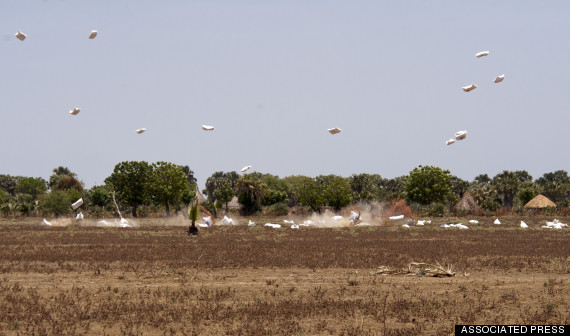 Food supplies dropped from the air by a World Food Program plane land on the ground in Nyal, Unity State, South Sudan, April 1, 2014. (AP Photo/WFP, Giulio d'Adamo)
Moreover, Fakhr noted that many crises spill over national borders and present multi-faceted challenges, like Syria's refugee crisis. "We are no longer simply facing traditional internal or international armed conflict ... We are witnessing new kinds of crises, in new combinations, often with a regional dimension," she said.
The changing nature of many crises has forced humanitarian organizations to re-evaluate their structure and response. For example, the ICRC is restructuring in 2015, cutting staff at its Geneva headquarters and moving jobs to Serbia and the Philippines. The organization expects to be challenged by more conflicts and long-term crises in the coming year, Director-General Yves Daccord said in December. "With this in mind," he observed, "we have to manage our resources as intelligently as possible."
Bennett says that since the 2008 financial crisis, humanitarian agencies have been under pressure from donors to increase efficiency. Her group recommends that agencies move away from "reactive" annual funding appeals to "proactive" multi-year strategies, stay focused on the work they do best and abandon a one-size-fits-all approach to emergencies that may take place in vastly different contexts.
Yet humanitarian work does not always fit these business-style tactics. "You can't always plan an emergency," Bennett notes. Further, sometimes reaching the people most in need is necessarily expensive. "The best humanitarian response is not always the most cost-effective," she said.
"No country, no emergency, no person in need should be forgotten," the UN's Laerke agreed.
BEFORE YOU GO
PHOTO GALLERY
Syria War In January