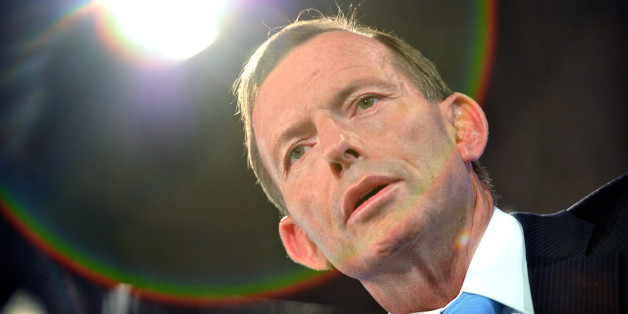 SYDNEY, Feb 6 (Reuters) - Embattled Australian Prime Minister Tony Abbott will face a vote on his leadership at a party-room meeting next week after disgruntled government lawmakers called a challenge on Friday following weeks of divisive speculation.
A member of Abbott's ruling conservative Liberal Party, Western Australian MP Luke Simpkins, sent an email to colleagues to announce he will move the vote at a scheduled party meeting in Canberra on Tuesday.
Abbott has faced a torrent of criticism in recent weeks over policy decisions ranging from his handling of the economy to awarding an Australian knighthood to Queen Elizabeth's husband, Prince Philip.
No member of the government has so far indicated a direct challenge to Abbott, although most media attention has focused on Communications Minister Malcolm Turnbull, a former party leader toppled by Abbott, and Foreign Minister Julie Bishop.
Opinion polls have consistently shown voters prefer Turnbull to lead the Party, but his support for environmental steps against carbon alienated some on the party's right.
"A change of leader will give [the government] a bounce in opinion polls and an election may be the best thing for the new leader," said Gary Morgan, executive chairman of Roy Morgan Research.
Simpkins told Sky News he decided to call for the motion based on feedback within his electorate, and not at the behest of other senior party members.
"What people are saying to me is that there is a disconnect and that they don't know what his plan for the future is," Simpkins said.
"They don't know what he wants to achieve, and sadly they're no longer listening," he said.
Turnbull, a former businessman, lawyer and journalist, lost the leadership to a single vote in 2009.
Bishop is well regarded in the party for her performance as foreign minister, particularly for leading Australia's case at the United Nations following the downing of Malaysia Airlines flight MH17 over Ukraine last year.
Bookmakers offered short odds on Turnbull claiming the leadership, with Sportingbet.com having him at A$1.50 versus A$2.75 for Abbott and A$3.75 for Bishop.
"There has been overwhelming support for Mr Turnbull and he has attracted more than 80 percent of bets placed in this market since Monday," said Sportingbet.com.au's Andrew Brown.
"Mr Abbott has been friendless and we've barely seen a cent for him," he said.
Abbott, who had scheduled a statement for later on Friday, had earlier this week dismissed talk of a challenge as having been drummed up by a few malcontents within his party and the media.
Bishop has told the Cabinet she would not challenge Abbott but also declined to rule out standing for prime minister if the job became vacant.
Removing Abbott would need support from more than 51 of the 102 members of the federal Liberal party at the party-room vote.
In an attempt to assuage critics, Abbott has agreed to abandon some of his most controversial and divisive plans in recent weeks, including reviewing the goods and services tax and a expensive paid parental leave program.
If Abbott is removed, he would be the third prime minister to lose their job in a party-room mutiny since 2010. (Additional reporting by Colin Packham, Lincoln Feast and Byron Kaye; Editing by Paul Tait)