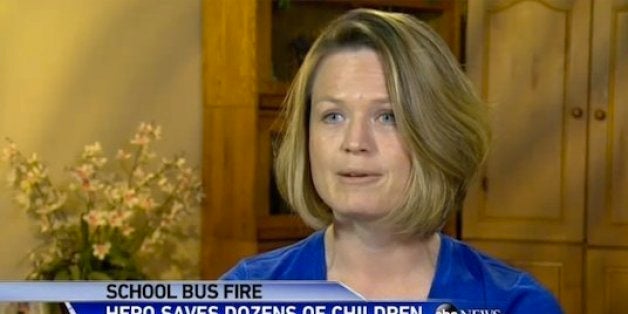 A math teacher responsible for saving the lives of three dozen children received moving shows of gratitude in return.
Kristina Buhrman was filling in for a bus driver and bringing middle school students to their school in Polk County, Florida, this past December, when the back of her bus caught fire, according to ABC News. Thanks to her quick-thinking, Buhrman was able to pull over and usher all 38 kids off the bus to safety. Since then, she has been honored for her heroism with a certificate of appreciation from the Florida Highway Patrol.
But for Buhrman, the most gratifying praise came from her students, right after the incident.
"I was calm the entire time, until we got back to school ... As the kids got off the bus, they were like, 'Thank you, thank you,'" an emotional Buhrman told CNN, when she was recently featured on their "Extraordinary People" series. "Every kid got off the bus saying, 'Thank you.'"
Buhrman insisted that her actions that day were nothing noteworthy.
"Teachers and bus drivers do heroic things every day, I was just put in a place in which I had to protect the kids I'm there to protect ... if we're not helping other people, what are we on Earth for?" she said to CNN.
When Buhrman saw smoke coming from the back of the vehicle, she initially thought there was an exhaust issue. But once a child reported that there was smoke coming out from under a seat, she stopped the bus and led the group of students outside and across a drainage ditch while calling 911. The bus was engulfed in flames shortly after.
Though Buhrman lost a few of her personal belongings in the fire, like her purse, she told WESH, the local NBC affiliate, that she was just grateful that none of the children were hurt.
"Materials can be replaced. Humans, kids that's what's important to us," she said back in December. "[The kids] are the most important thing. That's what we do as educators, teachers and bus drivers -- we take care of them and everything else is secondary."
And while Buhrman appreciates the recognition she's received, she insists she was just doing what she had to.
Watch a news report covering the incident back in December, below:
BEFORE YOU GO
PHOTO GALLERY
Teachers We Wish We Had