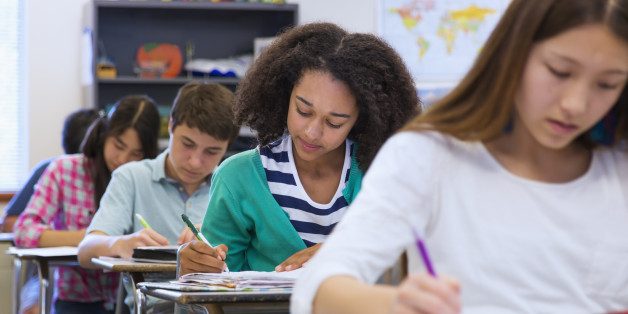 This article was written by teen reporters from The Mash, a weekly publication distributed to Chicagoland high schools.
By Laura Bartusiask, Woodlands Academy and James Wendt, Naperville North
Everybody's been using the F-word. From Beyonce at the 2014 MTV Video Music Awards to teens on social media, it seems like everyone has something to say about
gender equality. Whether you're having a feminist awakening or you can't wait to put
the topic to rest, the conversation surrounding feminism has undoubtedly gotten louder.
Understanding the lingo
According to Merriam-Webster dictionary, feminism is defined as "the theory of the political, economic, and social equality of the sexes." Naperville North humanities teacher Kermit Eby offered another definition of the word.
"There's a funny old quote—'Feminism is the radical notion that women are people too,' " he said.
From textbook to teacher, feminism is synonymous with the equality of men and women.
The conversation
Although feminism has an established meaning, that doesn't guarantee everyone thinks about it in the same way.
"I support equal rights between men and women, and I don't think that society as it exists today is a perfectly equal society," said St. Ignatius senior Isabella Simon. "To me, those are the core requirements of feminism: You believe in equality and you acknowledge that currently, we don't have equality."
Eby explained that there's no right or wrong way to be a feminist but that the language has been hijacked. For some, feminism has a negative connotation.
"Feminism is seen as a joke," said Lane Tech senior Kendall Hill. "It's a huge problem that no one is taking seriously."
Hill echoed what some celebrities and journalists have already acknowledged: Feminism has a PR problem. It's seen by some as ridiculous, unnecessary and guy-hating.
"I think a lot of people see it as kind of anti-men," said Naperville North senior Patrick Maynard. "Obviously there's a huge barrier there with male support of feminism."
Naperville North senior Justin Woodward is president of his school's Feminist Roundtable club and said that he believes it can be hard for guys to identify as feminists because they feel it compromises their masculinity.
"(Teen boys) just seem insecure in sexuality and the notion of identifying as a feminist, because the word feminine is in there," Woodward said. "And that, like the notion of femininity, is seen as something that is bad."
Despite these insecurities, Woodward stressed that he believes feminism is about equality, not superiority of women over men, and that it will take both sexes to level the playing field.
Media and culture
Over the last year, feminism has made its presence known in the media. In fact, Time magazine even included "feminist" on a reader poll of words that should be banned in 2015—along with turnt, bae and kale. The publication later apologized for putting the word on the list.
Of course, when celebrities like Taylor Swift and Lena Dunham champion the cause, it influences public opinion. Two monumental feminist moments in 2014 were Emma Watson's HeForShe campaign and Malala Yousafzai winning the Nobel Peace Prize.
"When celebrities become involved with the message, then it becomes important," said Naperville North sophomore Christina Fang.
Social media has also played a significant role in feminism's rise in popular culture. Twitter trends like #YesAllWomen and outrage over the #Gamergate movement contribute to the conversation.
"Teach and share things on social media," Fang said. "Something that's great about today is social media gives people a voice, even though it doesn't always feel like you have a voice."
In the classroom
With so much chatter about the topic, some students turn to teachers and school clubs for answers. But aside from learning about women's suffrage in U.S. history, feminism is generally absent from most school curricula.
Nick Davis, director of graduate studies in gender & sexuality studies at Northwestern University, said that educating students about the movement allows them to understand historical and contemporary equality issues.
Students might have distorted ideas about feminism—some misunderstand it as an extremist position or historical term instead of a contemporary issue. For Davis, high school is the time to clear up these misconceptions.
"The years when people are in school are often when people have their first or most formative experience of their mental abilities," Davis said. "They also tend to start seeing the experiences of adults around them with a clearer, more mature eye."
Simon said she believes that teaching feminism could help students understand how they can challenge the prevailing culture that degrades and devalues women.
Some teachers already incorporate these lessons into their assignments.
"I have always gravitated toward the expression of marginalized cultures and traditionally muted voices," said Douglas DuBrin, Woodlands Academy English department chair. "I clearly believe in the value of presenting complex female-centric literature to classes."
Next steps
While pop culture feminism is relevant to the masses, Davis said that it's also critical for teens to understand the movement in a larger context. He suggested that pay and wealth inequality, slower promotion rates and health concerns for women are broader feminist causes.
"I don't think teenagers think a lot about those issues, especially when they haven't had a child or a job yet," Davis said.
Simon encouraged others to simply Google articles and clips to learn more about feminism and become involved. The first step, however, is discussing and thinking about your own behaviors that might contribute to inequality.
"At the core of (feminism), it's just discussing and thinking how you individually could make a change," Woodward said. "It doesn't have to be a big change. Even a change of thought is enough."
-- Maya Reese of Whitney Young contributed to this story.
Follow HuffPost Teen on
Twitter |
Instagram |
Tumblr |
Pheed |
BEFORE YOU GO
PHOTO GALLERY
Best Teen TED Talks