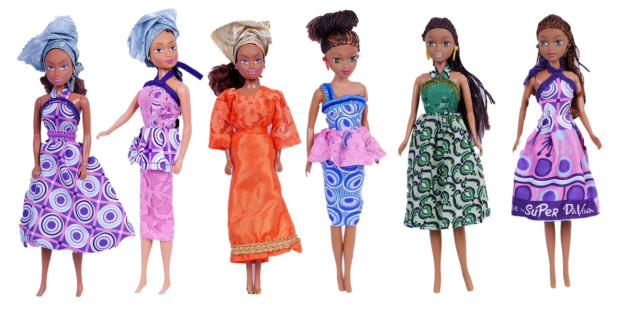 Barbies or Queens of Africa? In Nigeria, toy giant Mattel has been outsold by a brilliant idea.
It all began in 2007, when entrepreneur Taofick Okoya went in search of a black doll for his niece. Despite Nigeria being the country with the highest number of black children in the world, he couldn't find one.
"I'm not one to criticize and complain without taking action," Okoya told Elle. He then resolved to create a doll Nigerian girls could identify with, one with darker skin and traditional African clothes.
Seven years later, Okoya sells 6,000–9,000 Queens of Africa and Naija Princess dolls a month, granting him 10-15% of a small but fast-growing market. Prices vary from roughly US $6.50 to US $17.50 each, depending on accompanying clothing and accessories.
With about 170 million inhabitants, Nigeria is the continent's most populated country and is neck-and-neck with South Africa for the title of largest economy. According to data from Euromonitor released by Reuters, while toy sales increased 1% in developing countries between 2006 and 2011, emerging economies showed a 13% jump.
Okoya explains that his priority is raising the children's self-esteem and confidence. He advocates a "healthy mix" of African and Western values, and says he spent over two years campaigning about the psychological impact dolls have on children, and the importance of having a doll in their likeness. Okoya is positive this can impact generations to come.
Based on Nigeria's three largest ethic groups, Yoruba, Igbo and Hausa, the dolls are produced in a small factory in a Lagos suburb. The parts come from China, but the final touch is lent by the traditional Nigerian dresses and head wraps worn by Queens of Africa dolls.
Like Barbie, the dolls are very slim, a characteristic he intends to alter eventually (he tells how he initially produced fuller-bodied dolls, to which the children gave a less than warm reception).
"For now, we have to hide behind the 'normal' doll. Once we've built the brand, we can make dolls with bigger bodies."
His success has already grown beyond Nigeria. Queens of Africa dolls are sold online and, according to Okoya, the biggest demand comes from the US, certain European countries, and Brazil.
Beyond his plans to create dolls inspired by other ethnic groups, Okoya is in talks with a WalMart subsidiary over expansion to 70 stores across the African continent.
According to Reuters, Mattel affirms they've sold Black dolls for decades, but with very limited presence in Sub-Saharan Africa and no plans for expansion in the region at the moment.
This piece was originally published on HuffPost Brazil and was translated into English.