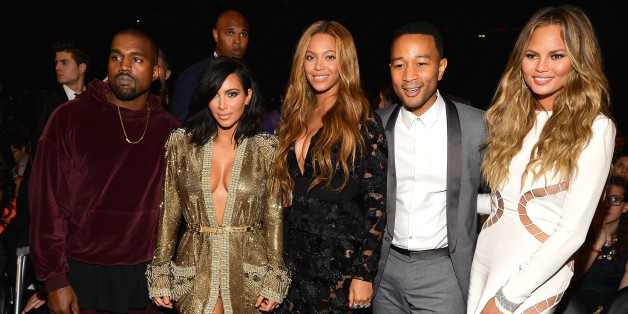 The 2015 Grammys can be described as a solid "meh." Some people who won deserved their awards -- good for you, Sam Smith! -- and some people were robbed of Album of the Year. The three-and-a-half hour ceremony dragged on as unlikely collaborators got on stage together and pretended to be friends. (We're looking at you Jessie J and Tom Jones.) But there were a few distinguished highlights we wouldn't mind watching again. Here are the top 10 moments of the 2015 Grammys.
10. Beyoncé, The Angel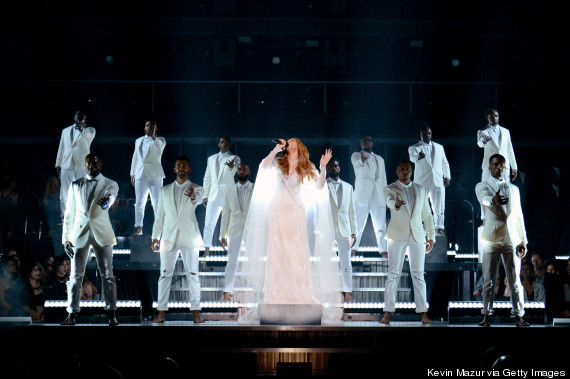 After losing Album of the Year to Beck, Beyoncé took the stage to perform "Take My Hand, Precious Lord." The gospel song was an introduction to Common and John Legend's performance of "Glory" from the movie "Selma," and as Gwyneth Paltrow presented "[her] beautiful friend," she mentioned it was one of Bey's favorites. Though she had just lost, Beyoncé let 'er rip, and sang a stunning rendition. Dressed all in white, she looked like an angel (or Solange's wedding).
9. Madonna Became Malefcient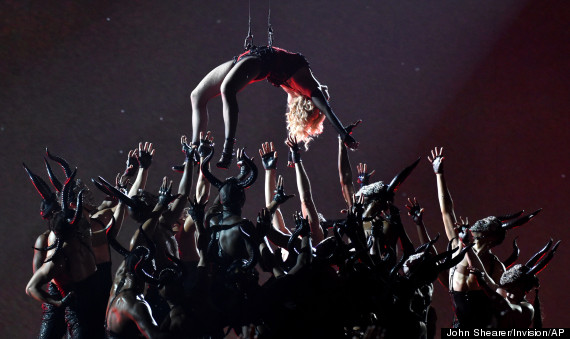 Madonna performed "Living For Love" from her forthcoming album, "Rebel Heart," for the first time on Sunday. It's an anthemic dance track, and when performed live, showed that Madge is still at the top of her game. Surrounded by men in bull masks and corsets, she wore a red Matador costume and was a better dancer than most of the other artists who took the stage.
8. Paul McCartney's Dancing
Shame on the camera man who made Paul McCartney sit down.
7. Kanye West, Paul McCartney And Rihanna Perform "FourFiveSeconds"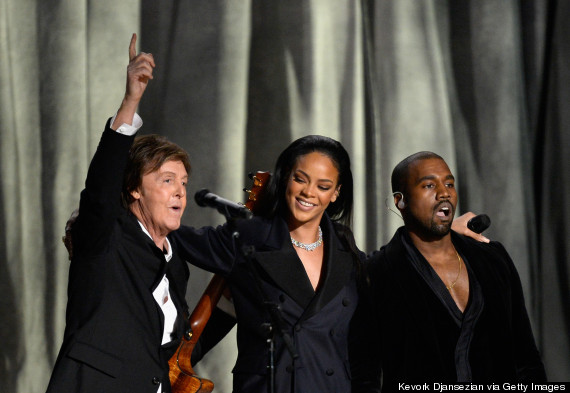 The trio performed their newly released track, "FourFiveSeconds," which will appear on both West and Rihanna's new albums. They sang on stage with just a guitar and some back up, and became the one collaboration of the night that actually made sense.
6. Barack Obama and Brooke Axtell Stand Up Against Domestic Violence
As plenty of viewers pointed out, the Grammys sent mixed messages about domestic violence during the ceremony. The broadcast showed a pre-recorded PSA from President Obama, who said "[Rape is] not okay - and it has to stop. It's on us -- all of us -- to create a culture where violence isn't tolerated." Activist Brooke Axtell then took the stage to perform a spoken-word piece against abuse, which segued into Katy Perry singing "By The Grace of God." It was a powerful moment during the show, but many at home were quick to point out that the Grammys also rewarded Chris Brown and R. Kelly with nominations.
5. Pharrell's "Hands Up Don't Shoot" Tribute
Though Pharrell dressed like the Lobby Boy from "Grand Budapest Hotel," he also organized one of the show's most sobering moments. He performed a spooky version of "Happy" with the help of Lang Lang and Hans Zimmer. At one point, though, Pharrell and his backup dancers -- dressed mostly in hoodies -- held up their hands, a reference to the recent "Hands Up Don't Shoot" protest.
4. Kanye West Interrupts Beck
When Beck won Album of the Year for "Morning Phase," it first seemed like West was going to pull an "Imma let you finish." Then it was all a joke. Haha, good one, 'Ye! Then he told E! that Beck should have given the award to Beyonce, and blasted the Grammys during a post-show interview. Beck has no hard feelings, and told Us Weekly, "I still love him and think he's genius."
3. Kanye West Performs "Only One"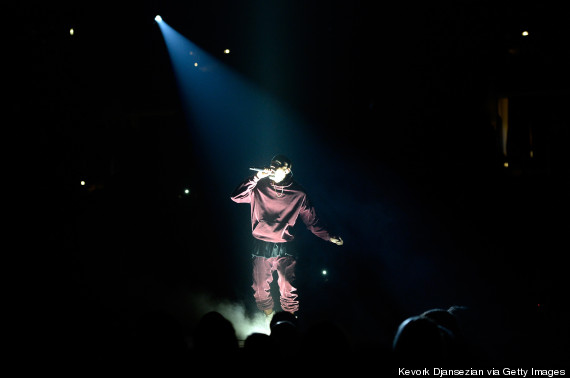 Lorde said it best: "Kanye's production design/TV performances are a consistent source of inspiration for so many musicians, me included."
2. Prince Gives The Most Quotable Line Of The Night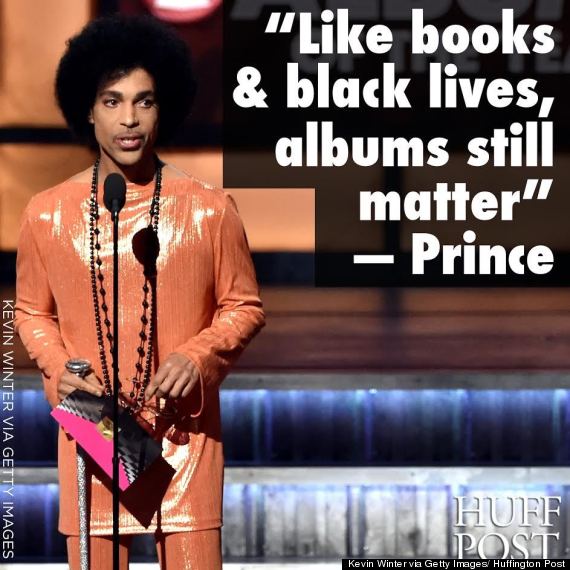 Prince announced the winner for Album of the Year, and though he was on stage for just a few moments, he made them count.
1. Kristen Wiig Stars In Sia's Performance
Of all the celebrities to take on Sia's alter-ego, Kristen Wiig was by far the most fun to watch. Perhaps because it came at the end of a long, predictable telecast or perhaps because we got to watch two geniuses come together, Sia's performance of "Chandelier" was the best of the night.
BEFORE YOU GO
PHOTO GALLERY
The 2015 Grammys Red Carpet