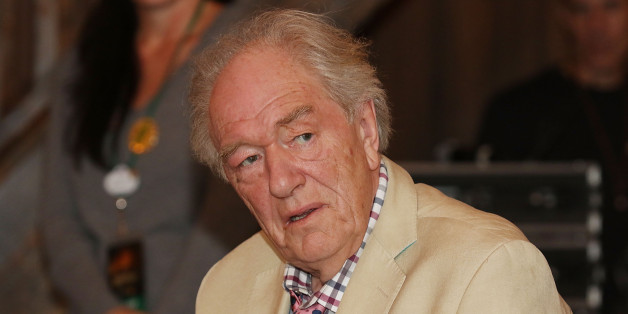 "Harry Potter" star Michael Gambon has announced he's retiring from theater acting now that he's struggling to remember his lines.
"It's a horrible thing to admit, but I can't do it. It breaks my heart. It's when the script's in front of me and it takes forever to learn. It's frightening," the 74-year-old, who played Albus Dumbledore in six of the "Harry Potter" films, told the Sunday Times Magazine.
Gambon told the magazine he realized he could no longer continue acting in front of a live audience about six months ago while auditioning for a West End play, and found that he needed to use an ear piece so he could be fed his lines.
"There was a girl in the wings and I had a plug in my ear so she could read me the lines. After about an hour I thought, 'This can't work,'" he explained. "You can't be in theatre, free on the stage, shouting and screaming and running around, with someone reading you your lines.'"
The condition has plagued the actor before. According to the BBC, Gambon suffered panic attacks in 2009 after forgetting his lines during play rehearsals at the National Theater.
Gambon was so worried about losing his memory that he consulted two doctors to test for Alzheimer's disease, but as he told the Daily Mail last April, his memory loss is a result of aging rather than the disease.
"It's a real worry but there's not much I can do about it," he told the the U.K. paper.
And while Gambon has retired from the stage, he has yet to say goodbye to Hollywood. The actor will next be seen in the BBC adaptation of J.K. Rowling's "The Casual Vacancy" and in a movie remake of the classic sitcom "Dad's Army."
BEFORE YOU GO
PHOTO GALLERY
Celebrity News & Photos