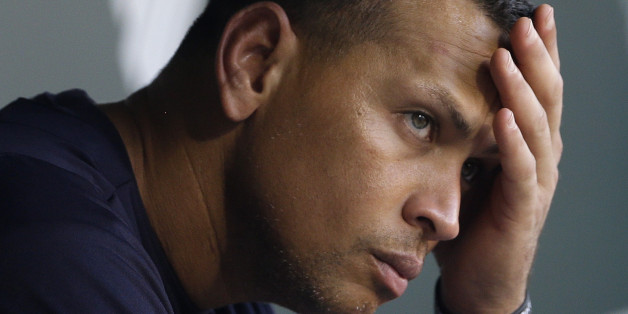 Disgraced slugger Alex Rodriguez has met with the New York Yankees and apologized "for his actions over the past several years," according to a joint statement cited by local media.
A-Rod was suspended without pay for the entire 2014 season for his alleged use of performance-enhancing drugs.
Initially suspended for 211 games midway through the 2013 season, he appealed and fought the league, the team and player's union, and then filed a number of lawsuits, which he later dropped.
The suspension was ultimately reduced to 162 games, or the length of a complete baseball season.
According to the New York Daily News, the Yankees told Rodriguez that his behavior was "entirely inappropriate throughout the summer of 2013" and warned that it would not be forgotten.
The Yankees also asked him to address the media before pitchers and catchers report for spring training on Feb. 20, according to ESPN New York, which added that A-Rod was amenable to that timetable.
Here's the full text of the statement, as cited by CBS Sports:
"Today we held a meeting at Yankee Stadium between Hal Steinbrenner, Randy Levine, Brian Cashman, Jean Afterman, Alex Rodriguez and Jim Sharp. Alex initiated the meeting and apologized to the organization for his actions over the past several years.

There was an honest and frank discussion on all of the issues. As far as the Yankees are concerned, the next step is to play baseball in spring training."
Steinbrenner is managing general partner of the team, which is owned by his family. Levine is the team's president, Cashman the general manager and Afterman is the assistant GM. Sharp is A-Rod's attorney.
Rodriguez is signed through 2017, with $61 million in salary remaining on the contract. In addition, the Yankees have a second contract with Rodriguez that will pay him up to $30 million more for reaching various home run milestones.
The Yankees are reportedly looking to fight that contract, and the Associated Press reports that the team told Rodriguez at Tuesday's meeting that they do not feel obligated to pay it.
In 2009, the three-time MVP admitted to using performance-enhancing drugs in 2001, 2002 and 2003 when he was with the Texas Rangers. He claimed he had been clean since.
In his only public statements since the suspension, A-Rod has denied using performance-enhancing drugs after 2003. However, he reportedly admitted to using them from 2010-2012 during a January 2014 meeting with the Drug Enforcement Agency, according to the Miami Herald.
BEFORE YOU GO
PHOTO GALLERY
Alex Rodríguez