For the next 30 days, GPS for the Soul and meQuilibrium are providing you tips on how to live a healthier, happier and stress-free life. See the previous stress tips here.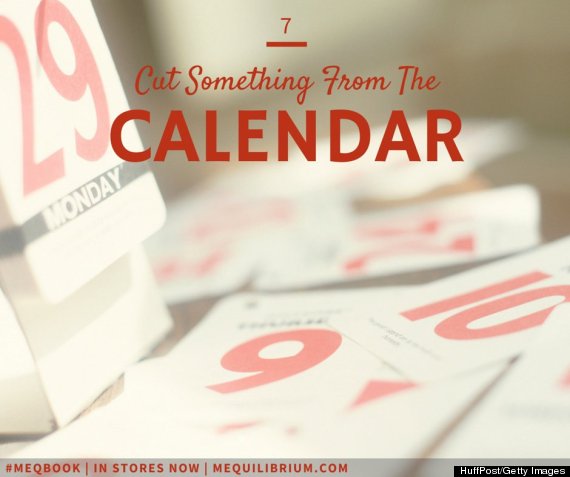 A packed schedule can be exciting -- a sign that you're killing it at work and at home. And yet, when you're overbooked to the point of stress, you're dancing so fast you stop noticing how exhausted or anxious you really are. Push yourself to be productive on every front all the time, and you will hit your red-alert stress levels and burn out. It won't be pretty.
As we write in our new book, "It's helpful to remember that we live exactly once." It's worth it to take the time to cool down your calendar and cut out something (even one thing!) that you really don't need to do. Easiest step? Block out time in your week just to think about long-term and long-neglected things. If people ask to schedule an appointment then, tell them that you are committed (which you are). Pay attention to the thoughts, emotions and beliefs that come up around your schedule (especially the fear-based ones that tell you that if you cut anything, you'll miss out on everything -- which is highly unlikely). Resolve those and you're on your way to a lot more breathing room.
Read more about how your thoughts and beliefs amp up your busyness.
--Posted by Lindsay Holmes
Learn more useful information about stress and your health! Order meQuilibrium's new book, meQuilibrium: 14 Days to Cooler, Calmer, and Happier, co-authored by meQuilibrium CEO Jan Bruce, Adam Perlman, M.D., Chief Medical Officer, and Andrew Shatté, Ph.D., Chief Science Officer.
BEFORE YOU GO
PHOTO GALLERY
meQuilibrium's 10 Principles For Less Stress: A GPS Guide