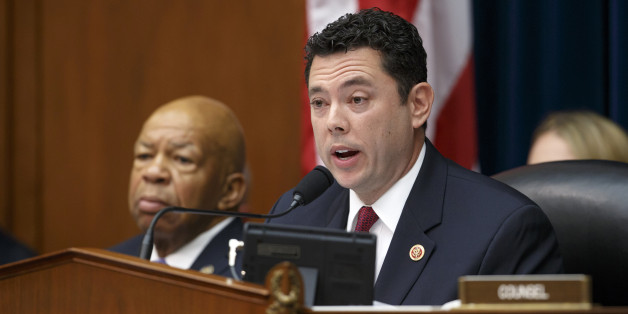 WASHINGTON -- The top Democrats on 16 House committees sent a letter to all members on Tuesday condemning Republicans' recent push to expand the power of committee chairmen to unilaterally issue subpoenas without any debate or vote.
"For decades, responsible committee chairmen -- both Democratic and Republican -- recognized that the coercive power of subpoenas should be used only as a last resort, and they obtained the concurrence of the ranking member or called a committee vote before issuing subpoenas," reads the letter, which cites the handful of past chairmen who have ever used such authority. "This year House Republicans are changing the rules to give some chairmen unfettered authority to issue subpoenas unilaterally, adopting an abusive model embraced only by Senator Joe McCarthy, former Rep. Dan Burton, and Rep. Darrell Issa."
The letter is signed by Democratic Reps. Elijah Cummings (Md.), Corrine Brown (Fla.), John Conyers (Mich.), Peter DeFazio (Ore.), Eliot Engel (N.Y.), Raul Grijalva (Ariz.), Eddie Bernice Johnson (Texas), Sander Levin (Mich.), Nita Lowey (N.Y.), Frank Pallone (N.J.), Adam Schiff (Calif.), Louise Slaughter (N.Y.), Adam Smith (Wash.), Bennie Thompson (Miss.), Chris Van Hollen (Md.) and Maxine Waters (Calif.). All are ranking Democrats on House committees.
Congressional committees have long had the authority to issue subpoenas to compel witness testimony or to obtain documents. But until recently, the Oversight and Government Reform Committee was the only House panel where a chairman unilaterally issued subpoenas. Issa went on a subpoena-issuing bonanza in his recent role as chairman of that committee.
At least seven committee chairmen will have that authority in this Congress, including those on Energy and Commerce, Financial Services, Oversight and Government Reform, Judiciary, Homeland Security, Agriculture, and Science, Space and Technology. Aside from Oversight, all of these chairmen are getting this authority for the first time.
Democrats fear the change means Republicans plan to inundate Obama administration officials with requests for information so they can't get their work done. Many of the chairmen with this new authority have jurisdiction over President Barack Obama's signature issues. Judiciary, for example, has jurisdiction over immigration matters. Energy and Commerce oversees health care reform.
A Rules Committee spokeswoman said chairmen have always had the option to use unilateral subpoena power, and the only reason they're exercising it now is "because of the unprecedented stonewalling from the Obama administration."
Each committee adopts its rules at the beginning of a Congress, a point at which the majority can -- and in these cases, did -- decide to give its chairman expanded subpoena powers.
Not all House committees opted to expand their chairman's powers. The leaders of Appropriations, Armed Services, Intelligence and Veterans Affairs committees will still seek a debate or vote on a potential subpoena before issuing one.
In their letter, Democrats gave credit to those "well-functioning" committees for keeping subpoena powers under the control of the full committee. They also urged lawmakers to read a recent op-ed by former Rep. Henry Waxman (D-Calif.) warning against broadening chairmen's subpoena powers. Waxman led Energy and Commerce as well as Oversight and Government Reform during his 40 years in Congress.
"This is an invitation to abuse that diminishes the prospect for responsible congressional oversight," wrote Waxman. "Unfortunately, this ill-fated move has received virtually no attention."
BEFORE YOU GO
PHOTO GALLERY
Scenes From Capitol Hill