History has been made.
Petty Officer 2nd Class Thomas Sawicki and his boyfriend, Shawn Brier, became the first gay men in history to share the ceremonial "first kiss" held when a vessel returns from deployment. It happened Monday at the homecoming of the nuclear submarine USS San Francisco at the Naval Base Point Loma in San Diego, NBC San Diego reports.
Sawicki, who was deployed for seven months in the Western Pacific, was chosen for the special moment by a lottery -- and said his comrades were thrilled.
"Everyone was cheering for me when they announced it over email," Sawicki told KNSD. "Everyone was very excited, very supportive, very happy."
Photographers were on hand to capture the embrace.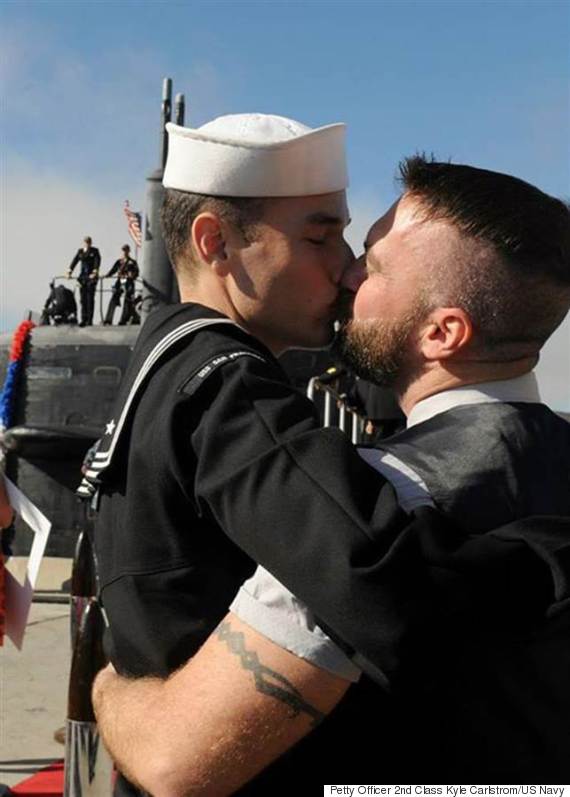 In December 2011, Petty Officer 2nd Class Marissa Gaeta and her partner, Petty Officer 3rd Class Citlalic Snell, were the first lesbians to share an official "first kiss," the Telegraph reported.
"I think that it's something that is going to open a lot of doors, for not just our relationship, but all the other gay and lesbian relationships that are in the military now," Snell said at the time.
The public embrace was made possible by the 2011 repeal of "Don't Ask, Don't Tell," which had banned LGBT people from serving in the military.