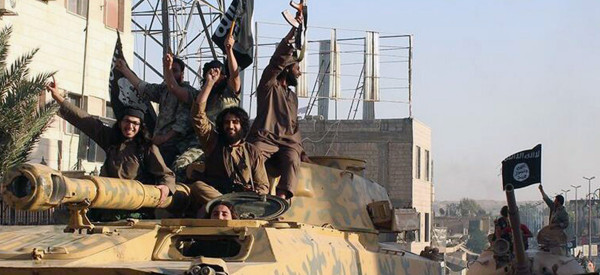 TOP STORIES
To get The Morning Email, HuffPost's daily roundup of the news, in your inbox, sign up here.
FOREIGN FIGHTERS IN SYRIA & IRAQ AT UNPRECEDENTED LEVELS "Foreign fighters are streaming into Syria and Iraq in unprecedented numbers to join the Islamic State or other extremist groups, including at least 3,400 from Western nations among 20,000 from around the world, U.S. intelligence officials say in an updated estimate of a top terrorism concern … Nick Rasmussen, chief of the National Counterterrorism Center, said the rate of foreign fighter travel to Syria is without precedent, far exceeding the rate of foreigners who went to wage jihad in Afghanistan, Pakistan, Iraq, Yemen or Somalia at any other point in the past 20 years." President Obama is set to propose a Congressional authorization to fight the Islamic State today. And yesterday, the parents of American hostage Kayla Mueller received confirmation of her death, making her the fourth American hostage to die while in ISIS captivity. [AP]

JON STEWART TO LEAVE 'THE DAILY SHOW' The beloved satirist will leave "The Daily Show" at the end of the year, he announced last night on air. Speculation is growing about his potential successors, but if you're feeling particularly nostalgic, here's video of his first "Daily Show" episode (note the hair). [HuffPost]
BRIAN WILLIAMS SUSPENDED FOR SIX MONTHS Following the firestorm surrounding Brian Williams' exaggerated tale of being in a helicopter that came under enemy fire in Iraq, the NBC news anchor has been suspended for six months without pay. Lester Holt will take over anchoring duties. Read the full statements of NBC News President Deborah Turness and NBC Universal CEO Steve Burke on the matter here. [HuffPost]
U.S. CLOSING EMBASSY IN YEMEN "The State Department confirmed late Tuesday that it has closed the U.S. Embassy in Yemen and evacuated its staff because of the political crisis and security concerns following the takeover of much of the country by Shiite rebels." Britain and France also have closed their embassies. [AP]
WHITE HOUSE CONSIDERS SLOWER AFGHANISTAN WITHDRAWAL PLAN "The Obama administration is considering slowing its planned withdrawal from Afghanistan for the second time, according to U.S. officials, a sign of the significant security challenges that remain despite an end to the U.S. and NATO combat mission there." [WaPo]
MEET THE SYRIAN 'MONUMENTS MEN' These historians and academics are fighting to save the valuable cultural landmarks and artwork that ISIS fighters are constantly looting for spare cash. [WSJ]
MORE THAN 200 MIGRANTS DIED ATTEMPTING TO CROSS THE MEDITERRANEAN The United Nation's refugee agency said at least 203 migrants had been "swallowed by the waves" while attempting to cross the Mediterranean Sea via smugglers' boats. [USA Today]
WHAT'S BREWING

PARALYSIS IS STRIKING KIDS ACROSS THE U.S. "Since August, more than 100 children across the country have developed a condition best described in three words no parent ever wants to hear: mysterious, sudden paralysis. The kids have a median age of 8, and three-quarters of them were previously perfectly healthy. For most, the loss of feeling occurred only on one side of the body." [The Atlantic]
APPLE'S NEW HQ TO BE POWERED BY SOLAR ENERGY Take that, Google. [HuffPost]
YOUR LIFETIME EARNINGS ARE DEPENDENT ON YOUR 20s So hunker down at your Ikea desk and get to work. [WaPo]
PREPARE TO BE PITCH SLAPPED The second "Pitch Perfect 2" trailer is here, and boy do those girls run the world. [HuffPost]
THERE WERE MORE MAJOR WOMEN PROTAGONISTS IN 2002 MOVIES THAN IN 2014 "Of the 100 highest-grossing movies, female characters comprised a measly 12 percent of protagonists, according to the study's findings. That's 3 percent lower than 2013's numbers and 4 percent lower than those of 2002, when 'My Big Fat Greek Wedding,' 'Sweet Home Alabama' and 'Panic Room' were among the year's highest-grossing titles. With all of 2014's significant film roles factored in, women represented 29 percent of major characters and 30 percent of all speaking roles." [HuffPost]
SNAPE WAS EVEN MORE TRAGIC THAN YOU THOUGHT Someone put all of Snape's background scenes together chronologically, and as Vulture put it, it's basically "Boyhood" on YouTube.[Vulture]
CAN'T GET A STANDING DESK? Some alternatives to slowly killing yourself by sitting all day. [HuffPost]
ON THE BLOG
ARIANNA HUFFINGTON: A Q & A WITH JONAH BERGER "Contagious: Why Things Catch On established Jonah Berger as a thought leader on a subject with big implications for the future of media: why we share. As The Huffington Post launches What's Working, an editorial initiative to double down on our coverage of positive news and solutions, I asked Jonah, a Wharton Business School professor, for his insights. Here he offers his thoughts on the future of positive news, technology's role in the spread of ideas and the powerful emotions that drive us to share." [HuffPost]
BEFORE YOU GO
~ Florence + The Machine have a new song that will make you question your existence.
~ Chocolate in space.
~ Tiny hamsters on a tiny Valentine's Day date.
~ Charlie XCX's cover of "Shake It Off" adds some serious flare to the new T-Swift classic.
~ Questlove is impressed with Blue Ivy's drum skills.
~ When Twitter's CFO gets hacked.
~ Selena Gomez has found the Harry to her Sally, and his name isn't Justin.
Send tips/quips/quotes/stories/photos/events/scoops to Lauren Weber at lauren.weber@huffingtonpost.com. Follow us on Twitter @LaurenWeberHP. And like what you're reading? Sign up here to get The Morning Email delivered to you.