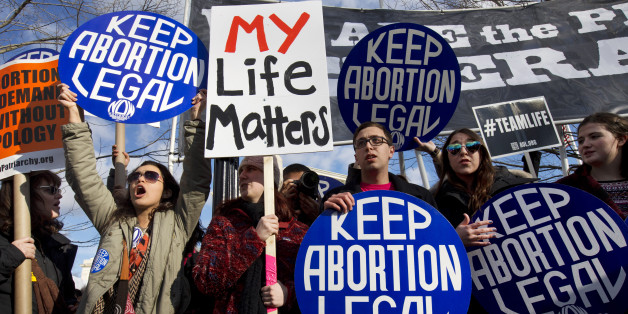 Republican state legislators have been able to expedite one of their top policy priorities -- restricting access to abortion -- given the historic gains they made in last year's midterm elections.
Now that the GOP controls 69 of the 99 partisan state legislative chambers and 31 governorships, state lawmakers have raced to file bills concerning all aspects of the procedure. As of last week, lawmakers have introduced more than 100 bills regulating abortion in more than half of all states, according to data from the Henry J. Kaiser Family Foundation.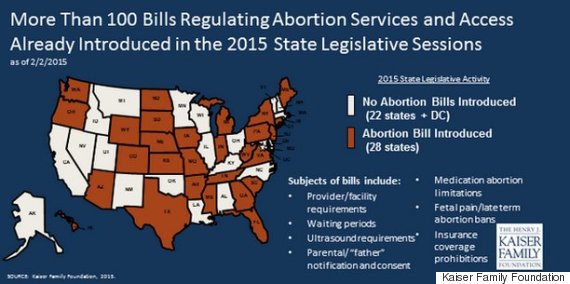 A sample of the bills introduced include those that would outlaw the most common second-trimester termination method, require parental notification and the permission of the father, require patients to watch an anti-choice video before they could undergo the procedure, require that providers have admitting privileges at nearby hospitals and mandate that patients wait 72 hours before they are able to terminate.
Bills banning abortion after 20 weeks of pregnancy have also found success this year at the state level, even as Republicans in Congress have struggled to pass the ban.
As a recent ThinkProgress investigation revealed, the ease with which lawmakers introduce such legislation is due to the organizational backing they have: groups like Americans United for Life will draft model legislation, and then language from those examples will then appear in anti-abortion bills in multiple states.
"We do a number of things, but one thing that kicks off at around this time of the year is our legislative consulting with state and federal legislators helping to enact life affirming laws and helping to fight off bad amendments or bad legislation," explained Anna Paprocki, staff council with AUL, at the annual March for Life Law Summit in January. "We have over 50 pieces of what we call 'model legislation,' legislation that we think states should enact, our ideas that we've vetted with what we think is good language."
Bills introduced this year build upon the success legislators have had in past sessions; according to the Guttmacher Institute, states have enacted more than 230 restrictions on the procedure in just the last four years.
BEFORE YOU GO
PHOTO GALLERY
Abortion Protests Around The Nation