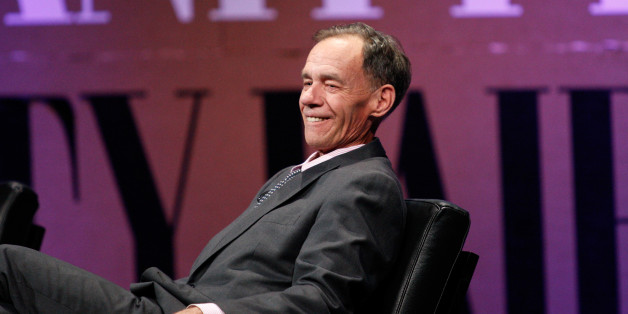 Esteemed New York Times media columnist David Carr died on Thursday night at the age of 58. The newspaper said he died after collapsing in the newsroom.
Heartbreak. RT @TheoTypes: In my inbox now: Dean Baquet's message to Times employees about the passing of David Carr. pic.twitter.com/r5zb7xbMmo

— Don Van Natta Jr. (@DVNJr) February 13, 2015
Within minutes after the news broke, an outpouring of love, shock and pain deluged Twitter and Facebook as Carr's colleagues at The New York Times as well as other members of the media, celebrities and fans expressed their deep respect for a man known for his talent and his integrity, his humility and his poise.
@carr2n was media. He was propping up the whole rickety stage. Now what? I feel like it's over.

— amandahesser (@amandahesser) February 13, 2015
David @carr2n understood deeply that nothing was simple, no one was just a hero or villain, we were our foibles and our acts of courage.

— Jim Schachter (@jimschachter) February 13, 2015
Disproving daily charges journalism has become merely regurgitation of trivia, @Carr2n was always creative, original and incisive.

— Saul Hansell (@shansell) February 13, 2015
As I left for home from the newsroom tonight, I waved goodbye to David Carr. Had no idea it would be the last time. What a loss

— Richard Sandomir (@RichSandomir) February 13, 2015
Tonight I will play for David Carr. Some of the most exciting/inspiring talks & dinners I have ever had were with him. I am heartbroken.

— Carrie Brownstein (@Carrie_Rachel) February 13, 2015
David Carr was equal parts sweetheart, truth-teller and ass-kicker. And such a great colleague/journalist. I can't believe this.

— Mark Leibovich (@MarkLeibovich) February 13, 2015
The only person who could adequately express how we all feel is David Carr.

— Ravi Somaiya (@ravisomaiya) February 13, 2015
David Carr collapsed in the newsroom he loved, doing what he loved, surrounded by those who loved him. RIP pic.twitter.com/gVby5VYsWy

— Nicholas Kristof (@NickKristof) February 13, 2015
David Carr stood out because at a time when the news industry is struggling for its soul, he exemplified both soul and integrity. RIP

— Nicholas Kristof (@NickKristof) February 13, 2015
A terrible terrible night. RIP one of the best. Goddamnit.

— Sam Dolnick (@samdolnick) February 13, 2015
Watching all this grief for @carr2n pour forth and testimonials, it's a good reminder of what matters: Be good. Be kind. Be generous.

— Christopher Hayes (@chrislhayes) February 13, 2015
David Carr is one of the finest journalists and one of the best human beings I've ever known.

— a. o. scott (@aoscott) February 13, 2015
He told me the NYT would lift you up on its big shoulders and make you shine until you could shine on your own.

— Tanzina Vega (@tanzinavega) February 13, 2015
Of all the cats, David Carr was the coolest. He will be missed.

— Seth Meyers (@sethmeyers) February 13, 2015
Outside of my family, handful of people I'd crawl through shards of glass to help. David was one of them. And i was 1 of thousands for him.

— Seth Mnookin (@sethmnookin) February 13, 2015
David Carr was so vivid, so vital, so smart, so funny, so no-bullshit, so essential, so one-of-a-kind. What a terrible thing.

— Sarah Lyall (@sarahlyall) February 13, 2015
This is turning out to be an awful, awful week. The Last Real Newsman: http://t.co/29TSsuZHRy

— Anthony Bourdain (@Bourdain) February 13, 2015
Can't possibly find words. David Carr was brilliant, funny, generous. My heart breaks for his family+his legion of friends. Proud to be 1.

— Bill Carter (@wjcarter) February 13, 2015
Hard to think of a journalist who wedded the old world with the new — and with as much humility and determination — as well as David Carr.

— Matt Pearce (@mattdpearce) February 13, 2015
No one was a better critic of and believer in the fundamental goodness of the business of journalism. No one.

— Lydia Polgreen (@lpolgreen) February 13, 2015
How will you remember David Carr? Tell us in the comments.
BEFORE YOU GO
PHOTO GALLERY
Writers We've Lost In 2015