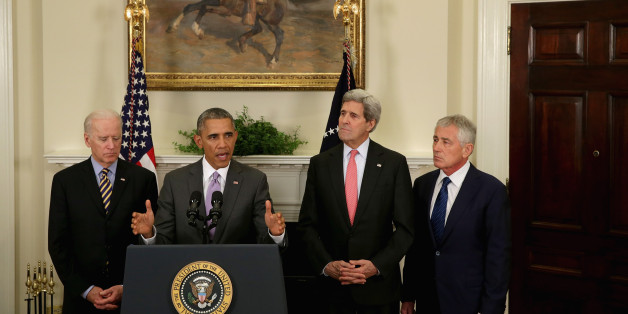 A majority of Americans support giving Obama authorization to use force against ISIS. Voters think Scott Walker would make a better president than Jeb Bush. And Christie's support sinks in New Jersey. This is HuffPollster for Friday, February 13, 2015.
A MAJORITY OF AMERICANS SUPPORT AUTHORIZATION OF FORCE AGAINST ISIS -Mark Murray: "A majority of Americans support President Barack Obama's proposed authorization to use force against ISIS…[Fifty-four] percent of Americans say they want their member of Congress to vote for this authorization. This includes a majority of Democrats (60 percent), Republicans (52 percent) and independents (51 percent). Just 32 percent of all respondents want their member of Congress to vote against such an authorization. But confidence in Obama's strategy to combat ISIS is mixed - with 45 percent having a "great deal" or a "good amount" of confidence, versus 48 percent who have little to no confidence… [A] plurality of respondents prefer sending a limited number of U.S. forces to combat ISIS (40 percent), versus a large number (26 percent) or no ground forces at all (26 percent)...And Americans are divided over whether President Obama will be remembered more for ending a war (40 percent) or starting a new one (44 percent)." [NBC]
FOX NEWS POLL 'GRADES' 2016 FIELD - Dana Blanton: "The latest Fox News poll asks voters to grade a number of potential contenders based on how well they think they would do as president. Comparing letter grades -- like you get in school -- gives a different take than hypothetical voting. And there are some surprises....Wisconsin Gov. Scott Walker is at the head of the class on the Republican side, outpacing former Florida Gov. Jeb Bush -- the current frontrunner in most national GOP primary polls. Grade averages are calculated among just those respondents who are familiar with the candidate. Despite being less well-known, Walker scores better grades because he has a higher ratio of people who know him giving him good grades. Self-identified Republicans who are familiar with the candidates give Walker an average grade of B (2.75 GPA), while grading the potential of both retired neurosurgeon Ben Carson (2.62) and Florida Sen. Marco Rubio (2.48), just a notch lower at B-." [Fox News]
Christie gets a 'C' - More from Fox: "New Jersey Gov. Chris Christie trails with a C average (1.90) among Republicans -- and has the added distinction of having the most Republicans assigning him a failing grade (13 percent)."
IN NEW JERSEY, CHRISTIE'S RATINGS DROP - Rutgers Eagleton Center: "New Jersey voters have soured on the governor, according to the latest Rutgers-Eagleton Poll. Following a recent spate of damaging headlines, Christie's support has collapsed to just 37 percent of registered voters reporting a favorable impression, down seven points in just two months. For the first time, a clear majority (53 percent) feels unfavorable towards the governor. His overall job approval is also clearly negative: 52 percent disapprove while 42 percent approve, a drop of six points since December. Voters have definite opinions about reasons behind the slide. Twenty percent mention his attitude, personality, and behavior; 15 percent refer specifically to "Bridgegate" and 10 percent say something about shunning his current duties to pursue presidential ambitions." [Eagleton]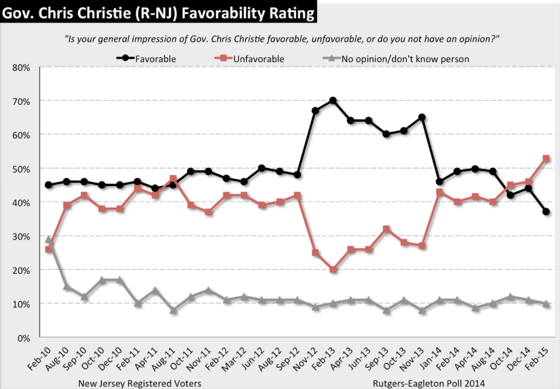 WSJ GRAPHS THE IMPACT OF VACCINES - Tynan DeBold and Dov Friedman chart the number of cases of measles per 100,000 people by state across the 20th Century. Click through for similar charts on Hepatitis A, Mumps, Pertussis, Polio, Rubella and Smallpox. [WSJ via @usatoday_polls]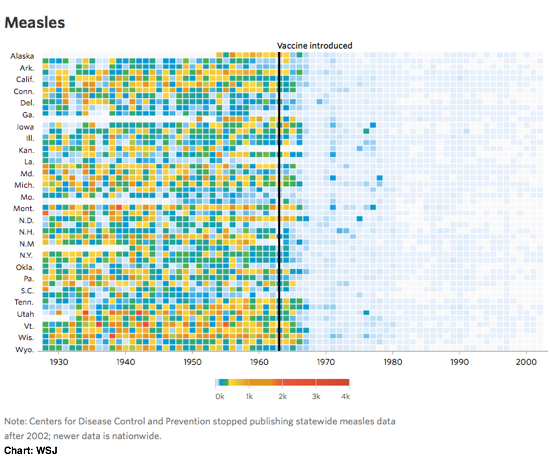 FOR VALENTINE'S DAY... Here is what polling tells us about Valentine's Day and love:
-Two thirds of Americans (66 percent) say consumerism has ruined the romance of Valentine's Day. [Harris Interactive]
-People are 3,777 percent more likely than usual to eat candy hearts on Valentine's Day. [NYT]
-Sixty-nine percent of Americans say they are currently in love; 51 percent believe in love at first sight. [Fox News]
-Americans regret lost money more than lost love. [YouGov]
HUFFPOLLSTER VIA EMAIL! - You can receive this daily update every weekday morning via email! Just click here, enter your email address, and click "sign up." That's all there is to it (and you can unsubscribe anytime).
FRIDAY'S 'OUTLIERS' - Links to the best of news at the intersection of polling, politics and political data:
-The American Association for Public Opinion Research releases a report on "Big Data." [AAPOR]
-Forty-one percent of 2014 voters say they cast their ballots before Election Day. [Univ. of Minnesota]
-2016 could be the eighth consecutive presidential contest where neither major party wins more than 55 percent of the two-party vote. [Sabato]
-Fifty-one percent of Americans believe that blacks and other minorities do not receive treatment equal to whites in the criminal justice system. [PRRI]
-Fifty-eight percent of of Oregon adults say Governor John Kitzhaber should resign. [SurveyUSA]
-Stu Rothenberg explains why early Senate polling is usually useless. [Roll Call]
-Stan Greenberg and colleagues (D) outline their evolving strategy for progressives. [Democracy Corps]
-Seventy- two percent of Israelis do not trust Obama on Iran. [The Blaze]
-Only 1 in 3 British adults believes in God. [YouGov]
-Harry Enten thinks the media has made too much of Jon Stewart's retirement. [538]
BEFORE YOU GO
PHOTO GALLERY
How To Survive The Impending Collapse Of Civilization