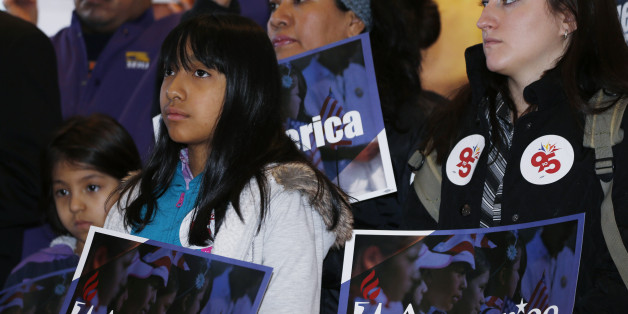 WASHINGTON -- Alfredo Garcia, 22, has his documents ready to apply for a proposed Obama administration program that would allow him to remain in the U.S. and work temporarily. After living in the United States as an undocumented immigrant for seven years, he's set to graduate from Texas A&M this year with a double-major in economics and philosophy and wants to go on to get a Ph.D.
He faced a setback to that plan on Tuesday, just one day before the government was supposed to begin accepting applications to the program. Garcia woke up and logged in to Facebook, only to learn that a judge in his state had issued a preliminary injunction late Monday, temporarily halting the progress of this policy that would help him.
Garcia said he's not worried about himself, because he is confident the courts will eventually allow the programs to move forward. But he's worried about others who are reading the news and might think the policies are doomed for good.
"I know that the people who are not as informed, like my parents, like my friends, like the construction workers I work with in the summer -- they're freaking out right now," he said.
Immigration reform advocates said they weren't surprised when U.S. District Court Judge Andrew Hanen issued a preliminary injunction, stalling President Barack Obama's 2014 immigration executive actions. The president announced in November plans to expand the existing Deferred Action for Childhood Arrivals policy, or DACA, that allows undocumented immigrants who came to the U.S. as children to stay and work for three years. He also created Deferred Action for Parents of Americans and Lawful Permanent Residents, or DAPA, which is meant to do the same for parents of U.S. citizens and legal permanent residents.
The administration plans to appeal that ruling, and supporters of the action say they are confident they will prevail in the end.
But in the meantime, people like Garcia will be delayed in applying for the expanded DACA policy. Homeland Security Secretary Jeh Johnson released a statement Tuesday afternoon saying he "strongly" disagreed with the decision, but that DHS would not be able to begin accepting applications Wednesday for the expanded DACA program or continue to plan for the DAPA program for now.
"The Department of Justice will appeal that temporary injunction; in the meantime, we recognize we must comply with it," he said.
Johnson said the order does not mean people who qualified for DACA under the 2012 guidelines are blocked from applying for the program or renewing their status.
A start date had not yet been set for DAPA, the program for parents, but immigration reform advocates are encouraging undocumented immigrants to get their documents ready to apply for when the process begins, despite the ruling.
"We may be delayed, but we will not be deterred. ... I am telling immigrant communities to keep preparing to sign up millions of families for protection from deportation," Rep. Luis Gutierrez (D-Ill.) said in a statement.
Greisa Martinez, a DACA recipient who works as a field organizer for the advocacy group United We Dream, said the organization has been talking with affiliates around the country to spread correct information on the ruling.
Martinez and other advocates said the lawsuit itself, along with actions by Republicans in Congress, was meant to keep people from applying so the program would fail.
"That's the Republican strategy, to make this program not successful and make people go back even more into the shadows," said Martinez, whose mother could be eligible for DAPA because she has other children who are U.S. citizens.
For now, it's a waiting game for those planning to apply for the programs outlined in the executive actions. Rocio Andiola, 35, came to the U.S. when she was 15. She missed the age cut-off for the 2012 DACA program, but now could be eligible for the expanded version. She also could apply for DAPA because she has children who are U.S. citizens. She's about six months away from completing her GED, and then would like to continue her education, work and get a driver's license.
Andiola -- whose sister is Erika Andiola, a co-director of advocacy organization Dream Action Coalition -- said she trusts that they win out eventually.
"I have hope that even if there's a delay on it, that it's going to happen," Andiola said. "I don't know exactly when, but I'm hoping soon."
BEFORE YOU GO
PHOTO GALLERY
Why Latin Americans Really Come To The U.S.