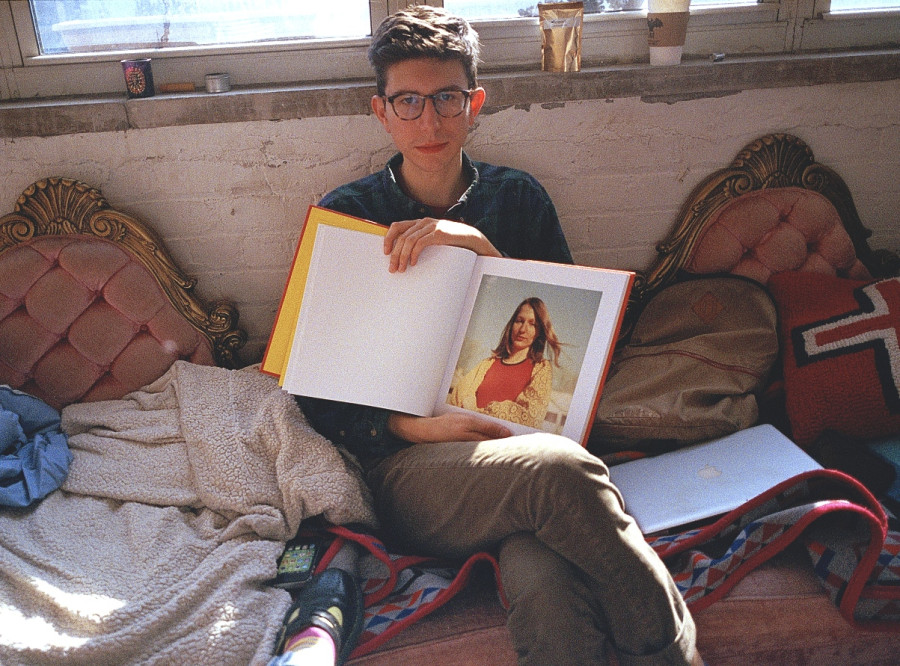 On Nov. 7, 2013, Carles wrote one of his last articles on Hipster Runoff, what was arguably the most influential site for '00s indie rock criticism. Its title: "Is the scene still alive?"
Amongst other popular loving diatribes against/for this "scene," Hipster Runoff ended up being most notable for the creation of the "chillwave" genre -- which championed (through playful ridiculing) bands such as Neon Indian, Toro y Moi and Washed Out -- where part of the appeal was that the albums were "bedroom projects." But by the time Carles wrote this 2013 article, the dream of the early music blogosphere and bedroom bands was basically over. By then, the few early "indie rock" bands who were able to go mainstream made expensive-sounding albums that would critically win the year, perhaps most notably the Billboard-topping Vampire Weekend's "Modern Vampires of the City" and Arcade Fire's "Reflektor." The wave had crested. It seemed harder than ever for an "indie band" to self record an album and come close to sounding like the indie bands who were considered most-acclaimed.
In 2014, the indie rock scene further crumbled as notable New York venues 285 Kent, Death By Audio and Glasslands all closed throughout the year in Williamsburg, in large part due to the relocation of Vice headquarters to the warehouse that housed these venues. Spaces a bit deeper in Brooklyn started becoming a bigger deal, such as Shea Stadium in Bushwick and Baby's All Right in South Williamsburg, but with rents rising, the typical concert-goers for these venues had to live farther and farther away from these home bases.
Carles sold Hipster Runoff earlier this year, for a mere $21,000. He went out by posting a few new articles in his old-style on a new site Carles.buzz about new indie "alt-stars" such as Mac DeMarco, going on an interview tour and releasing an ebook called Nothing Matters. The enormous size of culture sites such as BuzzFeed, Grantland and previously mentioned Vice had kind of made it impossible for upstart "scene" writers to have influence outside of simple picture-sharing. Lana Del Rey -- a musician who found success last year by essentially being a parody of her first iteration as a fake indie rock songstress who was actually on a big label and tailor-made for Urban Outfitters -- ended up being heralded. At one point she was Carles' nemesis on the site; last year, the popularity of her "Brooklyn Baby" was essentially a swan song for that particular scene. All the while, new indie bands seemed unsure how to proceed and didn't have as reliable a model to get recognized anyway.
With the exception of a few exciting pockets such as the ex-Montreal Arbutus Records scene, where Mac DeMarco and Tops came from, for "indie rock," fuzzy noise bands and classic rock-esque older songwriters dominated. After all the year-end reviews were published, 2014 was widely considered to be an off-year for music, even outside of indie rock. A$AP Rocky tweeted "2014 WAS A TERRIBLE YEAR FOR MUSIC, CULTURE, AND UNITY, 2015 IS THE REBIRTH OF IT ALL AND THE YEAR OF THE UNDERDOGS, MARK MY WORDS!!"
This claim of 2015 being a year of rebirth might just be true. It seems as if the wave has come and gone and it's time for something entirely new to be rebuilt. It's the early-'00s all over again and the next Strokes / LCD Soundsystem (on the more polished spectrum) or the next Microphones (in the lower fidelity realm), could come out of nowhere and at any moment. Finally, it's time to move on from all the death talk.
Although it's unclear where indie music can reliably be read about at the moment, something cool and worth knowing seems to be springing forth from the New York/New Jersey area. One band, Quarterbacks, just released a phenomenal lo-fi, self-titled album, that absolutely feels like the ground floor of the new indie rock. Another lo-fi musician and friend of the band, Frankie Cosmos, was even said to have the "best pop album" of 2014 by indie rock championing music writer Lindsay Zoladz at Vulture. Something seems to be happening here that's worth writing and subsequently talking about. Whatever that'll mean is far from knowing yet and will only be realized in hindsight, but for now, this seems like a rebirth and forgive me for being a bit giddy. "Bedroom projects" may not be any all-saving answer, but personally I think it's way more fun to watch a band make something great with so little and for an expensive studio to not be needed to sound "right."
And although this might not be the perfect poster-child scene to raise up for this sort of thing, as Cosmos even has connections (she's the daughter of Academy-award winning actor Kevin Kline), the most thriving indie rock is when it's possible again for just about anyone to breakthrough with their sound. Right now its Quarterbacks and from there who knows? But as they're having a moment, HuffPost Entertainment reached out to Dean Engle, the lead singer of this three-piece "boyband" to find out more about what his band friends are up to and how the album came to be just south of Poughkeepsie. The whole conversation is below:
It seems as if a particular sound is coming out of Northern New Jersey to Poughkeepsie right now with Double Double Whammy Records and particularly your association with Spook Houses / Frankie Cosmos / Dumb Talk and all those bands. Could you talk about what it's been like to befriend these other people and how these connections started to come together?
I'm a little old, 24, and became friends with those people at different times. It's a funny list (based on reality), but fine. I met the Spook Houses people down at SUNY Purchase after that band was largely over, and only met Colin once he had begun Flashlight O. So I met each person in that band separately, and saw them only once just last year around this time, with Jake Lazovick on drums, but I knew the records, knew the songs. Greta, I met through music, just as a fan. Saw one of the first shows with Aaron on drums at BSP in Kingston, heavy from the start. Dumb Talk I've known for longer, since we're essentially from the same town. Put them on a lot of shows we played and planned. I'm glad you know about them because I feel they're currently overlooked. Will, the singer who writes the guitar hooks, is a true pop mastermind, total classic. These people are not really connected in any way, but I am friends with all of them through playing shows which leads to a good point: making music can help you meet smart nice people.
So you've mentioned that you were obsessed with K Records. Before realizing that, I kind of felt your music sounded as if Phil Elverum had started a band way back when instead of going the more solo noise exploration route. Another similarity seems to be New Paltz is also a mountain town like Elverum's Anacortes. Did you grow up being influenced by Microphones or were other K Records artists more influential? Other influences?
I was, I used to be pretty interested in K and still keep up with the new releases. I do like the Anacortes comparison and I often read interviews with P.E. (he's funny) and own many of his records. That's a band I don't feel influenced by, but do privately love, they match my foggy mountain lifestyle. I like K's investment in Olympia and all (from afar), I feel connected to that, supporting the bands around you, holding them up. Rose Melberg will always be my hero. I haven't taken Ashley Eriksson's record off my turntable in about a week.
You once referred to Quarterbacks jokingly as a boy band. Do you have any pop dreams for Quarterbacks? Would you record in a super nice studio or is the current recording style part of what you're going for? Could you also talk about how these new songs were rerecorded?
THE BOY BAND COMPARISON IS FROM RIKKI REYNOLDS, vital writer and essential American mind. She has written about us for years in a boy band context and I adopted the concept because I think it's right. Our music is somewhat performative, specific, pandering. This last record was recorded by Kyle Gilbride from Swearin' and it was a "studio" vibe (I think!), multiple mics and real software. We camped out in the Tin Roof shed, a space where our label Team Love periodically records videos of live sets/concerts, cool spot in the middle of a neighborhood up the street from my house. The LP's mostly live because I wanted that and insisted on playing drums/guitar/bass all at the same time with my bandmates Tom Christie and Max Restaino. We had 19 songs to record, the idea of overdubs was overwhelming. The whole album was recorded in about 10 hours, most of that was vocals because I can't sing.
Now the band is on Team Love, what was the catalyst for the switch?
Team Love's headquarters is in New Paltz roughly 1000 feet from where I live. It's an office and art gallery. Nate Krenkel (label head) started letting me use the space for shows and we got to know one another. I was working at a record store spatially in between my house and the office (small town) and we talked music a lot. After awhile, he brought up the possibility of a QBs LP which I had never considered. I said yes because making a record seemed very fun, and permanent. I wanted to make a record with my friends but did not think it would happen.
You've said that you think it isn't ethical to use someone's real name in a song. Do you mind elaborating on your feelings about this?
I think it's exploitative to mine your experiences with someone else, especially in something as personal as love, for the purpose of music which brings attention/money to You. How f'ed! But it happens often. Much in the way that writing about someone else's music is weirdly exploitative when you get paid and the band doesn't (no offense).
Also, within current internet culture, do you feel as if people should generally try to keep themselves anonymous instead of letting everything out over social media?
I feel strongly that digital space is up to the individual (within reason)! How boring to police that. I say let 'em live, Todd!
What is it like to substitute teach at your original school? Are you continuing studies right now or trying to focus more on Quarterbacks with the release?
It's good. I want to teach for the rest of my life. Soon music will fade and I will transition into full-time teacher world. In 2028 a student will access this article via brain computer and I will feel so old and embarrassed. I am in my last semester of grad school, for Literacy (teaching little kids to read). Please hire me, reader.
What is the dynamic of the band? How do you all juggle being in the band with other job and school requirements?
This band is the best part of my life, Max and Tom are my brothers and we love playing these songs for people. Jobs and school have to happen but we've always used this band to make the other aspects worth trudging through.
Someone on Soundcloud said they think Center sounds like early Blink 182. Being another 3-person band, could you see Quarterbacks being a band that follows Blink's trajectory? How do you feel about the Tom DeLonge / breaking up controversy?
Three years ago I saw Blink 182 at Saratoga Performing Arts Center with My Chemical Romance and I just want to say that this band is not anywhere as good as Blink 182. In sixth grade I stayed up late for a month making sure "I Miss You" stayed at #1 on the nightly alternative rock radio station countdown. Bless those rich rude men, may they play on in some form.
Image at the top by photographer Allyssa Yohana.