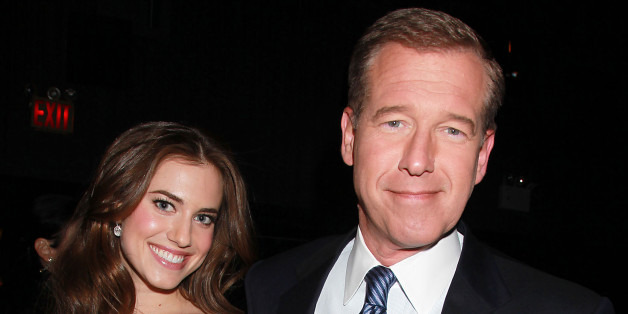 "Girls" star Allison Williams is defending her father, news anchor Brian Williams, who was suspended without pay last week from NBC after he admitted he fabricated a story about his time covering the war in Iraq in 2003.
In an interview with Seth Meyers at the 92nd Street Y on Wednesday night, the 26-year-old actress addressed her father's scandal for the first time.
"It's been tough, though. Obviously, toughest on my dad, who bears the full burden of responsibility for it, but one thing the experience has not done is shake my trust and belief in him as a man," she told Meyers. "He's a really good man. He's an honest man. He's a truthful man. He has so much integrity. He cares so much about journalism. And yes, he's a really good dad. I know you can trust him because, as any good daughter does, I've tested him on that."
The actress went on to tell a story from the time her father was in Iraq in 2003, which ironically enough actually suggests he has a pretty good memory (or at least a good assistant):
In 2003, when he was in Iraq for the war, I was in ninth grade. And there was a father-daughter dance at the end of the year, and before he left, he was assuming he'd be back in time for the dance. And then as the date was coming, it didn't seem like he was going to make it, but he had promised. And so then, a couple of days before, I was so upset, and I got a surprise call from Iraq from my dad. And he was asking if I had a date to the dance.

So that's the kind of man he is and I can't wait for him to be back on TV and I know many of you guys feel that way.
BEFORE YOU GO
PHOTO GALLERY
Celebrity News & Photos