North Korean dictator Kim Jong Un, already known for his unique hairdo, has updated his look.
Kim's new hairstyle remains cropped on the sides and heavy on top, but he appears to have grown his hair out and had it sculpted into a trapezoidal shape. And, for good measure, it seems as if he's had his eyebrows trimmed:
Enlarged Meeting of Political Bureau of C.C., WPK Held under Guidance of Kim Jong Un http://t.co/sCLIBL57WG pic.twitter.com/dte6KS012G

— KCNA Watch (@KCNAWatch) February 19, 2015
Here's a side-by-side comparison of Kim's new look with an image taken a year ago:
High brow: A year apart - Kim Jong Un in early 2014 and now #NorthKorea pic.twitter.com/AOTKrrNiih

— Frank Feinśtein (@frankfeinstein) February 19, 2015
Some on Twitter have pointed out that Kim's new hairstyle looks a lot like Pauly D's from "Jersey Shore," which led the DJ to retweet this comparison:
Kim Jong Un
#NumberOneFan
of @DJPaulyD pic.twitter.com/e594xKMmY2

— Springheel Jack (@Springh33lJack) February 19, 2015
CNN called it a "power haircut." The New York Daily News described it as "barbarous." New York magazine said it was "ambitious." And Vox had a list of 29 questions about the hair.
While much ado is being made over the 'do, it's really just a more sculpted version of a look Kim sported for a period of time last spring, right down to the eyebrows: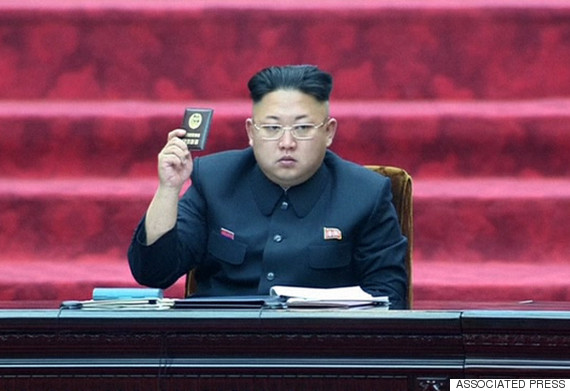 BEFORE YOU GO
PHOTO GALLERY
Kim Jong Un