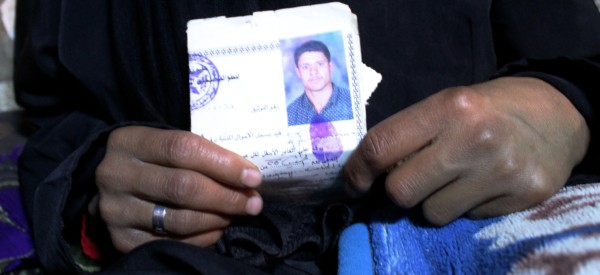 TOP STORIES
To get The Morning Email, HuffPost's daily roundup of the news, in your inbox, sign up here.
THE LIVES ISIS STOLE "On Jan. 3 at around 2:30 a.m. in the coastal Libyan city of Sirte, masked gunmen began knocking on doors, according to survivors. They were looking for Christians marked with traditional tattoos on their hands that identified them as Copts, an ancient Christian sect in Egypt. Some men were pulled from their beds at gunpoint. Others hid and prayed, only to later see their captured friends and family members decapitated in a widely circulated and highly produced Islamic State video. But in this tight-knit village, these men will not be remembered for their brutal murders. They are remembered as beloved husbands, sons, brothers, cousins and friends. In death, their lives are celebrated. Here are the lives they lived, as told by family members." [HuffPost]
DOJ COULD SUE FERGUSON POLICE FORCE The Department of Justice plans to sue the Ferguson, Missouri police department unless it promises to change its "racially discriminatory tactics." [CNN]
THE NEW BIPARTISAN ISSUE: JUSTICE REFORM "Usually bitter adversaries, Koch Industries and the Center for American Progress have found at least one thing they can agree on: The nation's criminal justice system is broken. Koch Industries, the conglomerate owned by the conservative Koch brothers, and the center, a Washington-based liberal issues group, are coming together to back a new organization called the Coalition for Public Safety. The coalition plans a multimillion-dollar campaign on behalf of emerging proposals to reduce prison populations, overhaul sentencing, reduce recidivism and take on similar initiatives." [NYT]
U.S., TALIBAN PEACE TALKS TO BEGIN TODAY The Afghan Taliban is meeting with U.S. officials in Qatar. [Reuters]
WAPO: DISSECTING THE CLINTON FOUNDATION'S DONATIONS "The financial success of the foundation, which funds charitable work around the world, underscores the highly unusual nature of another Clinton candidacy. The organization has given contributors entree, outside the traditional political arena, to a possible president. Foreign donors and countries that are likely to have interests before a potential Clinton administration -- and yet are ineligible to give to U.S. political campaigns -- have affirmed their support for the family's work through the charitable giving. The Post review of foundation data, updated this month on the group's Web site to reflect giving through 2014, found substantial overlap between the Clinton political machinery and the foundation." [WaPo]
OVER 150 PATIENTS EXPOSED TO DEADLY 'SUPERBUG' AT UCLA HOSPITAL Patients were exposed to the antibiotic-resistant 'superbug' through improperly sanitized medical instruments from October to January. [AP]
BREAK OUT THOSE PARKAS FOR THIS YEAR'S POLAR VORTEX Record-breaking cold will hit the eastern U.S. today and tomorrow. [WaPo]
WHAT'S BREWING
AIDS DRUG SHOWS INFECTION BLOCKING POTENTIAL "For more than three decades, scientists have tried unsuccessfully to develop an effective vaccine for HIV, the virus that causes AIDS. But now researchers say they have created an experimental drug that may function as a sort of "alternative" vaccine for the virus. The experimental drug, a protein known as eCD4-IG, blocks infection by keeping the virus from binding to the immune cells that are the virus's target." [HuffPost]
YOUTUBE AD-FREE SERVICE TO LAUNCH IN A FEW MONTHS Would you pay to avoid those ads? [Reuters]
THE OSCARS: WHO WILL WIN ON SUNDAY Patricia Arquette is a lock, while the Best Picture winner is anyone's guess. [HuffPost]
SOUND SMART AT YOUR OSCARS PARTY The Academy explains how the ceremony became the "Oscars." [HuffPost]
20 YEARS AFTER DR. SEUSS' DEATH, THREE NEW BOOKS TO BE PUBLISHED The manuscripts for the three books were recently discovered in the home of Theodor Geisel, better known as Dr. Seuss. [AP]
VANILLA ICE ARRESTED FOR BURGLARY "Vanilla Ice has been released from custody in Florida after being arrested and charged with breaking into and stealing from an abandoned home. Police in Lantana say the recording artist and home-improvement-show host had been renovating a home next to the victim's. They said some of the stolen items were found at his property." [AP]
JUMP ROPE WORKOUTS: GET HOPPING Good luck -- we failed jump roping class in PE. [HuffPost]
ON THE BLOG
CDC DIRECTOR: RAPID RESPONSE STEMMING EBOLA "The recent drop in Ebola cases in Liberia is welcome. Many factors are contributing to this decline, including the adoption of safe burials and the emphasis on quickly getting patients into Ebola treatment units or community care centers and community initiatives to isolate and care for patients and track contacts. One promising development has been Liberia's creation of RITE teams (short for Rapid Isolation and Treatment of Ebola). These teams are slowing the epidemic, and CDC is working closely with governments and partners in Guinea and Sierra Leone to adopt similar rapid response strategies." [HuffPost]
BEFORE YOU GO
~ Allison Williams publically defended her father, suspended NBC anchor Brian Williams, for the first time last night.
~ Eddie Murphy declined an offer to play Bill Cosby on SNL's 40th anniversary special.
~ Ben & Jerry's weed ice cream will be a thing as soon as it's legal.
~ Jay Z upped his street style game.
~ Carly Rae Jepsen somehow snagged Tom Hanks and Justin Bieber for her latest music video.
~ That "Alien" sequel is happening after all.
~ What's on "Boyhood" director Richard Linklater's desk.
~ Missy Elliott's back.
~ You haven't lived if you haven't tried these obscure American foods (and yes, St. Louis pizza gets a shout out).
~ The best outfits celebs rocked at New York Fashion Week.
~ More photos of Lady Gaga's massive engagement ring.
~ And pack your bags for Alaska, the state with the highest well-being ranking.
Send tips/quips/quotes/stories/photos/events/scoops to Lauren Weber at lauren.weber@huffingtonpost.com. Follow us on Twitter @LaurenWeberHP. And like what you're reading? Sign up here to get The Morning Email delivered to you.