In March 2014, a small, oil-rich nation appeared to be teetering on the brink of revolution.
Protesters built barricades and set them ablaze. Pro-government gangs provoked street battles, and the government sent in tanks to quell the unrest. At least 43 people were killed. Meanwhile, peaceful, student-led anti-government demonstrators marched through the streets and spelled out their cry to the world: #SOSVenezuela.
"Inside and outside the South American country's borders, there's a major question many are asking: Could this be the beginning of the end for Venezuela's socialist government?" CNN wondered.
Yet months of unrest failed to topple President Nicolas Maduro's government. Authorities crushed the street protests, the divided opposition failed to capture popular imagination and Maduro blamed the episode on a foreign conspiracy. As leaders fell in Ukraine, Thailand and Burkina Faso over the course of the year, Venezuela's protest movement was overshadowed.
While the world moved on, Venezuela could not. In the year since protests erupted in February 2014, Caracas' repression of the opposition has only grown. The problems that sparked the protests -- including an economic crisis and soaring violence -- are now even worse.
Here's what became of Venezuela's protest movement:
DOZENS ARE STILL IN JAIL...
Venezuela's attorney general said this month that a year later, 27 people who took part in the protests remain in detention. Venezuelan human rights group Foro Penal Venezolano puts the figure higher, at 60.
Several of those who were detained -- the exact number is disputed -- are students who staged campus protests in the early days of the movement. Among them is Rosmit Mantilla, a LGBTI activist and student opposition leader who was stopped on May 2 and charged with offenses including incitement and conspiracy to commit a crime, according to Amnesty International.
Today, universities remain a crucible of opposition activism. Students regularly hold rallies calling for the release of their classmates, and many took to the streets again this month to mark the protest anniversary.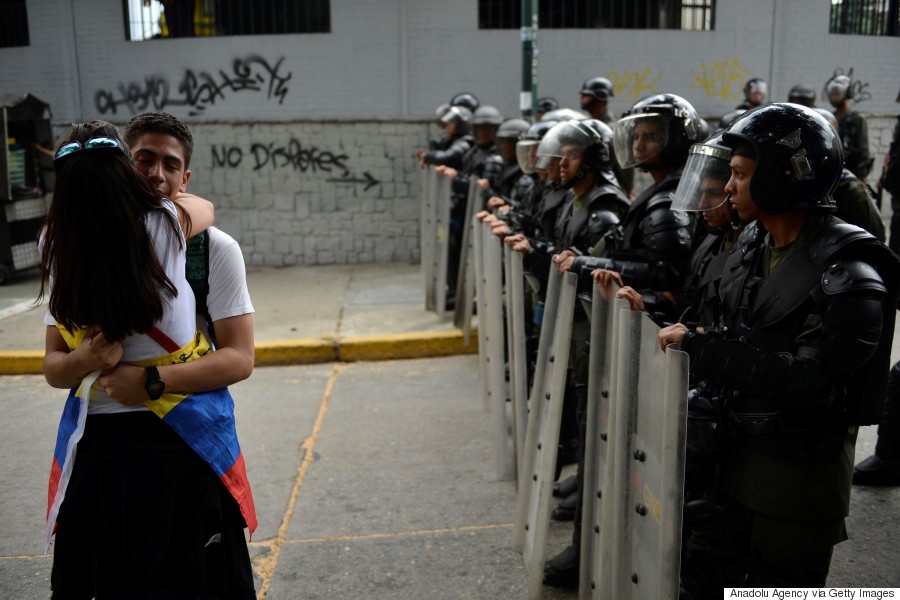 A pair embraces in front of an anti-riot line of National Guard during a rally in Caracas on Feb. 12, 2015. (Carlos Becerra/Anadolu Agency/Getty Images)
...INCLUDING OPPOSITION LEADER LEOPOLDO LOPEZ
Leopoldo Lopez, a charismatic but divisive former presidential candidate and opposition leader, championed street protests in order to overturn the government. As the demonstrations gained momentum in early February, the 43-year-old former mayor was charged with offenses including incitement and arson.
On Feb. 18, 2014, Lopez turned himself in with characteristic panache: marching with thousands of supporters, bidding emotional public farewells to his family and railing against Maduro's government until he was taken away.
Lopez expected a speedy release, according to the Associated Press, but 12 months later he remains jailed in a military prison as his trial drags on. If convicted, he could face up to 13 years in jail. Human rights groups say it appears he is being held for political reasons, and the United Nations' human rights chief has called for his release.
OVER 3,000 PEOPLE WERE DETAINED
A total of 3,351 people were detained during the protests, according to official figures cited by Amnesty International. Some 400 of them were adolescents, Human Rights Watch said. Most of these detainees have since been released. Yet the government continues to round up more of its opponents for crimes as small as posting anti-government messages on Twitter. On Thursday, intelligence agents forcibly detained Caracas metropolitan mayor and longtime government critic Antonio Ledezma, after the president accused him of helping plot a coup.
Human rights groups accuse Venezuelan courts of acting at the government's behest, running roughshod over the right to a fair trial. Human Rights Watch described the Kafkaesque procedures detainees faced amid 2014's arrest sweeps:
Scores of victims were denied access to a lawyer until minutes before judicial hearings, which were often scheduled in the middle of the night. Prosecutors and judges routinely turned a blind eye to evidence suggesting that detainees had been physically abused, or that security forces had planted evidence against them.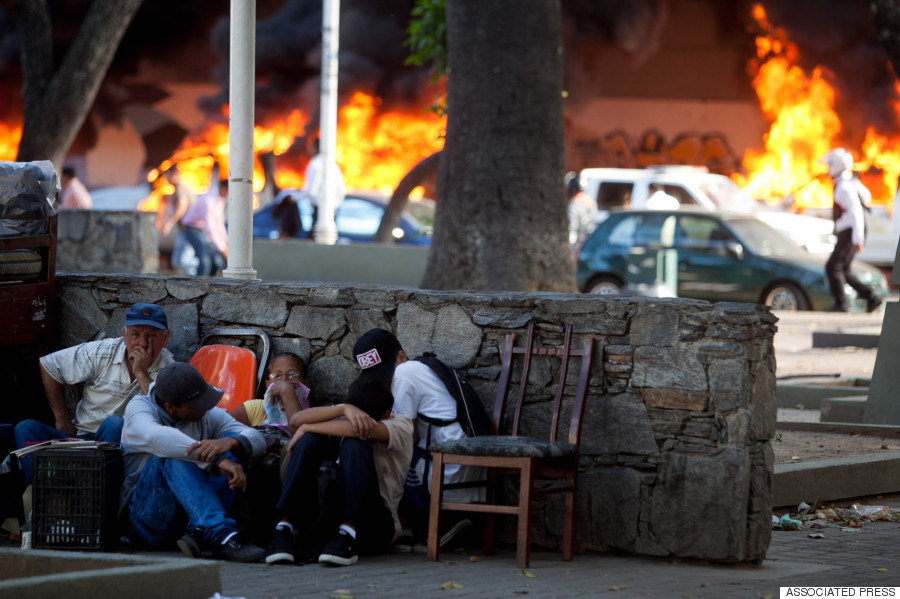 Bystanders take cover from violence after clashes broke out between opposition protesters with security forces and pro-government supporters in Caracas, Venezuela, Feb. 12, 2014. (AP Photo/Alejandro Cegarra)
DETENTION CONDITIONS ARE DIRE
In November, the United Nations Committee Against Torture said it was "alarmed" by reports of torture at the hands of Venezuelan security forces, including beatings, burnings and electric shocks. Only five of 185 official investigations into torture allegations resulted in prosecution, the committee said. Also in November, the Foro Penal Venezolano said it had documented more than 100 cases of torture since protests began in February.
Torture is not the only horror detainees face. Venezuelan prisons are some of the most violent in Latin America, according to Human Rights Watch. "Weak security, deteriorating infrastructure, overcrowding, insufficient and poorly trained guards, and corruption allow armed gangs to effectively control prisons," the rights group explains.
Salvatore Lucchese, a former police chief who was imprisoned for not removing protest barricades in 2014, told the Associated Press his cell was dark and infested with rats and cockroaches. His spell in jail gave him "the opportunity to know hell," he said.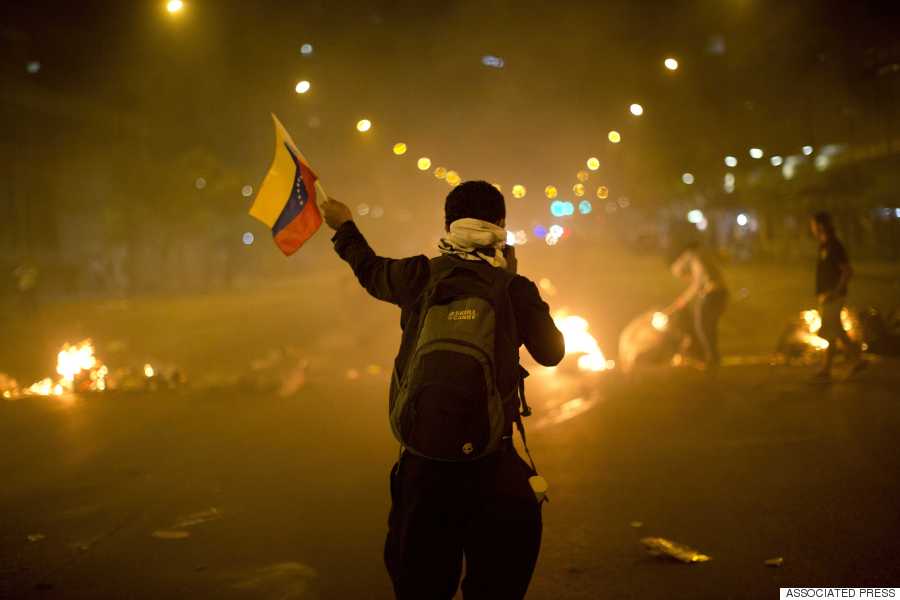 An anti-government demonstrator holds a representation of Venezuela's national flag in front of a burning barricade in the Altamira neighborhood of Caracas, Venezuela, Feb. 21, 2014. (AP Photo/Rodrigo Abd)
IT'S HARDER THAN EVER TO PROTEST
Since protests waned last summer, displaying dissent publicly has only become more difficult.
Reporters Without Borders reported an "alarming" growth in censorship in Venezuela during 2014. Journalists describe being silenced as the government buys up private media companies.
Meanwhile, as drastic goods shortages threaten to reignite unrest, Venezuela has tightened control of protests. On Jan, 27, the government for the first time officially authorized the military to use "potentially lethal" weapons to control demonstrations. Venezuelan writer Raul Stolk says a possible reason behind the measure is that "the Venezuelan regime expects this will be a year of political upheaval, and they are willing to pull the trigger. Once again."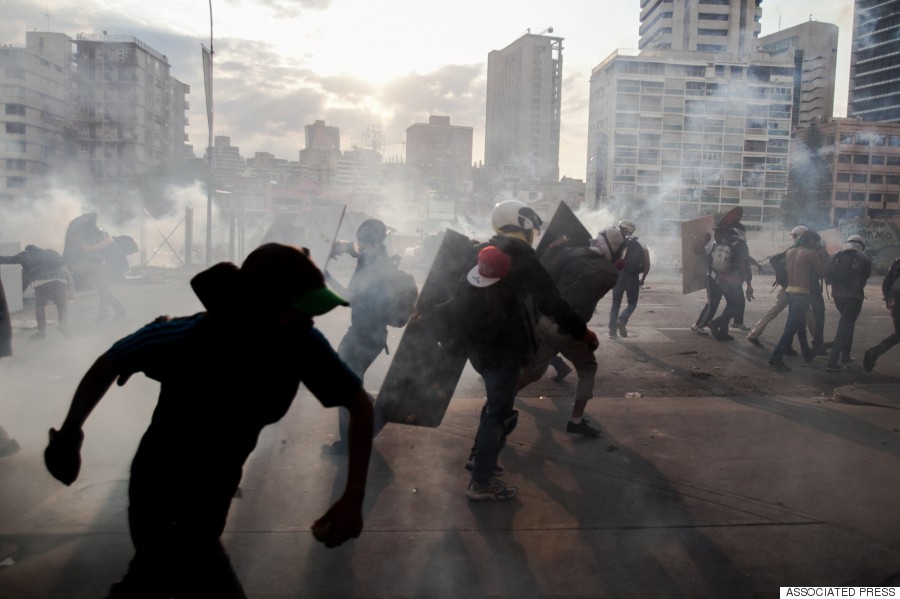 Demonstrators take cover from tear gas fired by the police during clashes in an anti-government protest in Caracas, Venezuela, March 10, 2014. (AP Photo/Alejandro Cegarra)
Ana Benedetti contributed to this report.
BEFORE YOU GO
PHOTO GALLERY
Protests In Venezuela