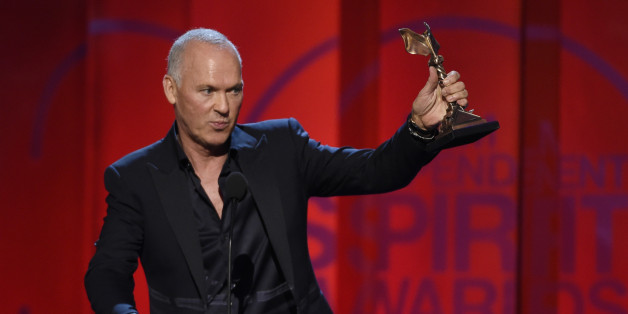 In what might be a preview of Sunday's Academy Awards, "Birdman or (The Unexpected Virtue of Ignorance)" won Best Feature at the 30th annual Independent Spirit Awards on Saturday. The film, directed by Alejandro Gonzalez Iñárritu, won two other awards on the afternoon: Best Male Lead for Michael Keaton and Best Cinematography for Emmanuel Lubezki. Following wins at the Screen Actors Guild Awards, Producers Guild Awards and Directors Guild Awards, "Birdman" stands as the favorite to win Best Picture at the Oscars.
Its main competition for Best Picture, "Boyhood," won two Spirit Awards: Best Director for Richard Linklater and Best Supporting Female for Patricia Arquette. The other top awards went to Julianne Moore (Best Female Lead for "Still Alice") and J.K. Simmons (Best Supporting Male for "Whiplash"). It's expected that Moore, Simmons and Arquette will all win in their corresponding acting categories at the Oscars on Sunday. (Keaton and "The Theory of Everything" star Eddie Redmayne, who wasn't nominated at the Spirit Awards, are the top favorites for Best Actor at the Academy Awards.)
The full list of Indie Spirit Awards winners is below.
BEST FEATURE
"Birdman or (The Unexpected Virtue of Ignorance)"
BEST FEMALE LEAD
Julianne Moore, "Still Alice"

BEST MALE LEAD
Michael Keaton, "Birdman or (The Unexpected Virtue of Ignorance)"
BEST SUPPORTING FEMALE
Patricia Arquette, "Boyhood"
BEST SUPPORTING MALE
J.K. Simmons, "Whiplash"
BEST DIRECTOR
Richard Linklater, "Boyhood"
BEST SCREENPLAY
Dan Gilroy, "Nightcrawler"
BEST FIRST FEATURE
"Nightcrawler"
BEST FIRST SCREENPLAY
Justin Simien, "Dear White People"
JOHN CASSAVETES AWARD (Given to the best feature made for under $500,000)
"Land Ho!""
BEST CINEMATOGRAPHY
Emmanuel Lubezki, "Birdman or (The Unexpected Virtue of Ignorance)"
BEST EDITING
Tom Cross, "Whiplash"
BEST DOCUMENTARY
"CITIZENFOUR"
BEST INTERNATIONAL FILM
"Ida" (Poland)

ROBERT ALTMAN AWARD (Given to one film's director, casting director and ensemble cast)
"Inherent Vice"
SPECIAL DISTINCTION AWARD
"Foxcatcher"
18th ANNUAL PIAGET PRODUCERS AWARD (Honors emerging producers who, despite highly limited resources, demonstrate the creativity, tenacity and vision required to produce quality, independent films)
Chris Ohlson
21st ANNUAL KIEHL'S SOMEONE TO WATCH AWARD
Rania Attieh & Daniel Garcia, "H."
20th ANNUAL LENSCRAFTERS TRUER THAN FICTION AWARD (Presented to an emerging director of non-fiction features who has not yet received significant recognition)
Dan Krauss, "The Kill Team"
BEFORE YOU GO
PHOTO GALLERY
Spirit Awards 2015