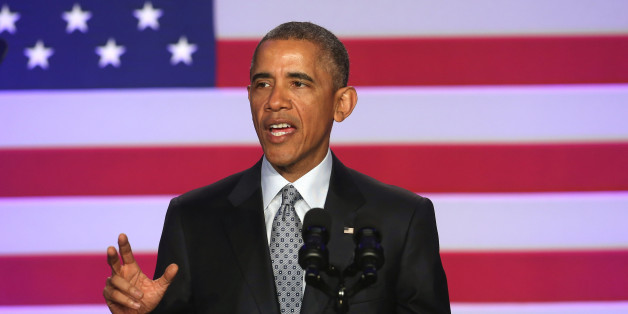 Americans support a proposal to raise capital gains taxes on the wealthy. Israel maintains a high favorable rating. And the source of massive batch of private GOP polling data is revealed. This is HuffPollster for Monday, February 23, 2015.
MOST SUPPORT OBAMA'S PROPOSAL TO RAISE CAPITAL GAINS TAXES - Stephen Ohlemacher and Emily Swanson: "[Sixty-eight] percent of those questioned said wealthy households pay too little in federal taxes; only 11 percent said the wealthy pay too much. Also, 60 percent said middle-class households pay too much in federal taxes, while 7 percent said they paid too little...One [of the president's tax proposals] would increase capital gains taxes on households making more than $500,000. In the survey, 56 percent favored the proposal, while only 16 percent opposed it. Democrats, at 71 percent, were the most likely to support raising taxes on capital gains. Among Republicans and independents, 46 percent supported it. Obama's other tax plans didn't fare as well. About 27 percent said they favored making estates pay capital gains taxes on assets when they are inherited, and 36 percent opposed it. Some liberals are looking for a candidate to push for higher taxes on the rich in the 2016 race. Sanders and Democrat Warren would fit the profile, though Warren says she is not running for president and Sanders says he has not made up his mind." [AP]
PLAYING THE 'AMERICAN' CARD AND RACE - Brendan Nyhan: "When Rudolph Giuliani said that he does "not believe that the president loves America," he became the latest in a long line of public figures to question the loyalty or allegiance of the country's first nonwhite president. While these criticisms are ostensibly directed at Barack Obama's worldview, as Mr. Giuliani later said, they appear to reflect — or exploit — the tendency to associate being American with being white....A 2005 study examined this pattern using the Implicit Association Test, which measures the associations between concepts using differences in response timing during a categorization task. People tend to respond faster when categorizing paired stimuli that are congruent with their implicit associations (for instance, 'thin people' or "good" versus 'fat people' or 'bad') than those that are incongruent (the opposite pairings). In the study in question, **the authors found response timing patterns that suggested that African-Americans as a group are 'less associated with the national category 'American'** than are white Americans' relative to the category 'foreign' — a pattern that holds for other nonwhite groups such as Asian-Americans and Latinos." [NYT]
ISRAEL'S FAVORABLE RATING REMAINS HIGH - Lydia Saad: "Even as relations between the leaders of Israel and the United States reportedly deteriorate over disagreement about how to handle Iran's nuclear program, Israel has retained its broadly favorable image in the U.S. over the past year. Seventy percent of Americans now view that country favorably, and 62% say they sympathize more with the Israelis than the Palestinians in the Mideast conflict. By contrast, 17% currently view the Palestinian Authority favorably, and 16% sympathize more with the Palestinians. These attitudes, from Gallup's Feb. 8-11 World Affairs survey, are unchanged from a year ago....A key reason Americans' sympathy for Israel has solidified at a sizable majority level is that Republicans' support for the Jewish state has increased considerably, rising from 53% in 2000 to more than 80% since 2014 -- with just 7% choosing the Palestinian Authority....Democrats' support for Israel has also risen since 2000, but not quite as sharply as Republicans'." [Gallup]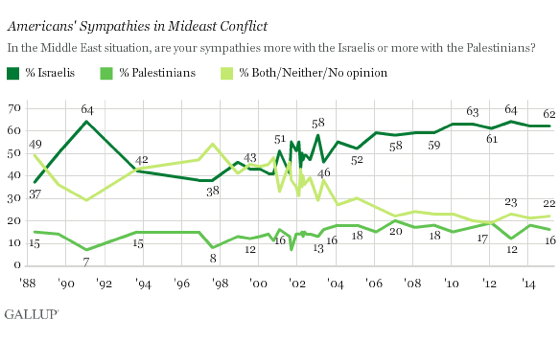 GOLDMAN SACHS PARTNER FUNDS MASSIVE GOP 2016 POLL - Michael Barbaro: "The source of the extensive, private polling data on the 2016 Republican presidential field was shrouded in secrecy....The data jolted Mitt Romney when it was shared with him, encouraging him to weigh running for president a third time, and has since given comfort to former Gov. Jeb Bush of Florida, the all-but-announced candidate for the Republican nomination...Now, the identity of the wealthy Republican donor who commissioned the polling is no longer a mystery: It was, according to people interviewed on the matter, Muneer A. Satter, a former partner at Goldman Sachs and a major Republican donor in Chicago....Mr. Satter ordered up the unusually broad — and expensive — poll last fall, determined to arm himself with the data required to back the most competitive Republican ahead of the 2016 campaign. Linda DiVall, a polling expert in Virginia, conducted the survey. It covered, according to those told of it, more than 10,000 people in at least 16 states, including those with the earliest presidential contests: Iowa, New Hampshire, South Carolina and Nevada. When summarized for Mr. Romney, the results left him convinced that he had a path to the Republican nomination, said people who were told of the conversations." [NYT]
HUFFPOLLSTER VIA EMAIL! - You can receive this daily update every weekday morning via email! Just click here, enter your email address, and click "sign up." That's all there is to it (and you can unsubscribe anytime).
MONDAY'S 'OUTLIERS' - Links to the best of news at the intersection of polling, politics and political data:
-Sixty-six percent of Americans say parents should be required to vaccinate their children. [CBS]
-In California, President Obama's job approval rating rebounds to 57 percent. [Field]
-Frank Newport speculates how a Department of Homeland Security shutdown could affect public opinion. [Gallup]
-Dan Hopkins explores how Chicago's high unemployment rate could cost Rahm Emanuel votes in Tuesday's primary election. [538]
-Arizona considers banning automated political calls. [WashPost]
-AAPOR's Northeast chapter posts video of its data fabrication panel. [NEAAPOR]
-The Boston Globe will track the endorsements of 115 key GOP activists in New Hampshire. [Boston Globe]
-Nate Silver explains how unusually rich data allows data analytics to thrive in sports. [538]

BEFORE YOU GO
PHOTO GALLERY
Below-The-Belt Political Attacks