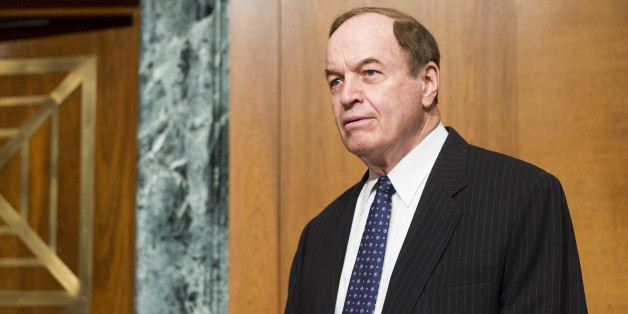 Sen. Richard Shelby (R-Ala.) said Monday he understands why Alabama's probate judges refused to issue marriage licenses to same-sex couples, even after a federal judge ruled that the state's ban on marriage equality was unconstitutional.
Marriage equality went into effect Feb. 9, after a ruling by U.S. District Judge Callie Granade. The state asked the U.S. Supreme Court to step in and delay it, but the court declined. Some Alabama officials, however, refused to give up so easily.
Alabama Supreme Court Chief Justice Roy Moore (R) ordered all the state probate judges to ignore Granade, saying the federal decision did not apply to state officials. As a result, same-sex couples were initially unable to get married in most Alabama counties.
Shelby told AL.com on Monday that he found Moore's argument valid.
"We had a federal district court in Mobile make a ruling, then they had a ruling from the 11th Circuit, but the Supreme Court hasn't. So I think that's the point he's making, that it's not a final ruling, as I understand it," Shelby said.
"I'm not a probate judge," he added. "But that would be very confusing to the probate judges, to have one ruling from the state Supreme Court and one from a federal district court, it would be confusing."
Granade was happy to clear up the confusion. A few days after marriage equality went into effect in the state, she ordered the Mobile County probate judge to implement her ruling after same-sex couples brought a case specifically against the state official for refusing to recognize marriage equality. After that, more counties complied, although some were still holding out.
Shelby also reiterated Monday that he still opposes same-sex marriage.
"I think the overwhelming majority of the people still believe that," he added.
Shelby and Alabama's other U.S. senator, Jeff Sessions (R), recently signed on to a measure introduced by Sen. Ted Cruz (R-Texas) that would bar the federal government from telling states whether they have to recognize same-sex marriage. The legislation would mean that a state like Kentucky, which still has a gay marriage ban, wouldn't have to recognize the union of a same-sex couple who married in a state like Massachusetts and then moved south.
Same-sex marriage is currently legal in 37 states. The Supreme Court will hear arguments this spring about whether the U.S. Constitution guarantees same-sex couples a right to marriage.
Want more updates from Amanda? Sign up for her newsletter, Piping Hot Truth.
BEFORE YOU GO
PHOTO GALLERY
9 Things That You Can't Stop From Happening Now That Gay Marriage Is Legal In Alabama