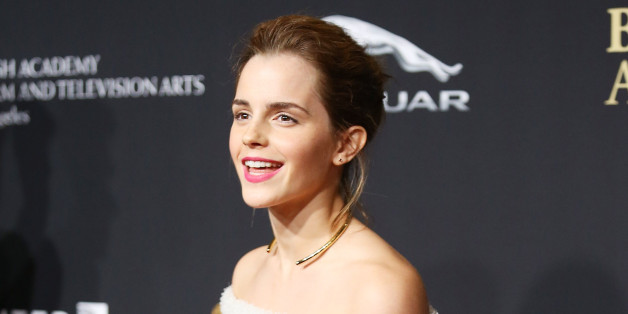 Even if you lament the decline of snail mail, you can appreciate that Emma Watson used Twitter to deliver her handwritten note complimenting Steve Carell on his fashion choices, because that means we get to witness her sweet gesture and excellent penmanship. Watson's apparent super-fandom became more pronounced after she spotted the "Foxcatcher" nominee wearing HeForShe cufflinks -- representing the gender-equality organization Watson supported in her celebrated speech about feminism at the United Nation headquarters last year -- at the Oscars on Sunday.
The 24-year-old actress posted a lovely note to Carell during the awards, complimenting both his film roles and his sartorial choice. Most interesting: After seeing "Crazy Stupid Love," she couldn't decide whether she wanted to marry Carell or be adopted by him. Seems fitting.
@SteveCarell #HeForShe @MONIQUEPEAN #OscarsCufflinks pic.twitter.com/W5TcnteQwK

— Emma Watson (@EmWatson) February 22, 2015
We like to picture Watson reacting to Carell's response like an average Joe (Joanne?) receiving a note from her favorite celebrity, aka a ton of gleeful squealing.
Thanks @EmWatson. An honor to support #HeForShe and gender equality.

— Steve Carell (@SteveCarell) February 23, 2015
Here's the full text from Watson's note:
Dear Steve Carell,

You were pure genius in "Little Miss Sunshine" (one of my all time favourite films), my brother became obsessed with you after "Anchorman," I wanted to marry you or have you adopt me after "Crazy, Stupid, Love," I hated that guy you played in "The Way Way Back," and then you were mind-blowing in "Foxcatcher" and I think you're so awesome and now you are wearing ‪#‎HeForShe‬ cufflinks at the Oscars to support Gender Equality. Couldn't be more proud. Thank you.

Love, Emma
x
BEFORE YOU GO
PHOTO GALLERY
17 Inspiration Emma Watson Quotes