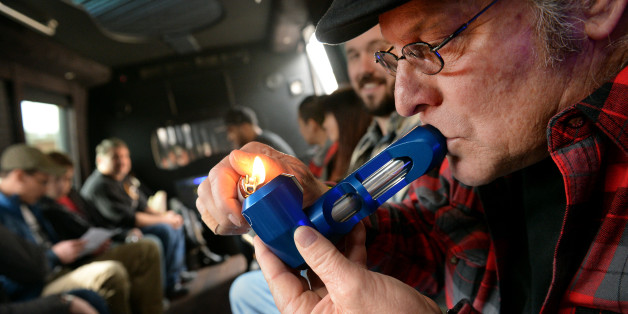 Support for legalized marijuana remains strong in Colorado. Most Americans agree that Muslims face discrimination. And a growing minority support sending arms to Ukraine. This is HuffPollster for Tuesday, February 24, 2015.
COLORADO VOTERS STILL SUPPORT LEGAL POT - Quinnipiac University: "Colorado voters still strongly support legalization of recreational marijuana in the state, although only one in five voters admits to using marijuana since it became legal January 1, 2014....With noticeable gender and age gaps, voters support legalized recreational marijuana 58 – 38 percent. Men support legalization 63 – 33 percent, with women in favor 53 – 44 percent. Voters 18 to 34 years old support it 82 – 16 percent. Support drops to 58 – 38 percent among voters 35 to 54 years old. Among voters over 55 years old, 46 percent support legalization, with 50 percent opposed. While 53 percent of Colorado voters say they have tried marijuana, only 19 percent say they've tried it since it became legal last year." [Quinnipiac]
Three governors get positive approval ratings, but trouble for Bennet? - More from Quinnipiac: "Voters in three critical swing states, Colorado, Iowa and Virginia, give their governors good job approval ratings and are strongly optimistic about the next three or four years in their states under their current governors, according to a Quinnipiac University Swing State Poll released today. Job approval ratings for U.S. Senators in the three states range from a better than 3-1 score for Iowa's Chuck Grassley to a lackluster grade for Colorado's Cory Gardner and Michael Bennet....Colorado voters are divided on whether Sen. Bennet deserves reelection in 2016, with 32 percent saying he deserves reelection and 34 percent saying no. Democrats favor reelection by a bare majority of 53 – 19 percent. Opposing reelection are Republicans 46 – 26 percent and independent voters 35 – 25 percent."
MAJORITY OF AMERICANS VIEW MUSLIM AMERICANS AS VICTIMS OF DISCRIMINATION -Matt Sledge: "A full 73 percent of Americans believe Muslims face a great deal or a fair amount of discrimination. That total outstrips both African-Americans, whom 63 percent of Americans see as victims of bias, and Mexican-Americans, who are viewed as targets of discrimination by 60 percent. The general feeling that discrimination exists is further underlined by questions about the motives of alleged Chapel Hill shooter Craig Stephen Hicks... [Forty-five] percent of Americans said Hicks should be charged with a hate crime, compared with 18 percent who believe he should not… A majority -- 52 percent -- of Americans said Islam is more likely than other religions to encourage violence. Suspicion of Islam was much higher among Republicans (74 percent) than Democrats (41 percent). [HuffPost]
GROWING SUPPORT FOR ARMING UKRAINIANS, STILL MAJORITY OPPOSE -Pew Research: "More still oppose (53%) than favor (41%) the U.S. sending arms and military supplies to the Ukrainian government, but support for arming Ukraine is up 11 points since April 2014, when opposition outweighed support by about two-to-one (30% favored, 62% opposed). At the same time, there is increased support for additional economic and diplomatic sanctions against Russia. Six-in-ten (60%) favor the U.S. increasing sanctions on Russia, while 34% are opposed. Support for tougher sanctions against Russia has risen seven points from last April… [T]he public is split over whether the U.S. should provide training to Ukrainian troops: 49% say they would favor this, while 46% are opposed…[Seventy percent] hold an unfavorable view of Putin...And most Americans (77%) say what happens between Russia and Ukraine is either very important (30%) or somewhat important (46%) to the interests of the U.S." [Pew]
DEMOCRATS READY FOR HILLARY - Kathy Frankovic: "Hillary Clinton's lead in presidential preference among Democrats stems partly from the enormous overwhelmingly positive assessment she receives from Democrats nationally – but it is also a function of the lack of knowledge of her competition, and no groundswell of support for any of them. In the latest Economist/YouGov Poll, 78% of Democrats say they want Clinton to run for President in 2015. Just 9% do not. And Clinton gets an 86% favorable rating from them. There is no other Democrat for whom there is that level of support for a 2016 run. That includes Massachusetts Senator Elizabeth Warren, who has said she is not running....Many Democrats – in some cases more than half -- express no opinion about the candidacies of those who have been considering joining the race, and in all cases but one, more are likely to say they don't want to see each one undertake a presidential run than say they do. The one exception is Vice President Joe Biden, who has run unsuccessfully for the nomination twice before. But even for him, the Democratic public is nearly as likely to tell him 'no' as to approve of another attempt." [YouGov]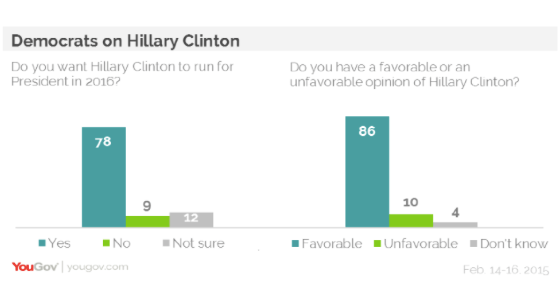 ANOTHER POLL FINDS BROAD MAJORITY IN FAVOR OF REQUIRING VACCINATIONS - Sandee LaMotte: "A new CNN/ORC poll shows nearly 8 of 10 Americans believe parents should be required to vaccinate their healthy children against preventable diseases such as measles, mumps, rubella and polio. If the children are not vaccinated, most agree the child should not be allowed to attend public school or day care. Nearly 6 in 10 Americans believe that children should be barred from public school and day care activities if they are not vaccinated (58% say a child should not be allowed to participate in public school; 61% daycare). But when it comes to private schools, Americans are split: 51% say they should be allowed; 48% say they should not. Another 39% of Americans think it's likely that measles will strike their local community within the next few weeks." [CNN]
LITTLE PUBLIC SUPPORT FOR MEDICALLY-ASSISTED HEROIN TREATMENT - HuffPollster, with Ryan Grim: "In developed countries around the globe, the standard of care for opiate addiction is what's known as 'medically assisted treatment.' Under a doctor's supervision, people with addictive disorders are prescribed medications like methadone, buprenorphine and Suboxone, which remove the cravings associated with opiate addiction….Even so, a new HuffPost/YouGov survey finds that the American people largely come down on the opposite side of the scientists. Asked whether it's more effective for heroin addicts to detox completely and attend Narcotics Anonymous meetings, or for them to receive synthetic opiates under medical supervision, 50 percent of Americans chose the abstinence option, and just 19 percent favored the use of synthetic opiates. Another 32 percent were unsure. That gap in opinion narrowed only somewhat after people were presented with common arguments for and against the use of synthetic drugs….The issue of heroin addiction, while not unknown, remains remote to many people. Only about one-third of Americans say they know someone who's addicted to heroin or another opiate." [HuffPost]
HUFFPOLLSTER VIA EMAIL! - You can receive this daily update every weekday morning via email! Just click here, enter your email address, and click "sign up." That's all there is to it (and you can unsubscribe anytime).
TUESDAY'S 'OUTLIERS' - Links to the best of news at the intersection of polling, politics and political data:
-Eighty-seven percent of Americans rate North Korea unfavorably. [Gallup]
-68 percent of Americans support U.S. airstrikes on Libya against ISIS. [YouGov]
-Early polls don't predict presidential election success. [Atlantic]
-Greg Dworkin shares data on the political leanings of physicians by specialty. [DailyKos]
-Peter Hart (D) says "voters don't want the 'New Hillary' or 'New Jeb'–they want the real thing." [WSJ via @usatoday_polls]
-An internal Democratic Party document shows Latino turnout in 2014 was the lowest of last three cycles. [Buzzfeed]
-Dave Wilson (R) digs into Pew Research data on how voters use cell phones to follow politics. [POS]
-Twitter publishes an interactive chart showing which nominated films were discussed minute-by-minute throughout the Academy Awards ceremony. [Twitter]
-The prediction markets had another good year in predicting the Academy Awards. [NYT]

BEFORE YOU GO
PHOTO GALLERY
Most Influential People Who've Used Marijuana