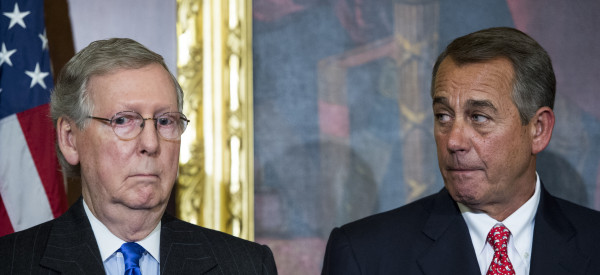 TOP STORIES
To get The Morning Email, HuffPost's daily roundup of the news, in your inbox, sign up here.
GOP FACES INTERNAL BATTLE AS DHS SHUTDOWN NEARS Speaker of the House John Boehner is facing internal GOP pressure to stick to his guns in the fight against Obama's immigration policy, jeapordizing the success of the bill Senate Majority leader Mitch McConnell proposed that would prevent a shutdown of the Department of Homeland Security. According to HuffPost's latest polling, more Americans care about funding the DHS than "rolling back" President Obama's immigration action. [HuffPost's Elise Foley]

NEW BILL O'REILLY ALLEGATIONS SURFACE Former co-workers are refuting the embattled Fox host's claims that he heard George de Mohrenschildt, a friend of JFK assassin Lee Harvey Oswald, commit suicide. They say such claims are impossible, as he was in another city at the time of the incident. [HuffPost's Gabriel Arana]
BILL TO ABOLISH MONTANA DEATH PENALTY FAILS BY ONE VOTE The news follows Attorney General Eric Holder's comments last week calling for a nationwide moratorium on capital punishment. [HuffPost's Amanda Terkel]
NETANYAHU DECLINES MEETING WITH SENATE DEMOCRATS Israeli Prime Minister Benjamin Netanyahu declined the invitation of Democratic Senators, saying it would further "compound the misperception of partisanship regarding my upcoming visit." National Security Advisor Susan Rice criticized the Prime Minister's visit in one of the highest-level public rebukes from the Obama administration. [Reuters]
PRESIDENT OBAMA VETOED KEYSTONE XL PIPELINE BILL In comparison, he has vetoed bills far less than his presidential predecessors. President George W. Bush vetoed 12 bills, while President Bill Clinton vetoed 37. [HuffPost's Kate Sheppard]
MEET ONE OF ISIS' TOP RECRUITERS "Aqsa Mahmood's family saw her as an intelligent and popular teenager who helped care for her three younger siblings and her grandparents at her home in Scotland. She listened to Coldplay, read Harry Potter novels and drank Irn Bru, a Scottish soft drink. She aspired to be a pharmacist or a doctor, and they did not expect her to leave her home in Glasgow in November 2013 to go to Syria, where the authorities now say she is one of the most active recruiters of young British women to join the Islamic State." [NYT]
SOUTHWEST GROUNDS NEARLY A FIFTH OF ITS FLEET Over missed inspections of the planes' backup hydraulic systems. [AP]
UP TO 700,000 NON-PROFITS' DATA COMPROMISED AFTER URBAN INSTITUTE HACK The hack of the D.C.-based think tank exposed email addresses, passwords, user names and other information. [HuffPost's Andy Campbell]
GUARDIAN: DOMESTIC BLACK SITE IN CHICAGO "The Chicago police department operates an off-the-books interrogation compound, rendering Americans unable to be found by family or attorneys while locked inside what lawyers say is the domestic equivalent of a CIA black site. The facility, a nondescript warehouse on Chicago's west side known as Homan Square, has long been the scene of secretive work by special police units." [The Guardian]
FIRST STATEWIDE BAN ON PLASTIC BAGS PUT ON HOLD "The nation's first statewide ban on single-use plastic bags will not go into effect this summer after all. The California secretary of state's office announced Tuesday that a referendum to overturn the measure has qualified for the November 2016 ballot. The state confirmed that the trade group American Progressive Bag Alliance (APBA) submitted at least 110 percent of the 504,760 verified signatures it needed to qualify its measure to overturn the plastic bag ban." [HuffPost's Lydia O'Connor]
EDDIE RAY ROUTH FOUND GUILTY IN 'AMERICAN SNIPER' TRIAL Routh was convicted of killing "American Sniper" Chris Kyle and Chad Littlefield and sentenced to life without parole. [AP]
WHAT'S BREWING
GOODBYE, 'PARKS AND RECREATION' Who didn't love Leslie Knope and crew? [HuffPost's Jessica Goodman]
MARIJUANA: THE LEAST DANGEROUS RECREATIONAL DRUG "Marijuana is far safer than alcohol, tobacco and multiple other illicit substances, researchers say, and strict, legal regulation of cannabis might be a more reasonable approach than current prohibitions. Those are the findings of a new report published in Scientific Reports that compares the lethality of the recreational use of 10 common drugs, including marijuana, alcohol, tobacco, heroin, cocaine, ecstasy, methamphetamine, diazepam, amphetamine and methadone." [HuffPost's Matt Ferner]
WHAT'S NEW ON NETFLIX IN MARCH Your couch is waiting. [HuffPost's Lily Karlin]
PURINA SUED OVER ALLEGEDLY DEADLY DOG FOOD The suit alleges the chemicals in Nestle Purina Petcare's Beneful dog food has poisoned thousands of dogs across the country. [Daily Beast]
FIVE FAMOUS ONSCREEN COUPLES WHO COULDN'T STAND EACH OTHER WHEN THE CAMERAS STOPPED ROLLING Turns out Swayze did put Baby in a corner. [HuffPost's Yagana Shah]
TOP STORES PER STATE Doesn't take a brain surgeon to figure out which state claims "surf shops." [HuffPost's Harry Bradford]
WHAT YOU EAT: THE SECRET TO MENTAL HEALTH? "For the first time, the FDA's new dietary guidelines, announced last week, included a point considering the possible role of diet in mental health outcomes. The FDA report notes, for example, that the American Psychiatric Association classifies omega-3 fatty acids (which are most commonly found in oily fish) as a complementary treatment for depression." [HuffPost's Carolyn Gregoire]
ON THE BLOG
SENATOR RAND PAUL: 'OUT OF DARKNESS, LIGHT' "Trafficking is a serious issue, and it is not limited to Third World countries. It is right here in our homeland. We hear the saying, 'don't turn a blind eye.' How fitting it is to say that and think of Sherri." [HuffPost]
BEFORE YOU GO
~ The Chicago Bulls' Derrick Rose cannot catch a break; he's out indefinitely after another knee injury.
~ Some of the best photography shortlisted for the 2015 Sony World Photography Awards.
~ A beautiful long-read on the shift in time when you are expecting a child.
~ Ed Sheeran covering Christina Aguilera's "Dirrty?" Every millennial's dream.
~ Why is everyone in love with "bully apps?"
~ Sony has named an Amy Pascal replacement.
~ Giuliana Rancic has apologized after commenting that Zendaya's hair at the Oscars looked like it smelled like weed.
~ What happens when you stuff a bunch of movie stars into an Oscars photo booth.
~ Christy Carlson Romano, the voice of Kim Possible, stripped to highlight the lack of consent in "Fifty Shades of Grey."
~ Police saluted this K-9 hero on his last ride to the veterinarian.
~ Reddit has banned nude photos that are posted without permission.
~ Make everything taste like a box of samoas.
~ A bunch of craters have appeared in Northern Russia.
~ And for good measure, what expires from Netflix at the end of February.
Send tips/quips/quotes/stories/photos/events/scoops to Lauren Weber at lauren.weber@huffingtonpost.com. Follow us on Twitter @LaurenWeberHP. And like what you're reading? Sign up here to get The Morning Email delivered to you.