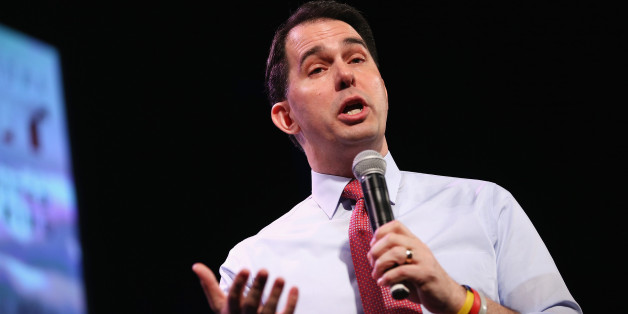 Scott Walker has the early lead in Iowa, as have many other candidates in the past. Support for the use of military force against ISIS grows. And Americans value keeping DHS open over opposing Obama on immigration. This is HuffPollster for Wednesday, February 25, 2015.
WALKER LEADS IOWA CAUCUS POLL - "An early look at likely Iowa Republican Caucus participants shows a strong conservative tilt as Wisconsin Gov. Scott Walker leads the pack with 25 percent, twice as high as his nearest rival, according to a Quinnipiac University poll released today. Voters who identify as "very conservative" make up 45 percent of the caucus participants surveyed by the independent Quinnipiac University. Tea Party supporters make up 32 percent of likely caucus-goers and Walker gets 33 percent of that Tea Party vote….Only 8 percent of caucus participants are less likely to vote for Walker because he does not have a college degree, while 82 percent say that makes no difference in their vote. Because his father and brother were presidents, 25 percent say they are less likely to vote for Jeb Bush, but 63 percent say it makes no difference." [Quinnipiac]
A list of last cycle's GOP candidates who led in Iowa at some point in 2011 - Rick Perry, Herman Cain, Newt Gingrich, Mitt Romney [Pollster chart]
And it's not just Iowa… - HuffPost data scientist Natalie Jackson: "A reminder not to get too obsessed with the GOP 2016 candidate of the week... from GOP 2012." [Twitter]
GROWING SUPPORT FOR USE OF FORCE AGAINST ISIS - Pew Research: "The public has grown more supportive of the U.S. fight against ISIS, as about twice as many approve (63%) as disapprove (30%) of the military campaign against the Islamic militant group in Iraq and Syria... The possibility of sending U.S. ground troops to the region is more divisive, although the idea draws more support than it did four months ago. Currently, about as many favor (47%) as oppose (49%) sending U.S. ground troops to fight Islamic militants in Iraq and Syria; in October, 39% favored the idea and 55% opposed it...The new national survey by the Pew Research Center, conducted Feb. 18-22...also finds a shift over the past year in public attitudes about the best approach for dealing with global terrorism. In the new survey, 47% say 'using overwhelming military force is the best way to defeat terrorism around the world.' About as many (46%) say that 'relying too much on military force to defeat terrorism creates hatred that leads to more terrorism.'" [Pew]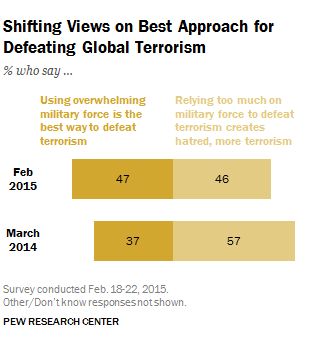 MAJORITY OF AMERICANS IN ALL 50 STATES SUPPORT IMMIGRATION REFORM - Six in ten Americans favor creating a path to citizenship for current illegal citizens. West Virginia is least accepting of immigrants with 52 percent of respondents saying that immigrants are a burden to the country and "take American jobs, housing, and healthcare, while California is the most accepting with 67 percent of respondents saying that immigrants "strengthen the country." "Across the board, regardless of what state you're in, there is support for this policy," says Dan Cox, Research Director at Public Religion Research Institute. This is just one of several key findings from a year long poll released today by PRRI. The findings are available through the American Values Atlas project, a tool that allows you to sift through data collected from 50,000 phone interviews throughout all 50 states on key issues across various demographics.
Other findings on abortion and same-sex marriage show that a majority of Americans, 55 percent, support legalizing abortion in all or most cases. Fifty-seven percent of young people age 18-29 and 50 percent of seniors 65 and over are in favor of legalizing abortion. Mississippi and Alabama are the least approving of gay marriage with only 32 percent of residents wanting to legalize it and New Hampshire is the most approving with 75 percent of resident saying it should be legal. [PRRI]
KEEPING DHS OPEN MORE IMPORTANT THAN OPPOSING OBAMA ON IMMIGRATION - HuffPollster: "Americans care more about keeping the Department of Homeland Security open than about rolling back President Barack Obama's executive actions on immigration, a new HuffPost/YouGov poll finds -- but most are barely following the political battle in Congress. By an 8-point margin, 45 percent to 37 percent, Americans say it's more important not to shut down DHS. Democrats prioritize keeping DHS running by a 61-point margin, and independents by a much slimmer 5-point margin. Republicans, however, say by a 36-point margin that combatting Obama's immigration orders is more important....Most Americans have simply tuned out the controversy. Just 12 percent say they have been following news about a potential shutdown very closely, with another 28 percent saying they are following it somewhat closely....The Americans who are most engaged in the issue are also more likely to be Republican (30 percent), conservative (47 percent) and, most of all, supportive of the goals of the tea party (60 percent)." [HuffPost]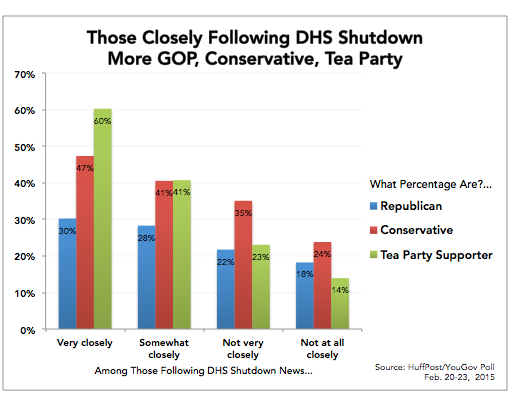 REPUBLICANS DOUBT OBAMA'S LOVE FOR AMERICA - HuffPollster: "Former New York City Mayor Rudy Giuliani isn't alone in questioning whether President Barack Obama loves America, according to a new HuffPost/YouGov poll. Giuliani has since partially walked back on the comment, writing over the weekend that he 'didn't intend to question President Obama's motives or the content of his heart.' But while 47 percent of Americans say Obama loves the country, the rest [35 percent] say he doesn't or that they're unsure. Just 11 percent of Republicans say they think the president loves America [69 percent of Republicans say he does not]. Americans are similarly divided along party lines on whether they think Obama believes the U.S. is exceptional, and on whether he's more or less patriotic than most people. Republicans overwhelmingly say he's less patriotic, while Democrats say he's as patriotic or more, and independents are split." [HuffPost]
Chart created using Datawrapper
HUFFPOLLSTER VIA EMAIL! - You can receive this daily update every weekday morning via email! Just click here, enter your email address, and click "sign up." That's all there is to it (and you can unsubscribe anytime).
WEDNESDAY'S 'OUTLIERS' - Links to the best of news at the intersection of polling, politics and political data:
-U.S. Economic Confidence Index drops two points, the first drop since December.
[Gallup
-The states with the steepest drop in the uninsured are the two red states that embraced Obamacare. [HuffPost]
-Demographic change means the GOP needs to win more minority votes than ever to take the presidency. [HuffPost]
-Support for an independent Palestinian state drops to the lowest level of support since 2000. [Gallup]
-Fifty-six percent of California voters approve of Gov. Jerry Brown's performance in office. [Field]'
-Harry Enten sees Hillary Clinton as the George Bush of 2016. [538]
-Mark Mellman (D) reviews the politics of government shutdown. [The Hill]
-Shauna Shames ponders why Millennials don't want to run for office. [WashPost]
-Experimental evidence demonstrates white privilege. [NYT via @kwcollins]
-David Rothschild talks about predicting the Oscars and his work at Microsoft. [Upstart]
-Bayes Theorem explained with Lego bricks. [Count Baysie via Flowing Data]
CORRECTION: An earlier version of this story misstated which age groups are most supportive of legal abortion.
BEFORE YOU GO
PHOTO GALLERY
Scott Walker Pointing Fingers