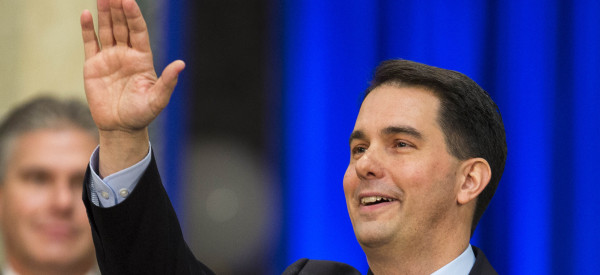 TOP STORIES
To get The Morning Email, HuffPost's daily roundup of the news, in your inbox, sign up here.
GOODBYE UNIONS: WISCONSIN SENATE PASSES 'RIGHT-TO-WORK' BILL The bill would remove the requirement for private sector employees to join unions or pay their dues if their contracts are union-negotiated. "If the Wisconsin measure is approved, the Badger State will become the 25th right-to-work state in the country, following two other Midwestern states, Michigan and Indiana, that passed such laws in 2012." [HuffPost's Dave Jamieson]

MARIJUANA LEGALIZED IN DC While marijuana sales remain illegal, "adults 21 and over may now legally use marijuana, possess up to two ounces and grow up to six marijuana plants in their homes for personal use" in the nation's capital. [HuffPost's Matt Ferner]
HOW THE CITIZENS UNITED RULING HAS CHANGED HOW WASHINGTON OPERATES "How the flood of money released by Citizens United v. Federal Election Commission has changed elections has been the subject of much discussion, but the decision's role in allowing that same money to soak the legislative process has largely gone unreported. According to an extensive review of public documents held by the FEC, the U.S. Senate and the Internal Revenue Service, as well as interviews with lobbyists and policymakers, Kennedy's allegedly independent spending has become increasingly intertwined with lobbying and legislation -- the precise appearance of corruption campaign finance laws were meant to curb." [HuffPost's Paul Blumenthal and Ryan Grim]
CLINTON FOUNDATION ACCEPTED FOREIGN MONEY WHILE HILLARY WAS SECRETARY OF STATE Seven foreign governments donated during her tenure as Secretary of State, and at least the Algerian government's donation "violated [the foundation's] ethics agreement with the Obama administration." [WaPo]
THE HORRIFIC REALITY OF PRISON RAPE The Marshall Project's latest feature on the prevalence of rape in prison comes on the heels of New York State's decision to release videos directed by inmates on how to avoid rape in prison. [The Marshall Project]
FBI ARRESTED THREE BROOKLYN MEN FOR PLANS TO JOIN ISIS The trio planned to travel to Syria and Turkey to join the Islamic State. If they did not make it to their final destinations, they hoped to return to the states and carry out some sort of terror attack. You can read the criminal complaint in its entirety, as well as the extent of one of the suspect's mother's attempts to keep him out of the grip of jihadists. And The Wall Street Journal takes a look at the appeal of ISIS to Westerners. [HuffPost's Matt Sledge and Christopher Mathias]
AUTHORITIES: POLICE FIRED 17 ROUNDS IN PASCO SHOOTING Unarmed Mexican migrant Antonio Zambrano-Montes was hit at least six times and killed after throwing rocks at the police. [HuffPost's Roque Planas]
ISIS TARGETS CHRISTIANS IN ABDUCTIONS "Islamic State militants have abducted at least 220 people from Assyrian Christian villages in northeastern Syria during a three day offensive, a monitor that tracks violence in Syria said on Thursday." [Reuters]
WHAT'S BREWING
ZENDAYA HAS ACCEPTED GIULIANA RANCIC'S APOLOGY AFTER WEED REMARKS The Disney starlet wrote on Instagram, "Giuliana, I appreciate your apology and I'm glad this has been a learning opportunity for you and for the network." [HuffPost]
FIRST 'FROZEN FEVER' TRAILER PREVIEWS NEW SONG Prepare yourself, America, for another "Let It Go." [HuffPost]
A REFRESHER ON ALL OF FRANK UNDERWOOD'S BACKSTABBING Because you need a diagram to remember all the people he's betrayed before season three of "House of Cards" premieres Friday. [HuffPost]
WHAT WAS THE TOP SONG THE DAY YOU WERE BORN? Dating ourselves here: ours was "You're in Love" by Wilson Phillips. [Playback]
A FIVE-MINUTE VERSION OF THE COLLEGE CLASS ON BEYONCE Bow down. [HuffPost]
GM CEO MARY BARRA TALKS #BANBOSSY, CAREER ADVICE We could all learn a thing or two from the first woman to be a CEO at a major automotive company. [Refinery 29]
NO MOM, YOU CAN'T ACTUALLY GET A COLD FROM GOING OUTSIDE WITH WET HAIR She probably still won't believe you, anyways. [HuffPost]

WHAT'S WORKING
A new global HuffPost editorial initiative to double down on our coverage of people responding to challenges and working toward solutions. We've all heard of copycat crimes. What's Working is about inspiring copycat solutions.
T.J. MAXX IS ALREADY FOLLOWING WALMART'S LEAD BY RAISING WAGES After Walmart's decision to raise minimum wages to $9 this year and $10 the next, T.J. Maxx is following suit. [HuffPost]
ON THE BLOG
WHEN YOUR KID HAS A PEANUT ALLERGY "The fear is palpable when you have a child with food allergies. Sure, you 'get used to it.' You never forget your Epipen, you clean out your pantry, you adjust your family's food choices. But the fear doesn't go away: it's always there, causing every moment with your child to be tinged with a darkness lurking on the edge. Every trip to the playground is a disaster waiting to happen, because of people like those commenters. Because of people like I used to be." [HuffPost]
BEFORE YOU GO
~ It doesn't get much more adorable than pregnant Jessica Biel in overalls.
~ When you find a baby woolly rhino carcass that's thousands of years old in Siberia...
~ Listen to Kanye's new track, "All Day."
~ Will Smith busted out a rendition of "The Fresh Prince of Bel Air" theme song.
~ This is not a mirage.
~ Disney is bringing back the "Ducktales" series.
~ This groom's vows to his new stepdaughter are a must-watch.
~ Sorry 90s reality show fans: "Pimp My Ride" cars didn't last much longer than the day they debuted.
~ ICYMI, here's Cory Booker talking criminal justice reform on HuffPost Live.
~ The top allergy-friendly restaurants across the country.
~ Another British royal is moving to NYC.
~ You're giving up too much locational data through your Instagram account.
~ Lady Gaga will appear on the next season of "American Horror Story."
~ You, too, can own a Scarlett Johansson action figure.
~ A photographer caught the elusive green flash right before the sun sets over the ocean (and no, this is not a "Pirates of the Caribbean" joke).
Send tips/quips/quotes/stories/photos/events/scoops to Lauren Weber at lauren.weber@huffingtonpost.com. Follow us on Twitter @LaurenWeberHP. And like what you're reading? Sign up here to get The Morning Email delivered to you.