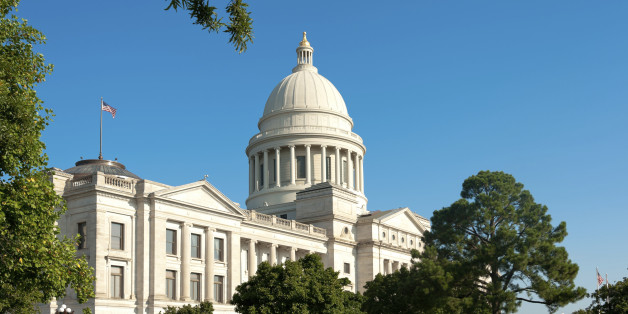 Just days after an Arkansas Senate committee moved to abandon the death penalty, a Republican lawmaker has called for a return of firing squads as an execution method.
Acting between the Senate Judiciary Committee's approval of a bill to abolish the death penalty and the General Assembly's end-of-February deadline for new legislation, Rep. Rebecca Petty (R-Rogers) on Thursday drafted HB 1473, a shell bill -- a preliminary piece of legislation to be fleshed out later -- that would make firing squads a legal execution protocol in Arkansas.
"We have to hold the people that brutally execute our police and rape and murder our women and children accountable," Petty said Friday in an email to The Huffington Post. "The people of Arkansas and the legislature overwhelming believe this."
Petty continued:
A few judges want to legislate from the bench and are forcing our hands to look for alternatives. I personally stand for our children and our police and not with these monsters. Additionally, we spend over $67 dollars a day to care for these monsters. THAT money is better suited to something like pre-K and to keep people out of prison. I care for children and not providing three square meals and a warm bed for cop killers and child murderers.
Petty's 12-year-old daughter was raped and murdered in 1999 by Karl Roberts, the girl's uncle by marriage. After Roberts was convicted in 2000, he waived his right to appeal his conviction, but changed his mind just hours before execution. He is still on death row.
"I understand where she's coming from," Sen. David Burnett (D-Osceola) told HuffPost. "I'm not naive enough to say there aren't evil people in the world for whom this would be a just end, but I think Arkansas should do away with it."
The Senate Judiciary Committee on Wednesday approved Burnett's bill, SB 298, that would remove the death penalty as a sentencing option in capital murder cases and cases of treason, making life in prison the harshest penalty available to prosecutors. It now moves to the Senate for consideration.
"I believe in Arkansas the system is broken. The only benefit of the death penalty is that it's a bargaining tool for prosecuting attorneys," Burnett said. "We need to wake up and admit it and do away with it."
Burnett, who counts 10 death penalty cases on his record from his 40 years as a prosecuting attorney and a circuit judge, characterized the state's capital punishment system as both a "nightmare" and "archaic."
"It's not a deterrent; criminals don't think about it when they're taking lives," Burnett added. "It's more retribution than deterrent."
If passed, SB 298 would not affect the sentences of the 31 inmates on Arkansas' death row.
The state has not held an execution since 2005 due to legal challenges to the lethal injection procedure. Like other states, Arkansas prisons have been forced to seek alternative drugs that critics decry as experimental or unconstitutional, as the supply of the prior go-to drug dwindles. Petty's bill would offer an alternative method of execution.
Burnett said that while support for the abolition of the death penalty has grown in recent decades, a majority of Arkansans -- including his fellow assemblymen -- still support it.
"I'm not real encouraged by what I'm seeing," Burnett said. "We're next door to Texas. I think that's about all I need to say."