UPDATE: Designer Claudio Cutugno has responded to the blackface allegations in a statement to E! News:
"I think is a pleasure to have the chance to answer the cricism about the make up I decided to use. Anyway just to be clear: the collection was inspired by Emilio Isgrò artworks. He was literally erasing parts of the text of some books, he was putting some black ink on top on some words he wanted to erase so to let some words come out from the text and be underlined. As well as this, in ancient Greek, the meaning of the words that were underlined was related to the tradition of wearing black veils around the heads when women needed to say goodbye to their husbands. This also today is a tradition which in Sicily is used when women go to burials. So the black make up we decided to use was actually a translation of the black veil. I chose not to use the real veil because I did not want to cover the whole faces of the models. I did not even wanted to refer to the bees Isgrò is using in his artworks: someone said I wanted to represent the faces "as they would have been swarmed by bees" but to me that idea would have not been cohesive with the whole creative process behind the collection and above all pretty cruel. I am extremely sorry if many people thought this make up would result offensive and also that I am racist, but that was not my intent. I am extremely respectful of the afroamerican culture and extremely sorry for each type episode of racism. Furthermore my inspiration was coming from a completely different idea which has nothing to do with the theme of afroamerican culture. I would have never tought someone could have find the make up offensive, otherwhise I would have never used it."
ORIGINAL STORY:
If the debate around "The Dress" has taught us anything, it's that the way we see color can be starkly different. For the record, I'm #TeamBlueAndBlack.
That perception is being tested yet again after blackface was allegedly spotted on the runway during Milan Fashion Week.
While presenting his Fall 2015 collection, Claudio Cutugno decided to cover his models' faces in black paint, with glitter on top. The Italian designer was reportedly inspired by the artist Emilio Isgrò, who is known for his work with bees. Therefore, the models' blackened makeup was intended to depict their faces being swarmed by the insects.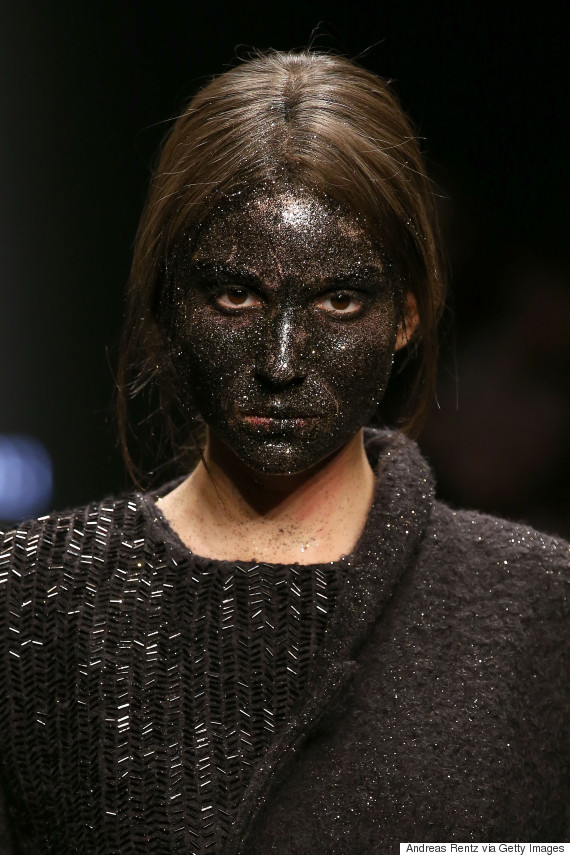 The images have many media outlets crying foul and accusing the designer of employing the racially insensitive act of blackface. Refinery29 posed the question: "Why do people keep doing this?" And added, "It must be knowingly and for the attention, because we can't imagine that there is really anyone out there ignorant enough to think that this has no racist connotations." A journalist over at Bustle was also shocked, writing, "I'm all for unique and interesting styles that command attention, but come on -- you can hardly see the models' faces. Not to mention that this is literally blackface, which is, you know, racist."
I don't blame those journalists, my knee-jerk reaction was the same. However, as a black woman who has covered too many instances of blackface within the fashion industry, I must say that this most recent accusation looks and feels very different to me. After reading about the origin of Cutugno's inspiration, it seems clear his intentions weren't malicious or racially motivated. It would be a shame to ask all creatives to refrain from placing black paint on the body or face of a non-black person when they truly mean no harm.
We should and must always consider the reference. Claire Sulmers, the editor-in-chief of FashionBombDaily.com, who is African-American, shares our sentiment. She wrote, "Is it dark paint on a face? Yes. But is he mocking African culture, or using black paint in place of a black person? No."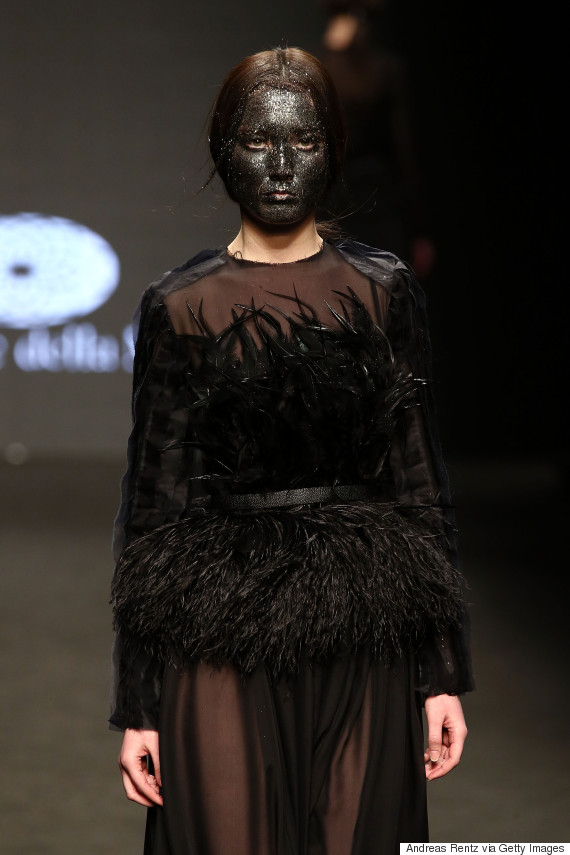 Cutugno's show is starkly different from Numéro Magazine's interpretation of an "African Queen," when editors darkened the skin of American model Ondria Hardin. Or the time fashion designer Allesandro Dell'Acqua dressed up like a Dancing Sambo for a "Disco Africa" Halloween party. And we'll never, ever, forget Vogue Italia's "Abracadabra" editorial shot by Steven Meisel, which shows model Saskia de Brauw in a series of images with her skin painted dark or with African tribal marks. De Brauw was shown posing in ethnic clothes including headdresses and colorful wrappings.
In my opinion, those are examples of blatant blackface that deserve to be publicly denigrated. Those remind us of how the fashion industry continually ignores or exploits ethnic diversity rather than celebrating it.
It's also worth noting that of the major outlets that have covered the story of Cutugno's models -- like Refinery29, Bustle and PerezHilton.com -- there are very few black writers chiming in. Their absence adds yet another interesting element in how Cutugno's show is being perceived.
Curious to see how readers felt about this, I asked for their opinions on Twitter. Here is a collection of the responses I received after posting the following question:
Models don black, sparkly makeup at the #ClaudioCutugno fashion show during #MFW. Do you think this is #blackface? pic.twitter.com/cCNaCQUWfx

— HuffPostStyle (@HuffPostStyle) February 27, 2015
PHOTO GALLERY
Claudio Cutugno Fall 2015 Show: Is This Blackface?