On Friday afternoon, House Republicans said no to a funding bill that would have kept the Department of Homeland Security in business for another three weeks. If DHS suffers a shutdown at midnight, does that mean Americans will blame Republicans?
Initial polling suggests they are a more likely target for public ire than President Barack Obama, whose recent immigration actions they are trying to spike. But the relatively low public profile of the controversy so far makes any such projections iffy at best.
Last week, CNN published a poll showing that 53 percent of Americans were ready to hold congressional Republicans responsible "if the Department of Homeland Security shuts down because a new spending bill has not been enacted." Only 30 percent said they would hold the president to blame. Thirteen percent volunteered that they would hold both sides responsible, and 4 percent blamed neither or had no opinion.
A HuffPost/YouGov poll conducted over the weekend asked a similar question. It found more Americans poised to blame Republicans (37 percent) than to blame Obama (28 percent). Unlike the CNN poll, the HuffPost/YouGov survey also offered an explicit "unsure" option, which 34 percent chose.
The CNN finding of greater possible blame for the GOP provoked criticism from conservatives, who complained that the question "conveniently omitted the [Senate] Democrats as a possible answer," as Accuracy in Media's Dan Irvine put it. It was Democrats, the Free Beacon's Elizabeth Harrington added, "who have blocked a House bill that would continue funding the agency but prohibit the government from enacting the president's executive actions on immigration."
Do the critics have a point? The evidence from past shutdown controversies is mixed, at best.
Consider a set of surveys conducted in October 2013 in the midst of the last government shutdown. The Pew Research Center and the NBC/Wall Street Journal poll asked questions similar to CNN's queries earlier this month, with a two-way choice that found more blame for congressional Republicans than for President Obama.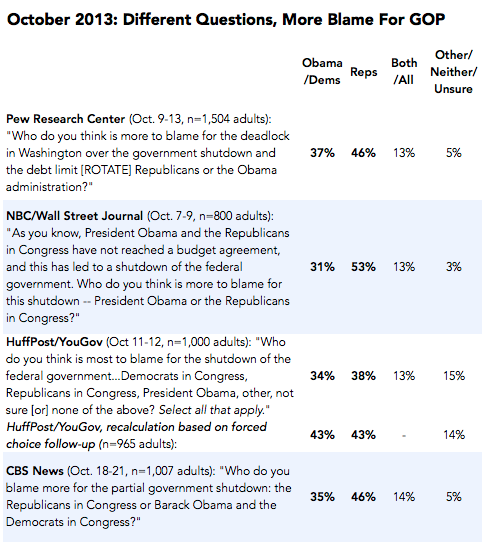 A HuffPost/YouGov poll from 2013 took a very different approach, allowing respondents to "check all that apply" from this list: President Barack Obama, Republicans in Congress and Democrats in Congress. Slightly more respondents checked only Republicans (38 percent) than checked only Obama, only Democrats or both (34 percent). A follow-up question, which pushed those who initially blamed both sides, produced a 43 to 43 percent split between faulting the Republicans or faulting Obama and the Democrats. Yet either way, the HuffPost/YouGov poll produced a bigger percentage in the "don't know" category, most likely because the poll offered "unsure" as an explicit option.
Finally, a CBS News survey offered a simple compromise format: a two-way choice between "the Republicans in Congress" or "Barack Obama and the Democrats in Congress." The result: 46 percent blamed the Republicans and 35 percent blamed Obama and the Democrats. That was a similar split to those found by Pew Research and the NBC/Wall Street Journal poll with questions that made no reference to congressional Democrats.
Unfortunately, the four 2013 surveys did not constitute a controlled experiment: They differed in timing, sampling methods, and how they were conducted (YouGov runs its polls online, while the others surveyed by telephone). Nevertheless, the differences among their results were not major, with much of the variation coming in the percentage of the undecided.
Two other factors represent a much more serious challenge to pollsters trying to predict how Americans might react to a DHS shutdown. First, and most important, relatively few people have been following the story closely. This week's HuffPost/YouGov poll found a mere 12 percent who said they were following the story closely and just 40 percent combined who were following it closely or somewhat closely. Far more said they were following the story not very closely (26 percent) or not closely at all (34 percent).
Similarly, that poll found most Americans were unaware that immigration lies at the heart of the congressional dispute. Just 42 percent selected it from a list of four possible issues as the reason that Congress is holding up DHS funding, with almost as many (36 percent) unable to answer the question and 22 percent selecting one of the three other issues.
Put more plainly, the biggest problem with who-might-be-to-blame questions is not the omission of one possible answer. It's that they pose a hypothetical query about something that most Americans are not thinking about. Results will vary depending on how hard the questions (or interviewers) push for an answer. And partisan references in the wording of the questions will guide many respondents, with Republicans and Democrats answering accordingly.
Equally important: People are not good at predicting their future attitudes. Former CBS polling director Kathy Frankovic has frequently pointed to surveys conducted during the 1998 impeachment of President Bill Clinton. Polls conducted before the House vote on impeachment found "a sizable majority" who said they would want Clinton to resign if he were impeached, according to Frankovic. A few weeks later, after the House had voted to impeach the president, "only about a third supported resignation."
In other words, if the Department of Homeland Security is shut down, the reaction may not be what the early polls predict.

BEFORE YOU GO
PHOTO GALLERY
Scenes From Capitol Hill