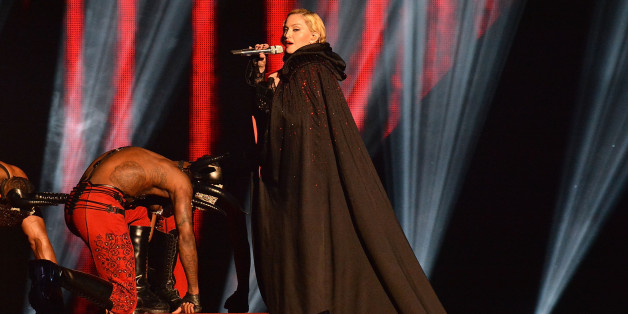 Madonna fell down and carried on at the Brit Awards on Wednesday, just as she promises in her new song, "Living for Love." But it turns out the singer suffered a touch of whiplash in the process.
The incident became a trending topic on Twitter within minutes, and while taping a "Jonathan Ross Show" appearance on Thursday, Madonna reportedly said the cape that she was unable to untie in time for a backup dancer to pull off was a wardrobe malfunction.
"I had a little bit of whiplash," she said. "I smacked the back of my head. And I had a man standing over me with a flashlight until about 3 a.m. to make sure I was compos mentis" (in other words, in full control of her facilities).
Madonna said when she realized the cape was fastened too tightly, she had to make a snap decision about what to do. She said equestrian skills have taught her how to brace herself for a fall. (As they should have: Madonna endured agony to film the dance-heavy "Hung Up" video mere weeks after breaking eight bones in a 2005 horseback riding accident.)
"I was told to tie my cape and start much further back and I had to walk further, and everyone was worried my cape would slide off, so they tied it really tight around my neck," she explained. "I got to the top of the stairs and I pulled the silky string, and it wouldn't come undone. My two lovely dancers basically strangled me off the stage. I had two choices: I could either be strangled or fall, and I chose to fall."
Unlike the entire Internet -- a faction of which ramped up the snark while the rest commended her professionalism and lambasted anyone who took shots at the singer's age -- Madonna chose not to watch a replay of the episode. "It was a nightmare" she said. "I actually created a horror show for everyone. [...] I'm done with capes. Cape Fear is over."
BEFORE YOU GO
PHOTO GALLERY
Madonna's Wildest Moments