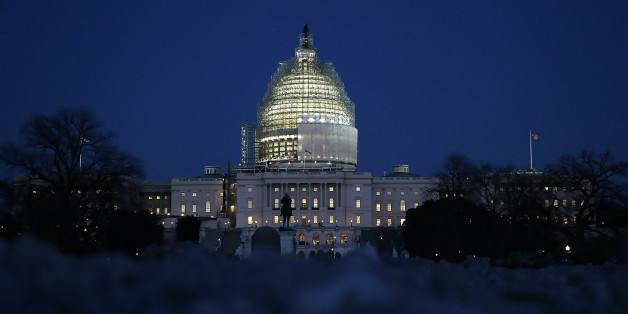 Feb 27 (Reuters) - The U.S. Congress was scrambling before a deadline at midnight on Friday to pass a $39.7 billion funding bill for the Department of Homeland Security, which is charged with securing U.S. borders, airports and coastal waters.
The following is a rundown of what would likely happen if spending authority at the U.S. domestic security agency is allowed to expire, based on the agency's own contingency plans and congressional researchers:
FLIGHTS
Most DHS employees would stay on the job, especially those involved in securing and protecting airports, borders and other ports of entry into the United States.
Transportation Security Administration passenger screenings and the Federal Air Marshal Service would continue uninterrupted as would Coast Guard operations and disaster relief.
In all, DHS has designated about 85 percent of its workforce, or around 200,000 people, as 'exempt' from furlough because they are involved in protecting human life and property or are funded by other sources, such as customs fees. But while these people would be required to work, they would not be paid until a new funding bill is signed into law.
TENS OF THOUSANDS IDLED
DHS has said it expects to idle about 30,000 employees not serving in frontline operations. Activities such as procurement, hiring, training and administrative support would be hardest hit.
DHS said "the bulk" of its management would be furloughed, including many people dedicated to the command and coordination of domestic anti-terrorism activities.
E-Verify, an automated computer system that companies use to check the citizenship and visa status of prospective employees, would be shut down.
IMMIGRATION AGENCIES
U.S. Citizenship and Immigration Services, targeted by Republican efforts to block Democratic President Barack Obama's 2012 and 2014 immigration orders, would ironically be the least affected by a DHS funding lapse. It would keep 98 percent of its roughly 12,500 employees on the job because it is funded almost entirely from fees paid by applicants, according to the Congressional Research Service.
USCIS had planned to start taking applications for one of Obama's orders on Feb. 18, but this was halted by a temporary federal court order issued in Texas.
LOCAL IMPACTS
Homeland Security awards about $2.3 billion in grants annually to state and local police and fire departments and other first responder groups to help them prepare and train for emergencies and disasters and to help secure big events such as the Superbowl. It would stop distributing these, hampering training and preparedness.
Should any disasters occur during a shutdown, The Federal Emergency Management Agency would have to limit its preparation activities and pare back personnel it sends into the field.
FOREGONE INVESTMENTS
A lapse or short-term extension of DHS spending authority would deny a $400 million budget increase for the agency this year, which would help pay for more border patrol agents and customs officers and new border security technology - Republican priorities.
Funding for new detention centers for thousands of child migrants also would be lost or delayed until a full DHS spending bill is approved. (Compiled by David Lawder; Editing by Grant McCool)

BEFORE YOU GO
PHOTO GALLERY
Scenes From Capitol Hill